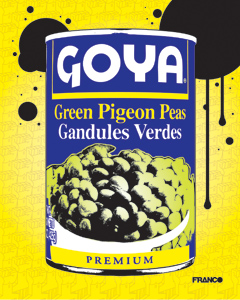 A friend recently said to me, "You never know when you are going to meet an angel, and you never know when you are going to be an angel to someone else." Since moving to Durham, I have met more angels than I could have ever imagined, and each angel, has inspired me with their passions, and motivated me to follow my heart. While we never know how things may have turned out if we would have made different decisions, I am pretty confident that I would have never started Como Water, had I not moved to this land of socially-conscious, all things culinary-loving, justice-creating, local farm-supporting foodies. People in the Triangle love their food. They plan their Sunday brunches on Tuesday, and when you scratch their backs, they'll support your establishment through and through. They take pride in their food. They fight oppression through their food. They fully and completely symbolize the spirit of Como Water—Eating is more than chewing and swallowing. You can taste when meals are prepared with love and gratitude, so prepare your meals with love and gratitude. Nourishment is not getting your daily suggested intake of fruits and vegetable; nourishment comes from the inside out, from your soul to intention to behavior and back again to the soul. And so, as an ode to the new home that has made me feel so fulfilled in so many ways, I have decided to feature a different community member and their food-related musings on the first of each month—starting today! I look forward to sharing with all of you some of the amazing people in the Triangle area who use food as a medium to shape lives. So, without further adieu…. Meet Franco!
*******************************
On a random Friday, on a random autumn day, I noticed that lights were on in a new café on Main Street in Durham. Being the inquisitive (read, nosy) person I am, I decided to take a look inside. The chocolate and goldenrod walls were laced with graphic art similar to pieces I had seen at an art show a few weeks prior. I mentioned this to my waitress tour guide. She replied, "the artist is actually here, would you like to meet him?" My answer, "um, heck yeah!"
The artist was Franco. The art, in his own words, "an embodiment of freedom, justice, equality, peace, love and happiness; a positive change today for a better tomorrow." The night, well, the night marked the beginning of an amazing friendship. Since that Friday, not only has Franco become my football-watching buddy and official brownies taste-tester, but he has also become one of my favorite visual artists. When he mentioned that he was working on a graphic art series inspired by Latino and Asian iconic food items, the fate of my first "Triangle-Love" post was sealed.
"It started with a can of Goya pigeon peas after I ran across a picture of Warhol's soup can piece. The Goya products just made sense because of my Puerto Rican background. Since I enjoy many different cultures, I wanted to go beyond Hispanic food products and explore further." Since that time, Franco has created seven iconic food pieces, which highlight Goya products such as Sazon and various pan-Asian products, including one of my favorite condiments—Sriracha.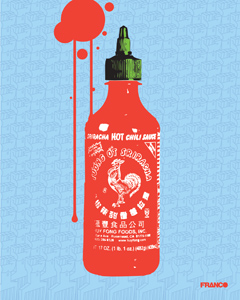 Franco, who describes himself as a 38 year-young Texas-native (who has been in Durham for over 20 years), has been influenced by early hip hop since he received his first two cassette tapes—Run DMC's King of Rock and Whodini's Escape. The soul and passion that transcended that foundational movement is obvious in Franco's art and undoubtedly shaped this recent work, "Music and visual art nourish the ears, the eyes, and the soul. Food nourishes the soul as well. It was only fitting that I would combine my love for hip hop and graffiti art with a series on food."
In my not-so-humble opinion, this series is absolute genius. Not only is it visually appealing, but it sends positive, clear, albeit subtle messages. Food is culture, and thus food is art. Food is history that should be captured visually. "Ethnic" food (see my post in the very near future on why the term 'ethnic food' has become my latest pet peeve) is beautiful and shouldn't be "othered;" it is for all of us to enjoy. Food unites, and yet makes us distinct.
Franco declares, "my work grabs the attention of old souls and young hearts. I hope my art has a positive impact on the community and sparks social and cultural awareness." For those of you in the Triangle area, definitely check out the entire food series which will be up at Foster's Market in Durham for a month, starting on Feb. 18th. For folks who are not in the Triangle area, you can see Franco's art on his website at http://www.francoproject.com/.