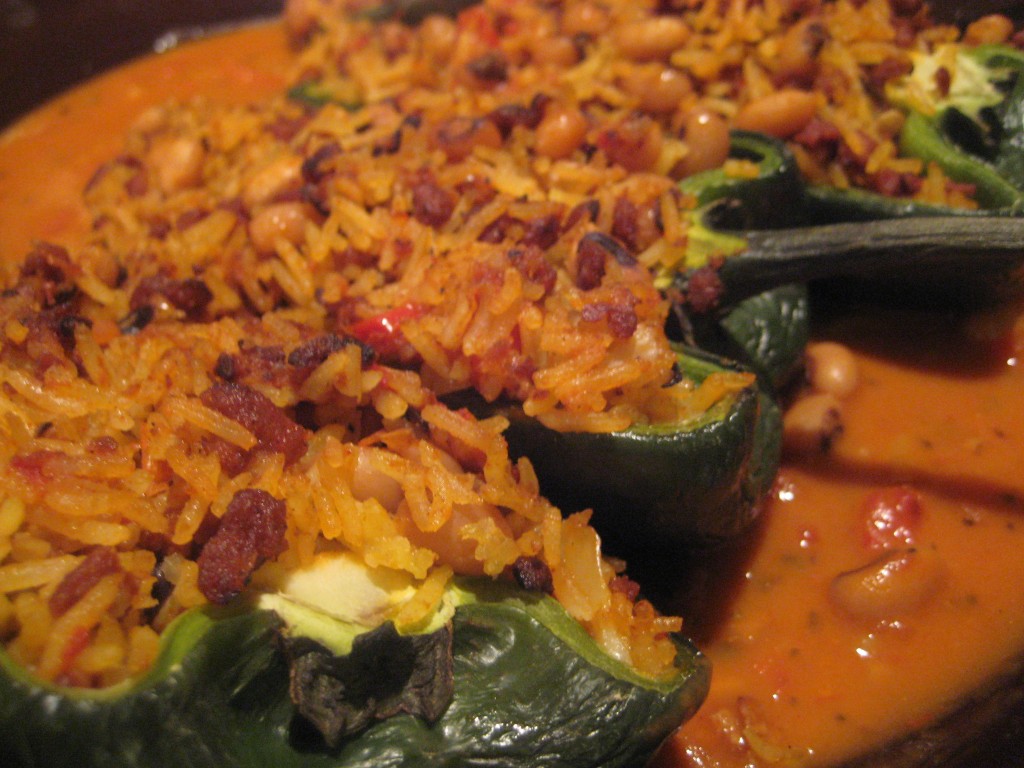 Dinner was almost ready–if almost means in an hour. I was hungry, light-headed, actually. And my friend was on her way. She arrived. I was still cooking. I turned the oven off with the poblanos inside so they would stay warm while I arranged and took pictures of my salad. Somehow I had confused "off" with "broil." Oh yes, gente, you know how this story ends. The poblanos burned, and I was left stuffing chiles again a few days later so that I would have pictures of the final dish for all of you. Shy of turning your oven to broil instead of to off, there's really no way to screw up this dish. The beans cook themselves. The rice steams. Stuff. Bake. Lick your lips. Oh, and the poblanos give such a rich, mildly spicy flavor, you'll never eat stuffed bell peppers again.
Hoppin' John Stuffed Poblanos
Black-Eyed Peas
Ingredients:
1 cup dry black eyed peas–soaked over night
1 small red onion–diced
1 small red bell pepper–diced
4 cloves garlic–minced
2 cups low sodium vegetable broth
1 cup water
1 tablespoon hot sauce
1/8 cup olive oil
1 teaspoon Goya Adobo (or preferred seasoned salt)
1 teaspoon black pepper
Method:
*Add dry black-eyed peas to large bowl. Sift through and remove any stones/debris. Cover with water. Soak overnight.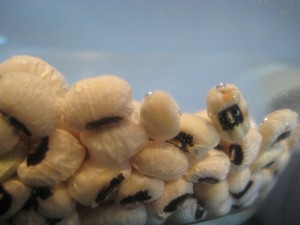 *Heat olive oil in large stock pot over medium heat. Add adobo, pepper, and hot sauce. Cook 2 minutes. Add onion and pepper. Saute 5 minutes. Add garlic. Saute 5 minutes.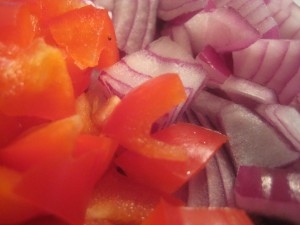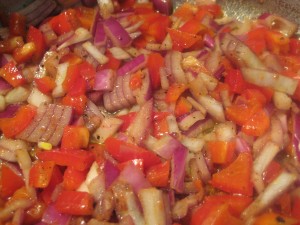 *Drain and rinse soaked beans. Add beans to pot, along with broth and water. Bring to a boil. Drop the heat to medium low. Simmer on medium low for approx. one hour or until beans are tender. Stir occasionally.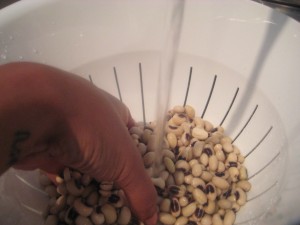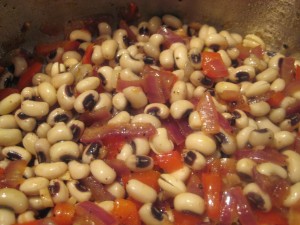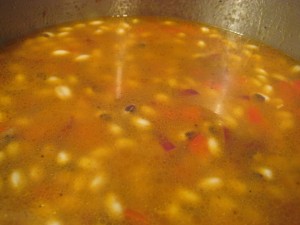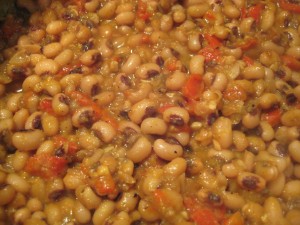 Rice
Ingredients:
1/2 cup white basmati rice
2 whole garlic cloves
1/2 cup coconut milk
1/2 cup low sodium vegetable broth
1 tablespoon olive oil
1/4 teaspoon salt
Method:
*Rinse rice three times. Add all ingredients to a large saucepan. Bring to boil. Drop heat to low. Cover and steam rice for 15 to 20 minutes, or until tender. Fluff with fork.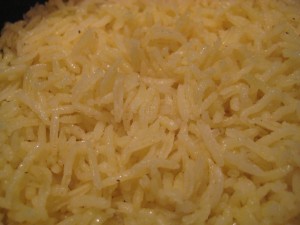 To Assemble:
Ingredients:
2 poblano chiles-washed, deseeded, deveined, and cut in half lengthwise
1/2 cup low sodium vegetable broth
1/2 cup light coconut milk
1/2 cup marinara sauce
1 cup cooked rice
1/4 cup cooked soy chorizo
3/4 cup cooked black eyed peas
Method:
*Pre-heat oven to 375 degrees F. Mix rice, chorizo, and black eyed peas in large bowl. Mix broth, coconut milk, and marinara in the bottom of a baking dish.  Stuff each poblano half with the rice mixture. Add stuffed poblanos to baking dish. Cover pan with foil. Bake 20 minutes. Remove foil. Bake 15 minutes uncovered. Remove poblanos and place on serving dish. Put pan back in oven for 10 minutes (to reduce the sauce a bit). Serve with the lovely sauce that the peppers are baked in.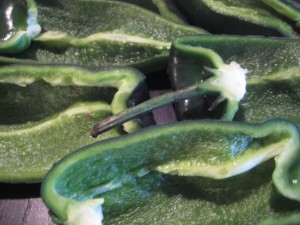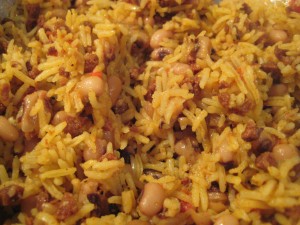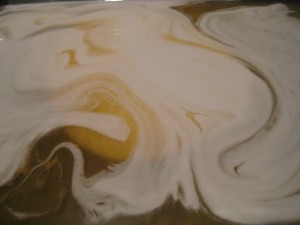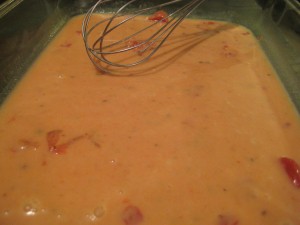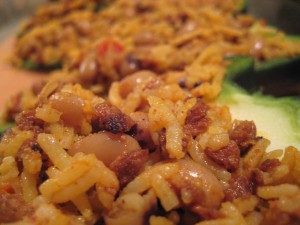 Note: This dish is vegan, but if you're a cheese eater, feel free to top with a bit of goat cheese before serving. Also, you'll have left over rice and beans, so feel free to stuff a few extra chiles and eat them throughout the week, or you can enjoy the Hoppin' John as is!