Admittedly, when I first went to the farmers' market to get lettuce, I was searching for peppery arugula. But when I saw this red oak leaf lettuce, I couldn't resist. The "greens" (actually the leaves are green and brick red) are satiny and soft, and the taste is delicate and gentle. Think edible silk! When composing the salad, I picked ingredients along three dimensions– local and in season (i.e., baby beets), texture (i.e., toasted hazelnuts), and color (i.e., red grapefruit). Along with the roasted carrot vinaigrette, the result is a beautiful, delicate, and flavorful salad that stimulates all of your senses.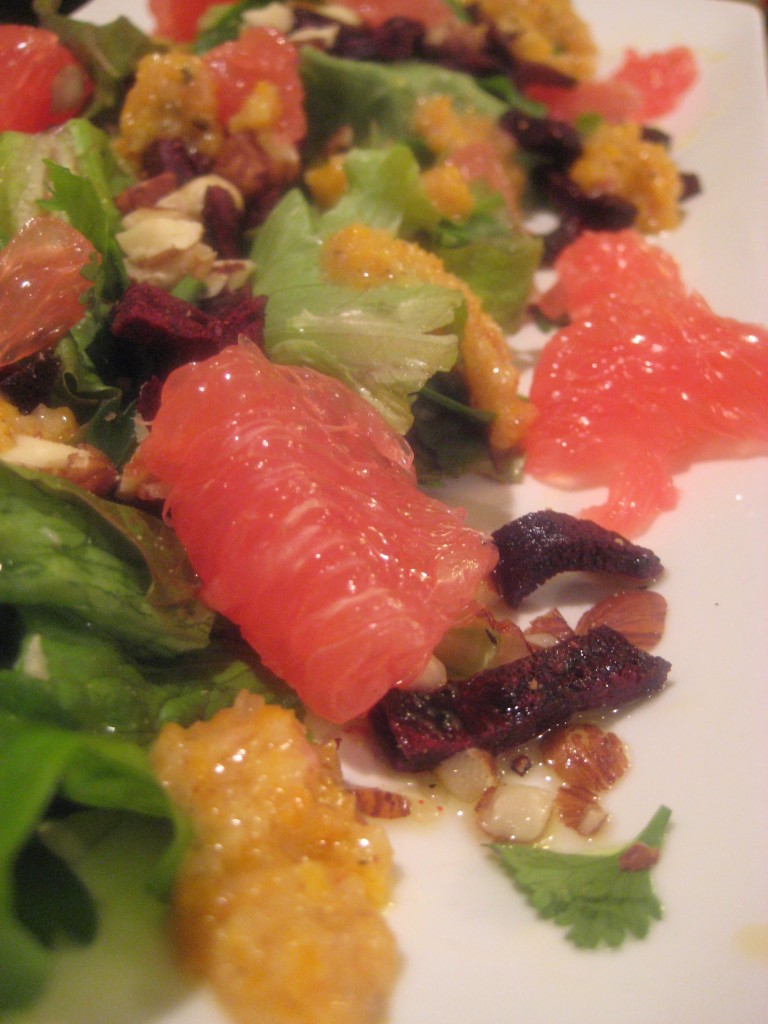 Red Oak Leaf Salad
Ingredients:
red oak leaf lettuce (or other salad greens of choice)
2-3 tablespoons fresh parsley, cilantro, mint and/or oregano (I used all four)
1/4 cup toasted hazelnuts (roughly chopped)
1/2 cup roasted baby beet strips
1 grapefruit (in segments)
salt, pepper, olive oil
roasted carrot vinaigrette (see recipe below)
Method:
*Pre-heat oven to 375 degrees F. Wash and peel beets. Slice into thin strips. Add to baking pan. Drizzle with 1-2 tablespoons of olive oil. Sprinkle with salt and pepper. Roast in oven for 20-25 minutes, or until beets are crispy. Set aside.
*Wash salad greens and herbs. Add to bowl and mix to combine. Peel and slice grapefruit (remove pith). Chop hazelnuts. Heat small frying pan on medium low. Add hazelnuts to dry pan and roast for 8-10 minutes or just until you smell the hazelnuts.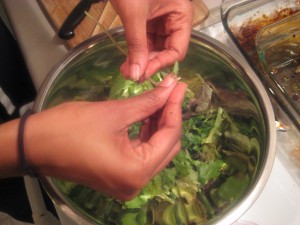 *Plate the salad by arranging greens and herbs, beets, grapefruit, and hazelnuts. Add 1-2 tablespoons of vinaigrette in dollops to plate. Drizzle plate with olive oil. Reserve remaining vinaigrette.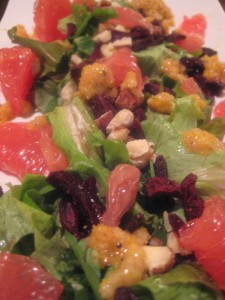 Roasted Carrot Vinaigrette
I made this salad the same day that I made the glazed carrots from the last post. So, I decided to make a vinaigrette using the carrots (before adding the glaze). I used only a small bit of oil and acid, so this "vinaigrette" is more like a puree, but I wanted it to hold up to the salad's other colors and flavors. I think it worked really well, particularly with the final drizzle of olive oil at the end.
Ingredients
2 roasted baby carrots
1 sauteed shallot
juice from 1 lime
1 tablespoon white balsamic vinegar
1 teaspoon dijon vinegar
1/4 cup olive oil
Method:
*Chop shallot. Saute in olive oil until soft.
*Blend all ingredients in food processor.