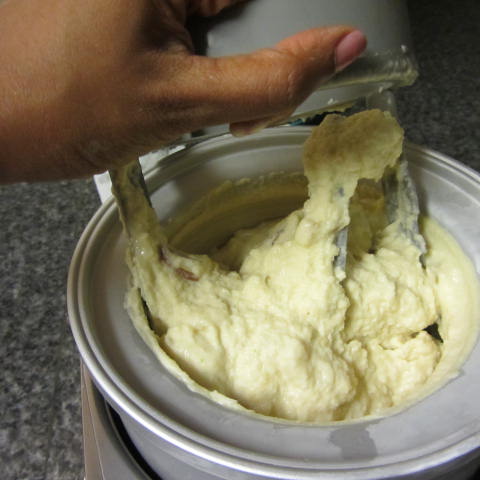 Greetings from sunny Ethiopia! As I slowly thaw out from the DC arctic freeze and get used to this 8 hour time difference, I share with you a recipe that'll have you dreaming of palm trees and a light warm breeze. This vegan ice cream is made rich and decadent by the silken tofu and coconut milk, and it's made sultry by the brown sugar roasted pineapple. Yes, you heard me correctly brown sugar roasted pineapple! By roasting the pineapple, you extract and concentrate the pineapple's natural sugars. The end result is that you need less sugar than if you didn't roast the pineapple. AND, it'll make your house smell like paradise. Win. And WIN! Enjoy the week folks and see you next Saturday with another new recipe! 😀
Brown Sugar Roasted Pina Colada Ice Cream
Ingredients:
1 16 oz. block silken tofu
1 teaspoon vanilla extract
juice and zest from 1/2 lime
1/2 cup sweetened flaked coconut
1/3 – 1/2 cup brown sugar
1 can (~13.5 oz) coconut milk
pinch salt
1/2 cup pecans–roughly chopped; toasted
1 pineapple–peeled, cored, cut into big chunks
1/3 cup almond milk
2 tablespoons agave (optional)
Method:
*Pre-heat oven to 400 degrees F. Line 9″ x 13″ baking dish with parchment paper. Add pineapple and brown sugar. Massage brown sugar into pineapple. Roast for 45 minutes, turning two times (every 15 minutes). After 45 minutes, set aside to cool.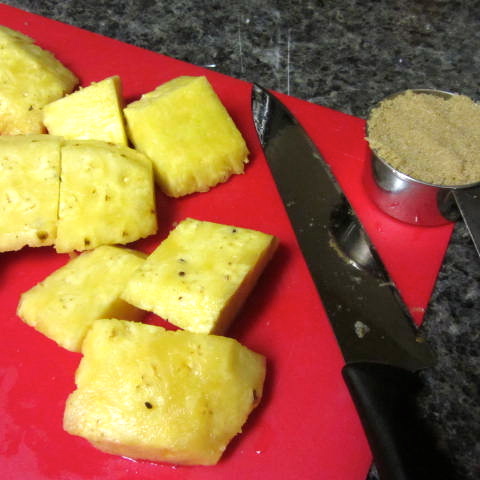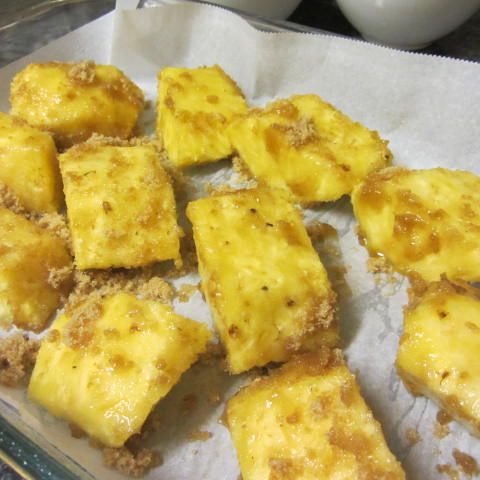 *When cooled, roughly chop 1/4 of the pineapple and set aside. Blend the other 3/4 of the pineapple (with all of the juice and syrup from the baking pan) in a blender. Add tofu, coconut milk, vanilla extract, salt, lime juice, lime zest, and almond milk (and agave, if using). Blend until smooth.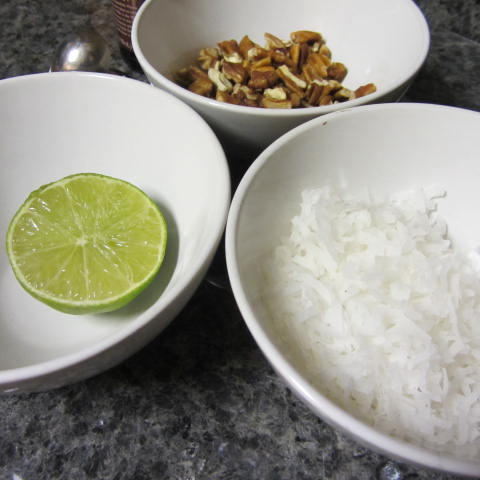 *Add blended mixture to your ice cream maker. Run according to the directions. Once thickened (about 5 minutes before finished), add chopped pineapple, pecans, and coconut. Run for about 5 minutes. Enjoy! (Best enjoyed soft… like a Blizzard).