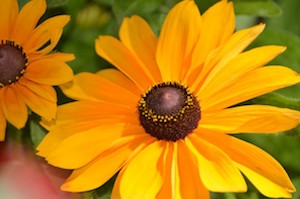 Each Monday, Tiffany posts a message that provides positive energy and  tips for eating more mindfully. The purpose of the weekly message is to reinforce the ideas from the talks and classes that are a part of the Como Water Membership, and to further support those living the veg-centric lifestyle. To receive our Mindfulness Mondays posts, Become A Member today.
I've arrived in Addis safely and am getting used to the time difference (and the altitude)! As I settle in and sip slowly on the best coffee in the world, I contemplate the concepts of perfection and (im)permanence, and how striving for it leaves us inevitably unfulfilled. More on this to come, but in light of my contemplations, today I give you a poem that I wrote when I was 17. Apparently I've been thinking about these themes for a loooooooooog time! 😀 Have a great day folks and see you soon with a new video post!
My Daisy
My mother frowns, "why do you waste your time, why do you waste your money with something so so –not permanent? Honey, don't you know that flowers die,  (but flowers grow) and flowers wilt" (and flowers bloom) but I stay silent because deep down I know, I know that I can't  win. So I stay shut I don't argue. I just  think and think  and think– People aren't permanent  and don't stay perfect and people die –should I stop loving them too?