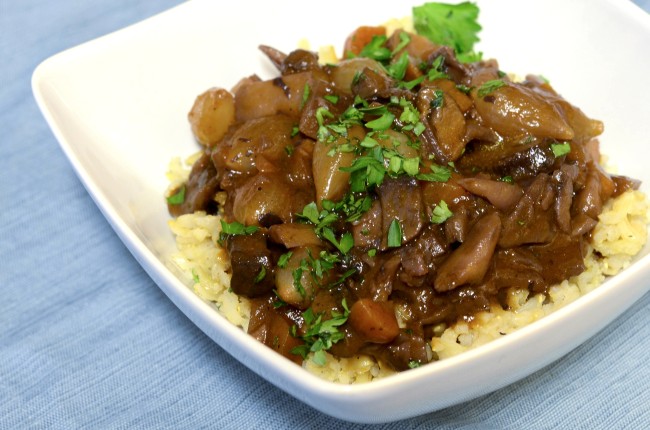 It's cold. No, really. Not the oh, I live in DC I've become desensitized to cold weather and when it drops down below 60 degrees I shiver cold. Like, really, arctic winds are dropping the temperature down to below zero and I don't have a car so I walk and Metro everywhere cold. Like, really, really cold. And when it's really, really cold, I want to warm myself up from the inside out. Enter this Mushroom Bourguignon (…dedicated to my dear friend Sophia! She'll totally know why :D).
Traditionally the French stew, Bourguignon, is made with beef. So, when trying to come up with this veg-centric version that first debuted in a "veg-centric cooking with red wine" class I held in DC last Feb., I immediately thought of mushrooms. Hearty, earthy, and complemented by red wine, I went with a trio of different types of mushrooms. Feel free to use your mushroom(s) of choice! I may not be able to pronounce it right (my French accent is HORRIBLE!); it may not have any meat in it; but this was more than delicious, more than soothing, this stew allured me and warmed me through and through. Also, for those out there like me who like leftovers, you'll be happy to know that it's fantastic the second day!
Stay warm folks and see you next week when I'll be writing from Ethiopia with another new recipe!
Mushroom Bourguignon
Ingredients:
2 tablespoons Earth Balance, softened

2 large portobello mushrooms, cut in 1/4-inch slices
1 8 oz package cremini mushrooms, cut in 1/4-inch slices
1 4-8 oz package oyster mushrooms, cut in 1/4-inch slices
1 carrot, finely diced

1 small yellow onion, finely diced

2 cloves garlic, minced

1 cup red wine
 (I used pinot noir)
2 cups vegetable broth
2 tablespoons tomato paste

1/2 teaspoon dried thyme
1 tablespoons all-purpose flour

1 cup pearl onions, peeled
olive oil
salt
pepper
steamed brown rice, farro, wheatberries, or couscous for serving; garnish with fresh herbs
 Method:
*Heat ~1 tablespoon of olive oil and ~1 tablespoon of Earth Balance in a medium heavy sauce pan over medium high heat. Sear the mushrooms until they begin to darken, but not yet release any liquid (approx. 3 min). Remove them from pan. Set aside. Lower heat to medium and add ~1-2 tablespoons of olive oil. Toss the carrots, onions, thyme, salt and pepper into the pan and cook for ~10 minutes, stirring occasionally, until the onions are soft. Add the garlic and cook for ~1-2 minutes.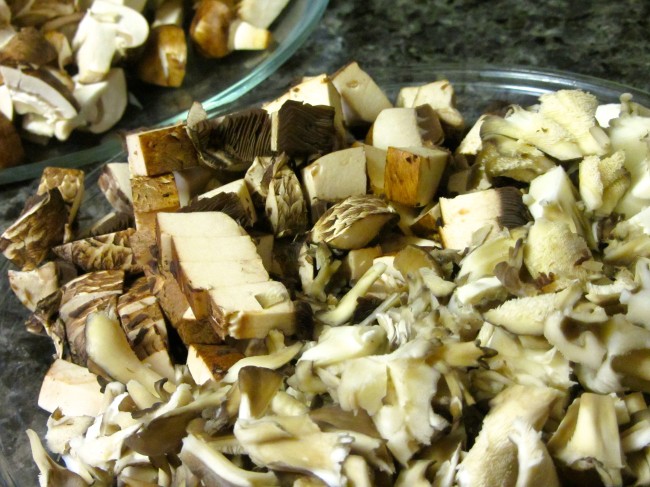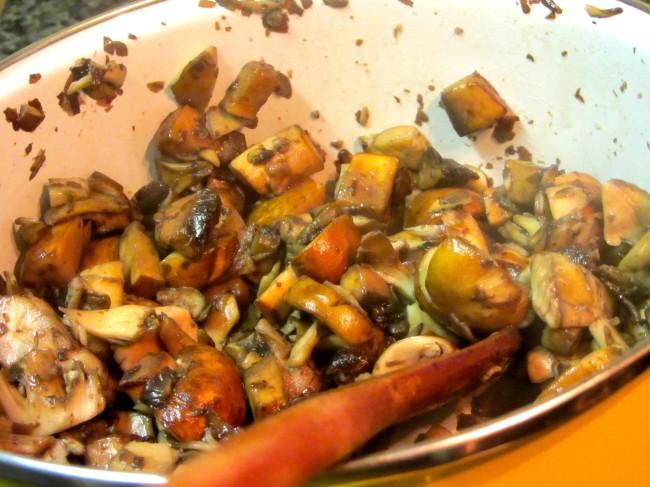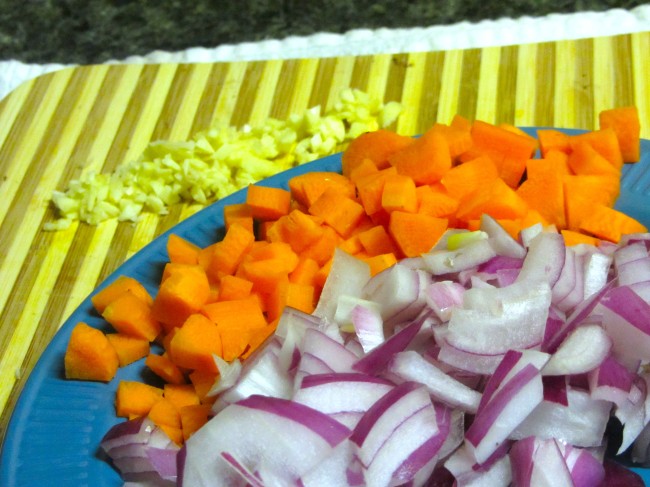 *Add the wine to the pot, scraping any stuck bits off the bottom, then turn the heat to high and reduce the wine by half. Stir in the tomato paste and the broth. Add the mushrooms (and all of their juices). Once boiling, turn down the heat and simmer for ~15-20 minutes, until mushrooms are tender. In the meantime, prepare your pearl onions. (Or you can just use frozen pearl onions!).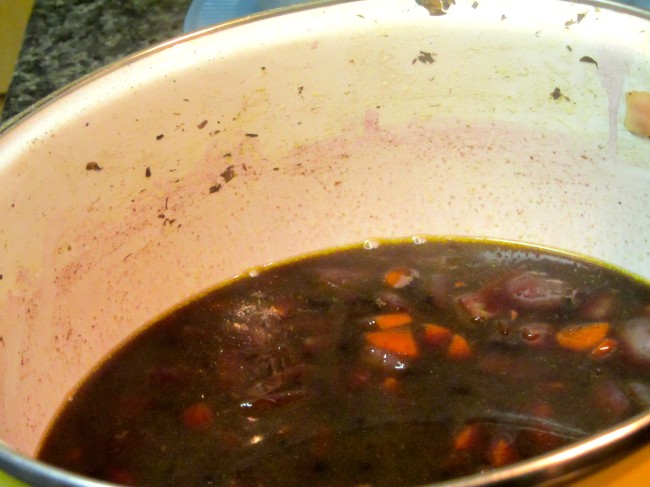 *Bring 2-3 cups of water to a boil. Add pearl onions and let boil for ~3 minutes. Turn off heat. Strain onions and rinse under cold water. Cut ends of pearl onions off. Peel. Set aside. Once the mushrooms are tender, add the pearl onions and simmer for ~5 additional minutes.
 *Combine remaining 1 tablespoon Earth Balance and flour with a fork until combined; stir it into the stew. Lower the heat and simmer for 10 more minutes. If the sauce is too thin, boil it down to reduce to your desired thickness. Season to taste. To serve, spoon over bowl of steamed rice (etc.) and garnish with fresh herbs.