Do you ever wonder whether you've still got it? Well, lately, I've been wondering just that. I've been eating rather lackluster rice and beans and recycling old recipes, thinking to myself… maybe I've just exhausted my creative juices. Maybe after 300 posts, it's unrealistic to think that you can still conjure up new, creative, super flavorful dishes. Well folks, I am here to tell you today, that I was wrong. Dead wrong.
I've still got it ;). And in the next few weeks, I can't wait to show you what I've been cooking up. For now though, let me share the baked oatmeal that I made with one of my favorite treats in mind–the almond joy. I added cinnamon to warm up my insides because it's oh so cold outside, and I used steel cut oats so that I'd stay full until lunchtime. Delicious and guiltlessly decadent (there's only 1 tablespoon of chocolate chips for 3 servings!), this is, in short, the perfect winter breakfast!
Cinnamon Almond Joy Baked Oatmeal
Ingredients:
1 cup oat milk (or other milk of choice)
1/2 cup water
1/4 cup steel cut oats
1 teaspoon to 2 tablespoons brown sugar (to taste)
1 teaspoon vanilla extract
1/2 teaspoon almond extract
1 teaspoon cinnamon
1 heaping tablespoon shredded coconut
1 tablespoon chocolate chips
1/4 cup flaked almonds
Earth Balance to butter ramekins
almonds, coconut, chocolate chips, and cinnamon to garnish
Method:
*Preheat oven to 400 degrees F. Butter ramekins with Earth Balance. Set aside.
*Add milk and water to saucepan and bring to a boil (watch! to make sure it doesn't boil over). Add oats. Stir and turn down to low. Add coconut and cinnamon. Stir occasionally for 20 minutes.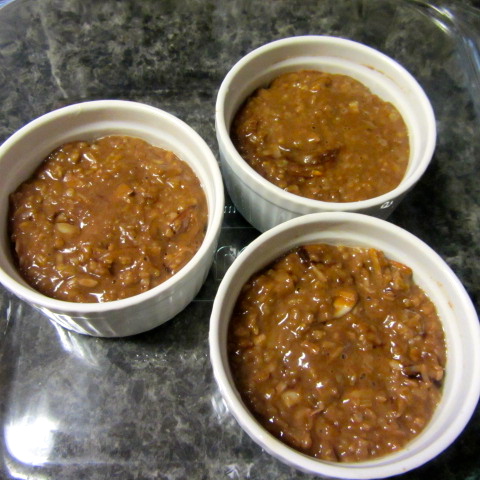 *After 20 minutes, remove from heat. Stir in extracts, chocolate chips and almonds. Stir. Divide among 3-4 ramekins. Cover ramekins with foil. Add ramekins to larger dish with ~ 1/2 inch of water in the dish. Bake 30-40 minutes. Remove from oven. Garnish. Enjoy!