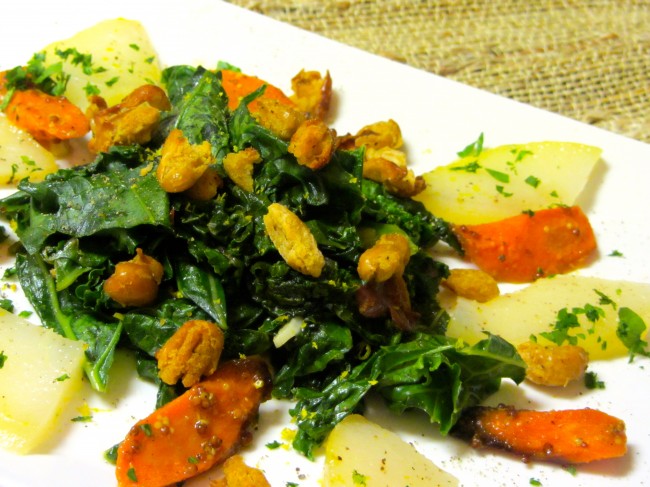 I hope everyone out there who celebrates Thanksgiving had a great one! For the 4th year in a row, I was up in Maine with family doing the veg-centric Thanksgiving thing. Luckily, travel was pretty uneventful, our meal was utterly delicious, and now I'm back…craving something light to counter the heaviness of Thursday's meal (and the leftovers I've been eating every day since!).
Enter this salad. Each component of this salad could easily be a post unto itself… the wilted kale and carrots would make great side dishes, the pears would make a great dessert (or blended, would make a great sorbet!), and the roasted white beans would make a great snack. Together, they make a wonderful, light, yet surprisingly filling salad–perfect for the winter and absolutely perfect for a post-Thanksgiving treat!
Wilted Kale Salad with Poached Pears, Lemon-Glazed Carrots, and Roasted White Beans
Poached Pears Ingredients:
1 bosc or Anjou pear–peeled, quartered, and cored
2 cups water
1 cup white wine (I used vinho verde)
1/4 cup sugar
1/4 cup orange juice
pinch salt
1/2 tablespoon black peppercorns
Poached Pears Method:
*Mix wine, water, orange juice, sugar, salt, and black peppercorns in a medium sized sauce pan. Heat over medium until sugar dissolves, stirring occasionally.
*Once sugar is dissolved, add pear pieces. Heat over a low boil/simmer until pears are tender, for about 15-25 min, depending on the pears used/ripeness. Turn the pears occasionally for even poaching. Set aside and let cool in poaching liquid.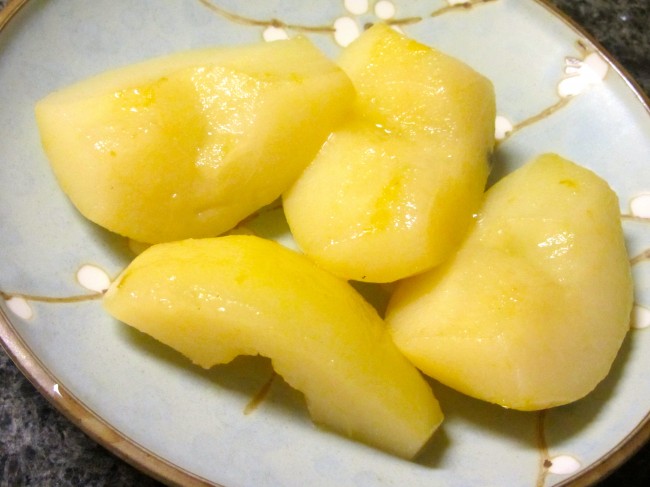 Roasted White Beans Ingredients:
1 cup canned white beans–rinsed well
1 tablespoon olive oil
1 teaspoon Sriracha (or other hot sauce)
salt
pepper
Roasted White Beans Method:
*Preheat oven to 400 degrees F. Add beans to a baking dish. In a small bowl, mix oil, hot sauce, salt, and pepper. Add the oil mixture to the beans. Roast 15 minutes. Stir. Roast additional 15 minutes. Remove from oven, set aside.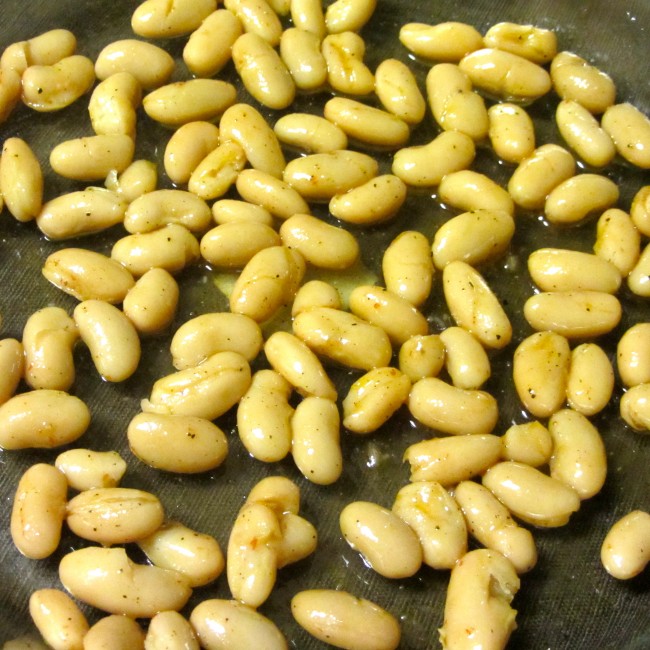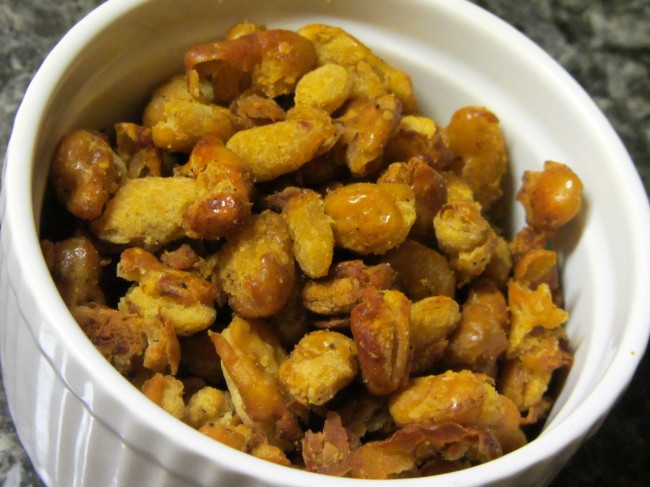 Lemon-Glazed Carrots Ingredients:
1/2 pound carrots–washed, peeled, ends removed
juice/zest from 1 lemon
1 teaspoon whole grain mustard
1/4 teaspoon cumin
1 tablespoon agave
olive oil
salt
pepper
Lemon-Glazed Carrots Method:
*Preheat oven to 400 degrees F. Cut carrots into oblong slices. Add to baking dish with 1-2 tablespoons olive oil, salt, and pepper. Roast 30 minutes, turning after 15 minutes.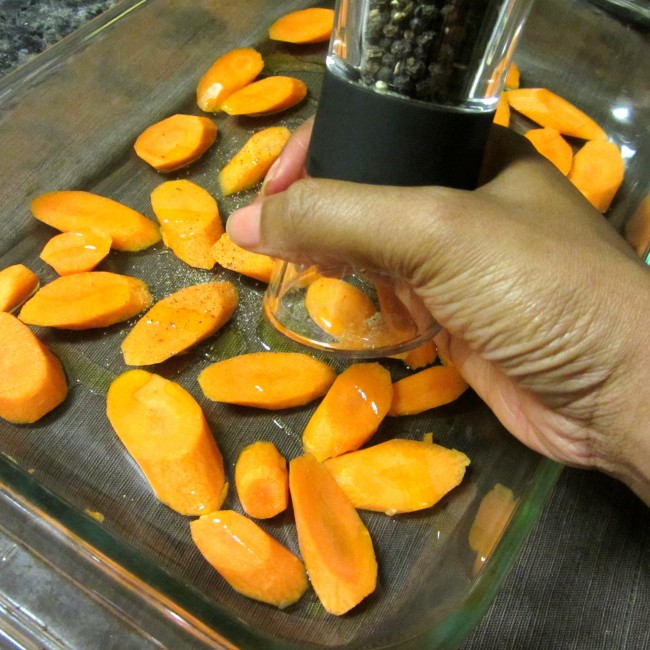 *Whisk lemon juice, mustard, agave, and cumin. Add lemon mixture to carrots after they've roasted for 30 minutes. Stir and leave in oven until ready to serve salad. (reserve lemon zest for garnish).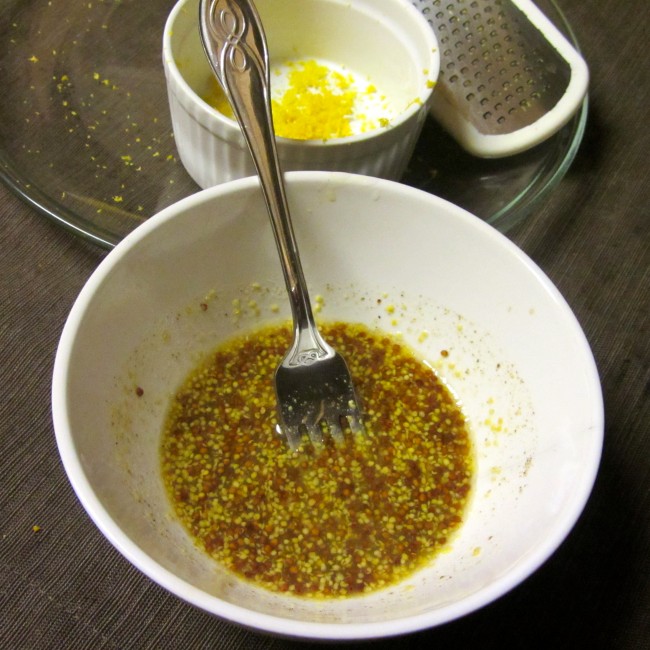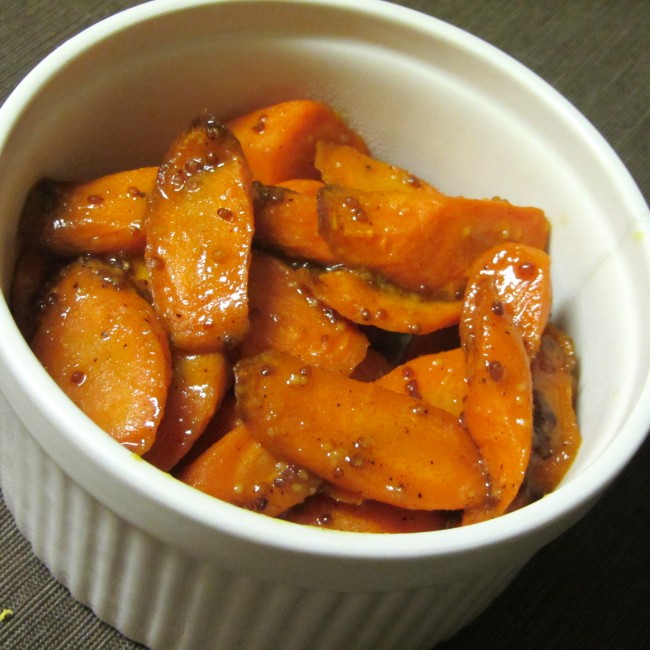 Wilted Kale Ingredients:
2 tablespoon olive oil
1/2 teaspoon red pepper flakes
1 clove garlic–minced
1/2 pound kale–washed, roughly chopped
juice from 1/2 lemon
1 tablespoon apple cider vinegar
salt
pepper
Wilted Kale Method:
*Heat olive oil over medium low in a large sauté pan. Add red pepper flakes. "Infuse" oil for about 5 minutes. Add garlic. Saute 5 minutes. Add kale. Turn heat to medium.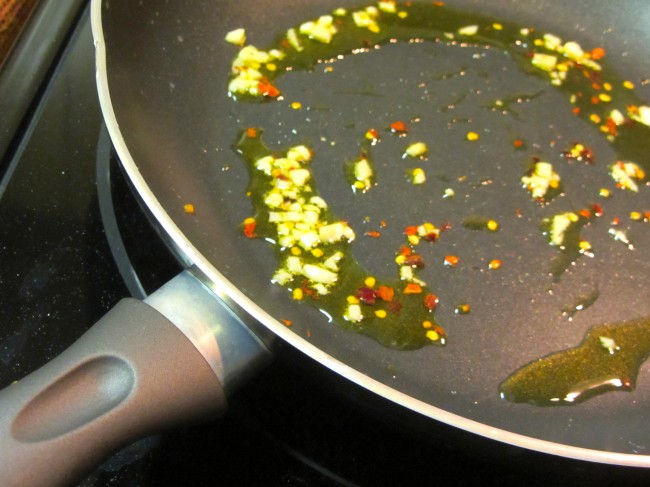 *Wilt the kale over medium heat, stirring occasionally. Add salt and pepper. Once barely wilted (kale should still have a little bite), add lemon juice and vinegar. Adjust seasoning. Set aside.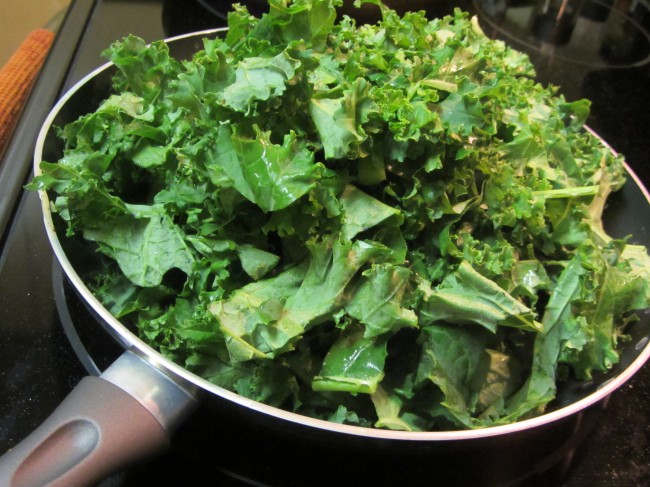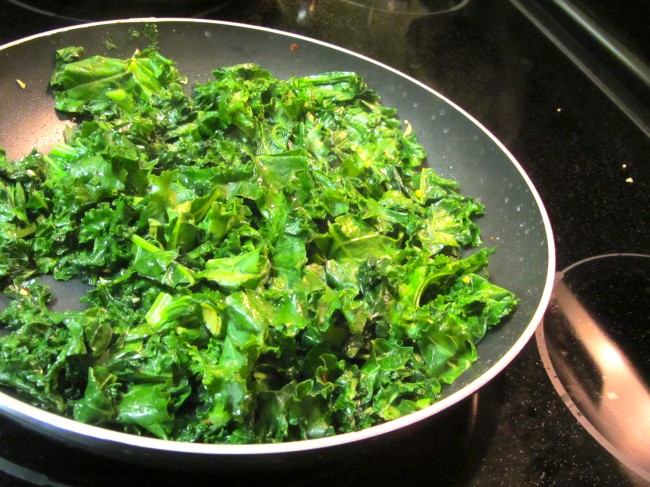 Putting It Together:
*Slice poached pear. Plate kale. Add carrots, pear slices, and roasted beans. Garnish with lemon zest and fresh herbs. Enjoy!