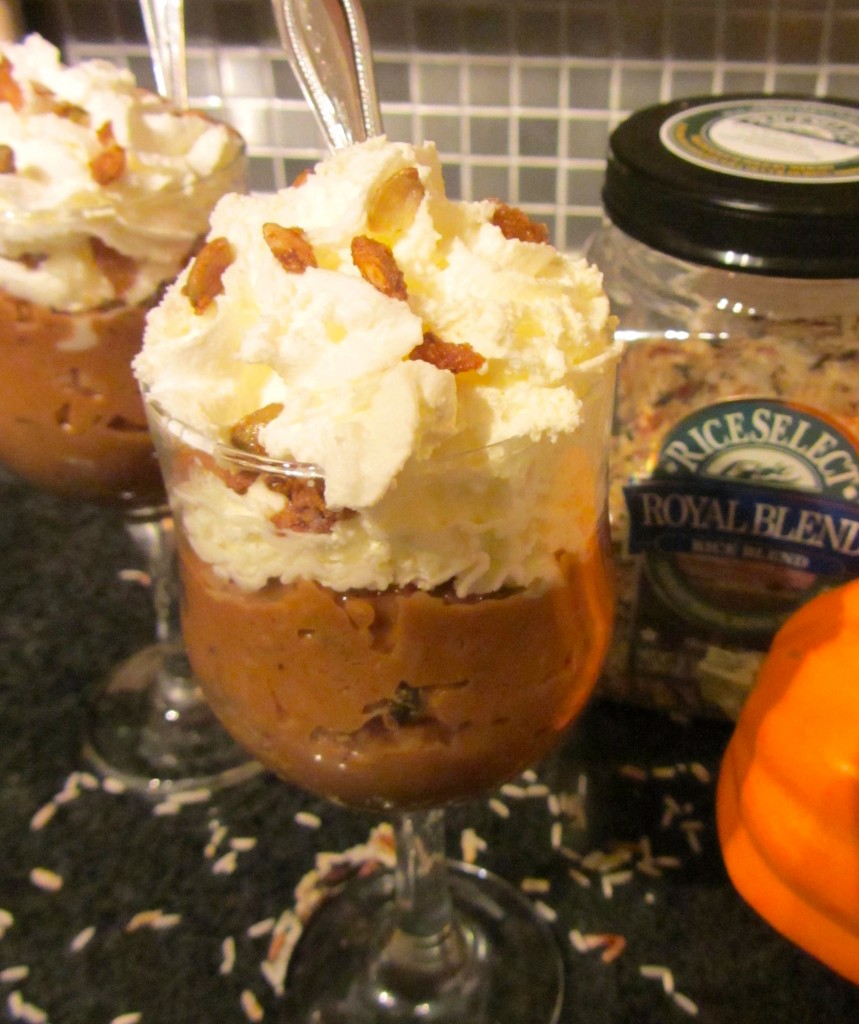 As I mentioned in my last post, this week is a tribute to rice! My last recipe was a savory take on a basic side dish. Today's post is a sweet twist on a classic–rice pudding! When I was selected by DailyBuzzFood to receive a sample of new RiceSelect rice and to host a party where rice was the theme, I jumped for joy… and … immediately started to think up a dessert recipe. The thing is, I've never actually had rice pudding. The other thing is, I got a lovely blend of Texmati white, brown, and wild rice–long grain, and most rice pudding is made from short grain rice (i.e., arborio, etc.). Never one to let convention keep me down, I came up with the vegan recipe below and I couldn't have been happier… but first let me tell you about the theme–making rice romantic!
To kick off the night, I started with my Esperanza Spalding pandora station :D. Next, I placed some beautiful red candles in bowls of rice to heighten the theme and to bring out the red in my dining room paintings (red's also the color of amor!). For dinner, I made a super fragrant, yellow curry mujaddara (with the same rice I made this pudding with; recipe coming soon!), cumin-tomato stewed 'chik'n', and cucumber salad. We ended the evening with this pudding–a lovely combination of fall flavors and the ultimate romantic ingredient–chocolate! All in all, it was a great (and tasty!) evening, with rice at the center of it all!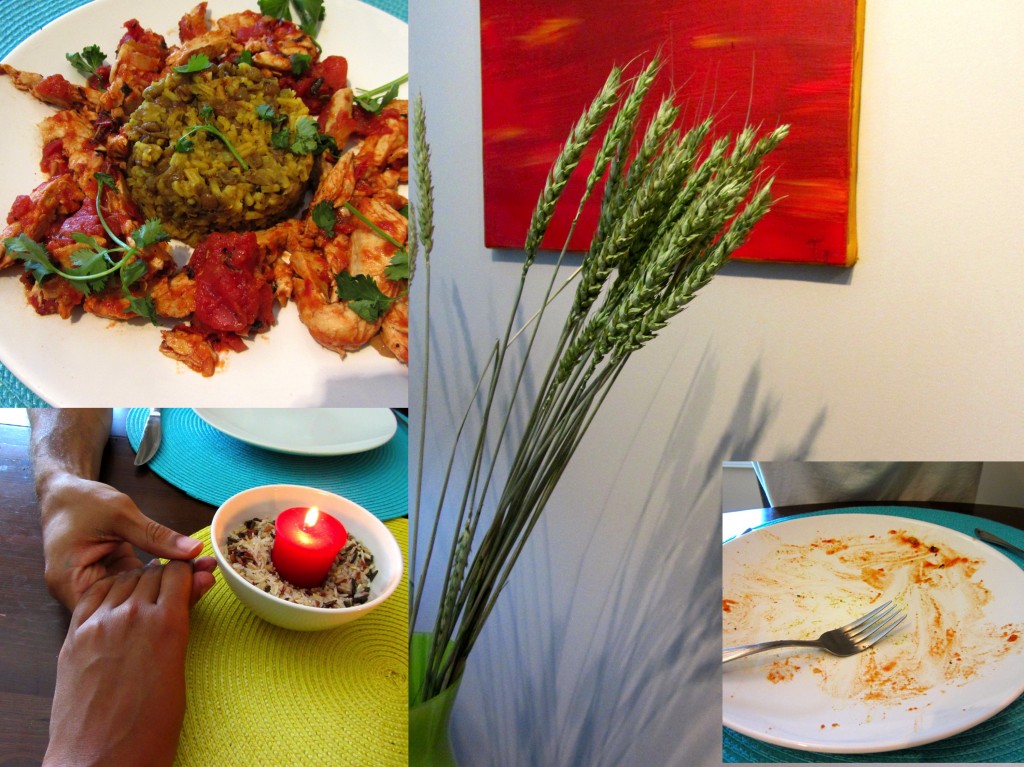 I really hope you try this pudding! The long grain rice worked perfectly. The slow cooking and semi-constant stirring, along with rich coconut milk and silky almond milk made for a super creamy pudding. And the different types of rice–white, brown, and wild– gave this rice pudding a super unique flair, perfect for any romantic evening for two!
Pumpkin Chocolate Rice Pudding
Ingredients:
1 1/2 cups rice (I used Rice Select Royal Blend)
1 can coconut milk
4 cups almond milk
1/2 cup brown sugar
1/3 cup maple syrup
1 tablespoon vanilla extract
pinch salt
1 teaspoon cinnamon
1/4 teaspoon nutmeg
1/8 teaspoon ginger powder
1 cup to 1 can pumpkin puree
1/3 cup chocolate chips
Method:
*Whisk coconut milk, 3 cups almond milk, brown sugar, maple syrup, salt, cinnamon, nutmeg, and ginger powder. Add to medium size sauce pot. Add rice. Bring to a boil. Reduce to low. Cook until tender, stirring periodically (~45 min -1 hour).
*In a separate bowl, whisk remaining 1 cup milk, vanilla extract, and pumpkin puree. Add pumpkin mixture to the tender rice mixture. Stir. Cook ~45 min to 1 hour on medium low just until pudding thickens. Fold in chocolate chips until melted. Serve warm or cold with soy whip. (I also candied some pumpkin seeds in brown sugar for garnish). Enjoy!!!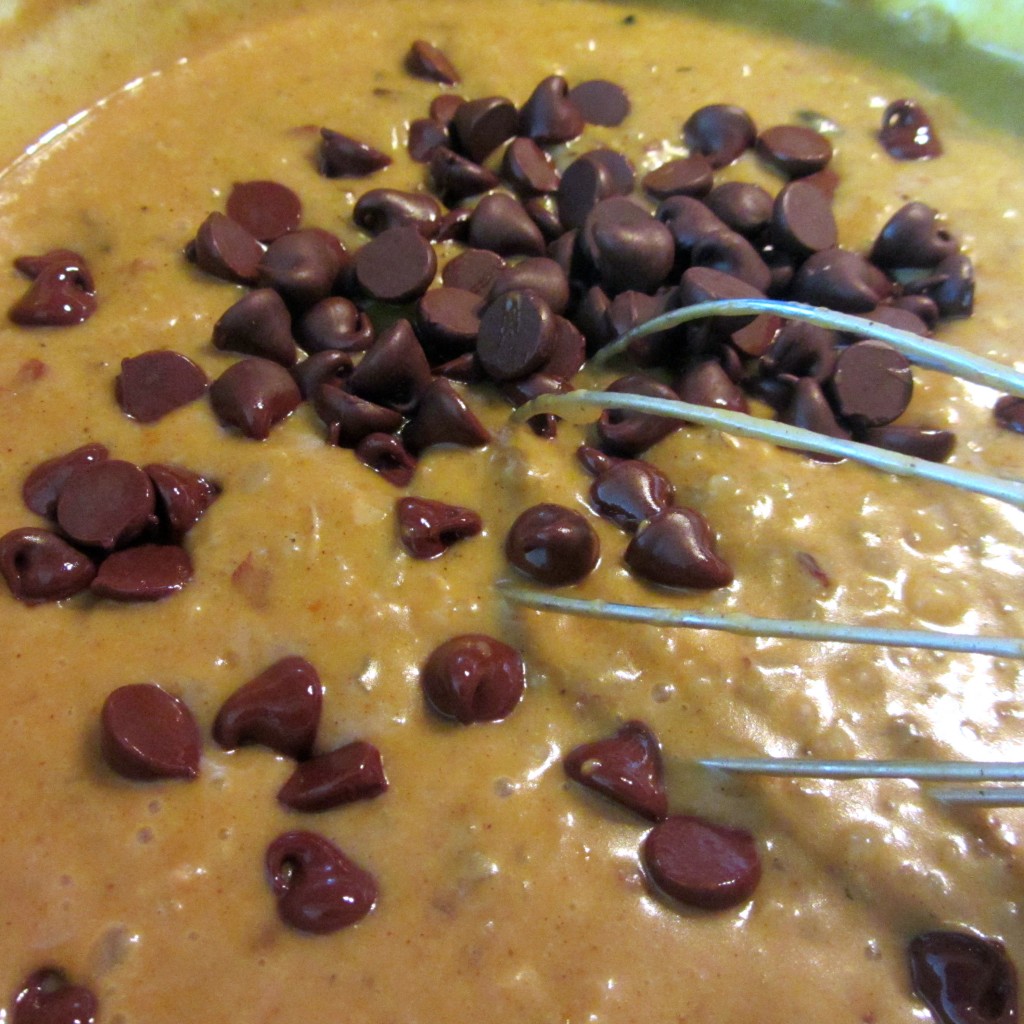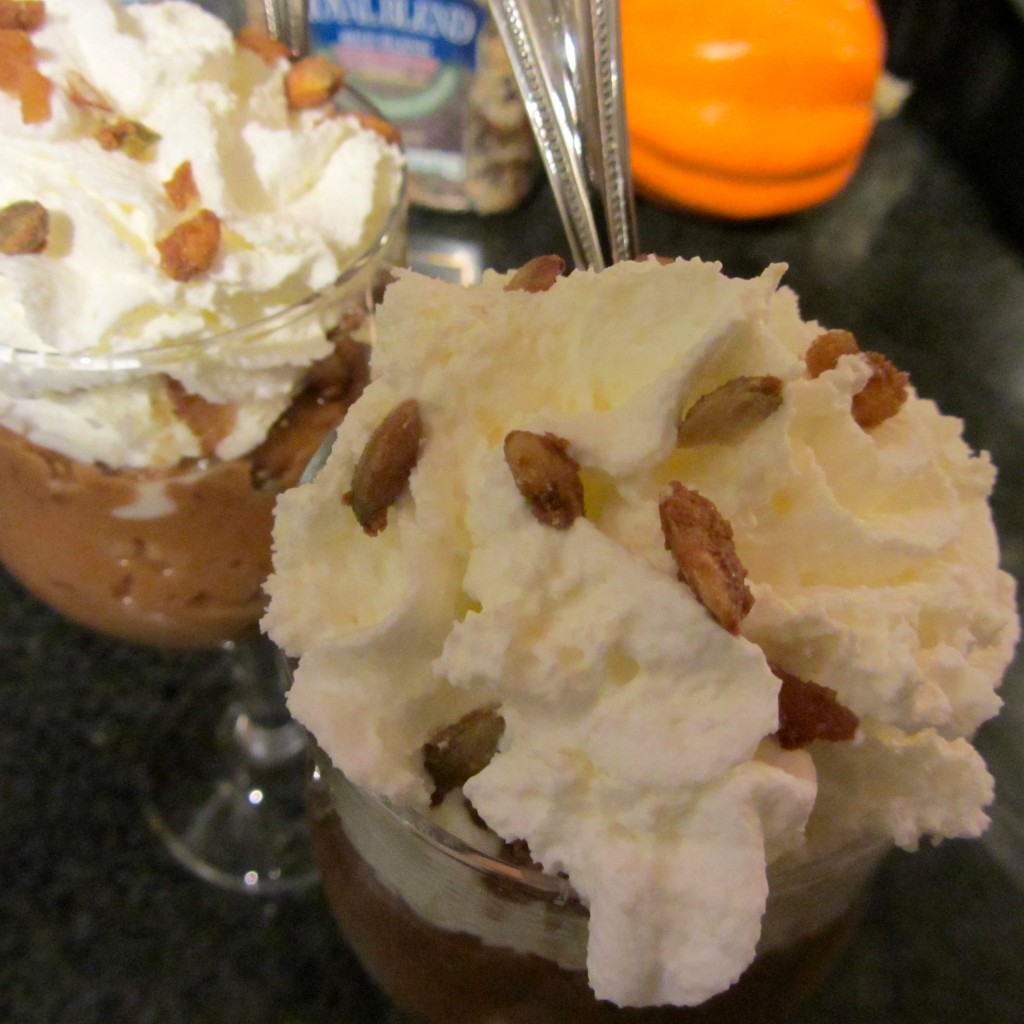 This post is brought to you by Rice Select.