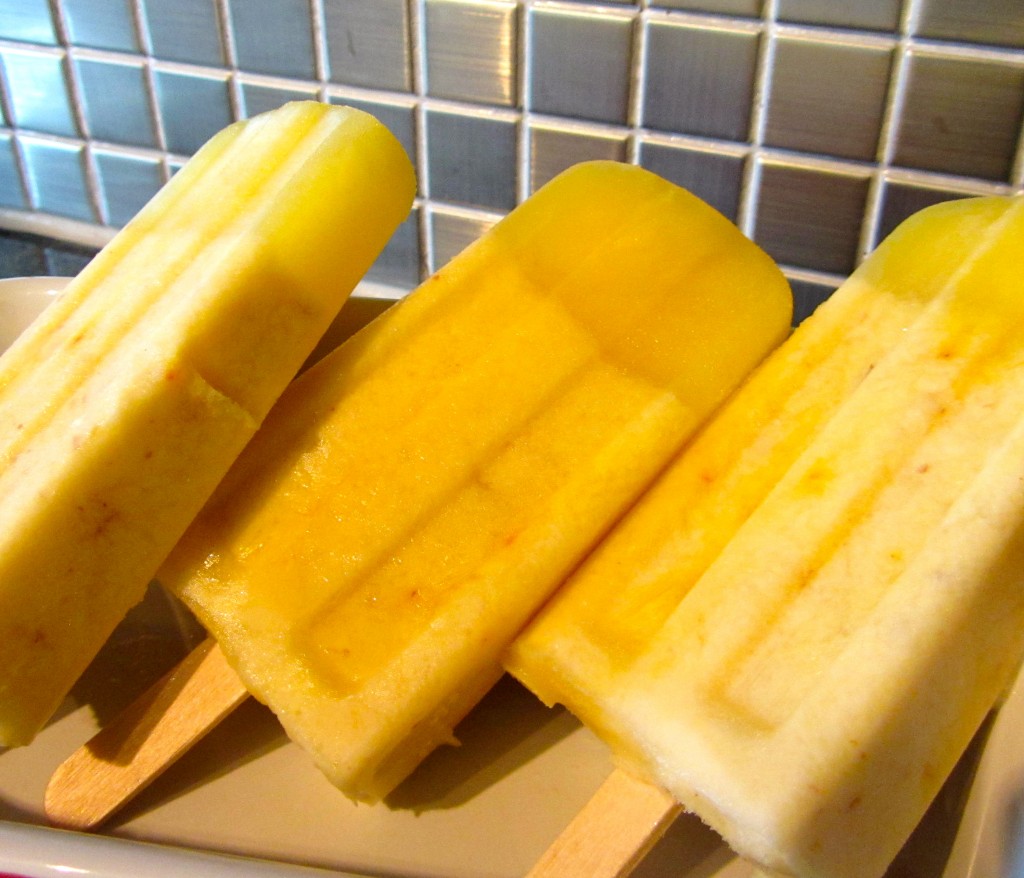 This is my last pop post of the summer folks and it is absolutely amazing! It's a take on the more traditional 'cream-sicle,' but much more grown up! Made elegant with the almonds and fragrant with the saffron, this is one of the best pops I've made all summer. I'm sad to see summer gone, but excited about some changes en mi vida. I was planning to tell you about those changes today, but alas, insomnia took a hold of my slumber last night.
What does that have to do with my post? Well, it led to me watching a short documentary on Netflix instead of sleeping. And that, my friends, is what I want to tell you about!
The film was called Save the Farm (you can watch it for free on Hulu.com or YouTube!!!). It was a heart-wrenching tale of a 13-acre community farm in South Central LA that provided food for over 350 families in the city. The garden was run without any governmental assistance, except for the land use, and had been in operation for over 13 years, when the city (illegally?) sold the land to a developer for a price dramatically lower than market value.
Despite multiple lawsuits, the community was never able to prove in a court of law that the sale was illegal. The developer bought the land from the city for $5m and offered to sell it back to the community for $16m. When the community raised the $16m, he backed away from the deal.
Maybe I have been influenced too much by Hollywood, but I was really expecting a happy ending to the film. It never came. Despite peaceful protests, sit-ins, and widespread community support, including many prominent actors and activists, the police came in, removed the people, and bulldozers flattened the land. By this point, I was sobbing (so much for getting back to sleep!). I'll stop here because I don't want to give everything away, but I'll leave you with a quote from one of the speakers in the film. Fred "Red Crow" Westerman states,
"It is the end of living and the beginning of survival in a sense.  Anything having to do with man's connection to earth should not be broken."
I hope you all are enjoying your days off and I'll be back later in the week with something savory! 😀
Saffron-Almond Dream-sicles
Ingredients:
2 cups orange juice
1 cup vanilla non-dairy creamer
½ teaspoon vanilla extract
½ teaspoon orange extract
½ teaspoon almond extract
½ cup water
¼ cup sugar
¼ teaspoon saffron
½ cup sliced almonds
Method:
*Blend all ingredients. Add mixture to popsicle mold (you can also make a granita or use an ice cream maker!). Freeze approx. 1 hour until mixture is slushy (it will separate a bit). Add sticks. Freeze until frozen. Enjoy!