It's my birthday! It's my blogiversary! And I'll eat vegan summer nicoise salad if I want to! But more on this salad later… now it's time for some reflection.
Two years ago I started Como Water as a repository for my home recipes. Friends and families asked how I made this and how I made that, and after years, I decided to keep track. The first year was a learning process. I learned that there is something called a "food blog." (Wait, other people do this too???). I learned that there's something called "food photography." (Wait, my pictures shouldn't be taken with my phone????). And I learned that there's a vibrant community of folks who share in each other's triumphs and support each other through tribulations. (Wait, someone else cares about what I'm writing besides my nana?!?!?!?). Oh, did I learn. And oh, did I become obsessed :D. Como Water became the ultimate creative outlet, pushing my gastronomic adventures beyond what I could have ever imagined.
Enter the second year… and a secret I've been keeping from all of you. You know that I moved to DC. You know that I transitioned from academia to policy. But what you didn't know is that I've been working for US Senator Bingaman of New Mexico on health, food, and nutrition policy for the past year! It literally has been the best job of my life with the best co-workers I've ever had. It's also been extremely difficult adjusting to a non-academia schedule and the often hectic pace of the Senate. This has undoubtedly had an effect on Como Water, but to delight (and often to my surprise), my food blog has survived another year! I have not posted as often as I have liked (why yes, I have eaten cereal for dinner more nights than I'd like to admit!) and I haven't been able to comment on as many blogs as I would have liked, but here I am, two years in, still loving my blog, appreciating my readers, and connected to the foodie community! Thank you for sticking with me through this transition and for all of your comments, etc. on Como Water. I am so excited to see what this next third year will bring. And I'm super excited to kick it off with this salad!
A traditional nicoise includes tuna, green beans, hard boiled eggs, tomatoes, onion, capers, and potatoes. I mimicked the presentation of a traditional nicoise, but used seasonal and vegan ingredients, including hearts of palm instead of eggs/potatoes. I captured the acidity of a traditional nicoise with the grapefruit and vinaigrette instead of capers, and gave a nod to my favorite season by highlighting fresh, juicy peaches, and hearty heirloom tomatoes. Simply put, it works. Oooooooo, it works! 🙂
In my next post, I'll show you what my birth-i-versary dessert entailed! And I'll have a giveaway for you…and oh, you're going to like it!!!  😀
Vegan Summer Nicoise Salad
Ingredients:
3 stalks–hearts of palm–sliced
3 small heirloom tomatoes (mix up the colors!)–sliced
one large peach–sliced
1 medium grapefruit–segments and juice
1 tablespoon red wine vinegar
2 tablespoons olive oil
1-2 tablespoons chopped cilantro
salt
pepper
Method:
*Prepare all fruit/veggies. Supreme grapefruit. Squeeze juice from leftover grapefruit (non-supremed) into small bowl. Add vinegar, olive oil, and cilantro to grapefruit juice. Whisk.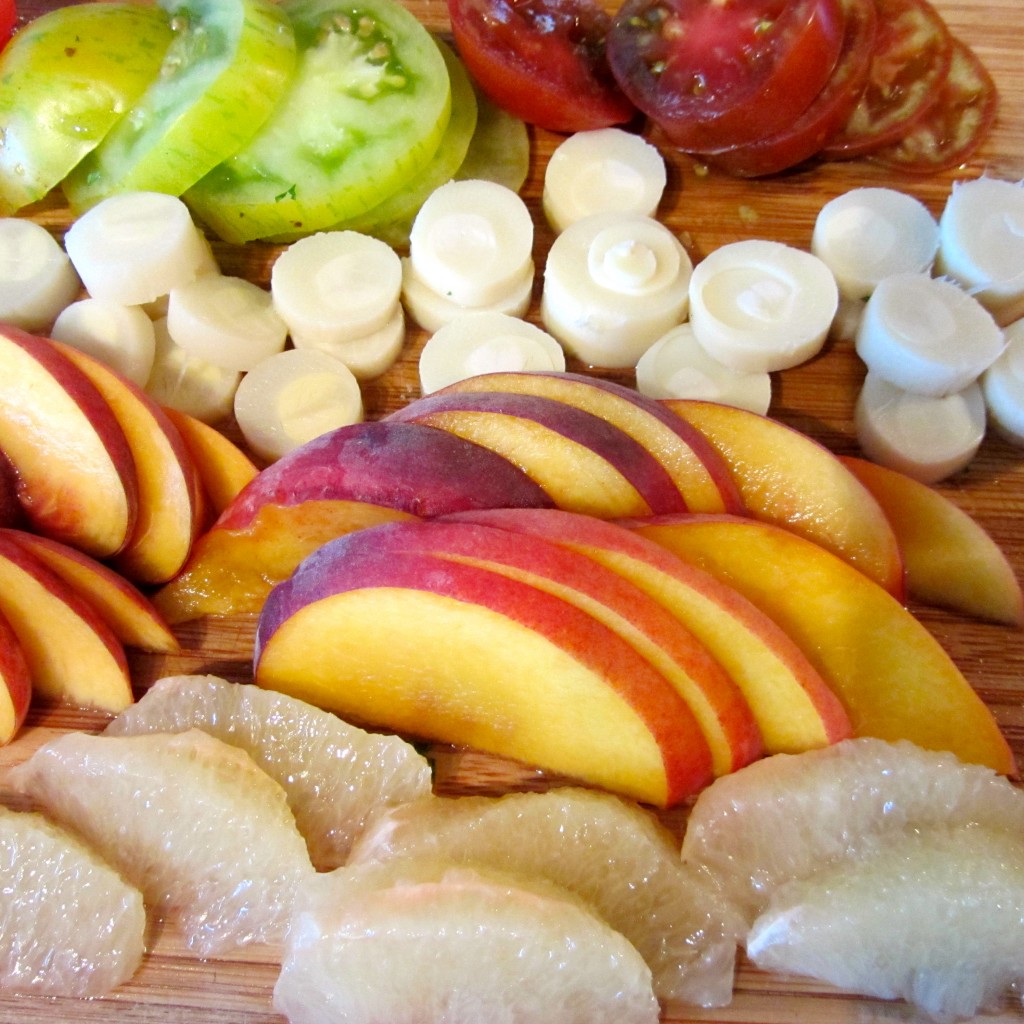 *Plate fruit/veggies. Sprinkle lightly with salt and pepper. Drizzle vinaigrette. Serve immediately! Nom 😀