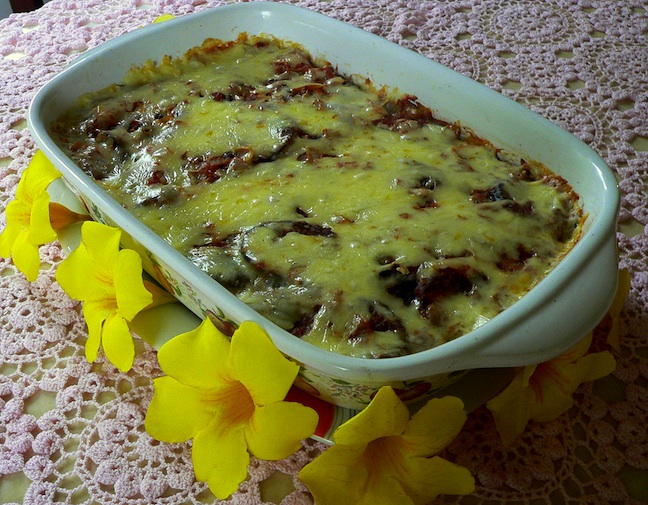 My movers are coming tomorrow and I am NO where near packed. This, after the most riveting weeks of work ever (more on that later). So needless to say I will keep today's intro short and sweet :). Today, I want to introduce you to Jennifer of Splendid Low Carbing. She is a spectacular food blogger specializing in well, 'special diets.' I couldn't think of anyone better to share a lovely low carb recipe for "diversify your grains" month. So, without further delay, meet Jennifer! I'll be back early next week with one last "diversify your grains" recipe and here's a hint… it's sweeeeeet! Happy Saturday folks! 😀
*          *          *
My name is Jennifer Eloff.  I am a cookbook author of 8 cookbooks, soon to be 10 by the end of this year, God willing. I have been in this business for 20 years and one of these days will hang up my kitchen gloves…nah not really…I'll always keep my hand in. 🙂  My blog is Splendid Low-Carbing with Jennifer Eloff or comically known as Jungle Jen's Journal, since I write to you from deep within the jungles of South America and high up on a mountain in a National Park in my cute-as-a-button, mango-colored retirement cottage on half an acre of gorgeous garden and just above a meandering river which can easily turn into a raging torrent after a rainstorm!  Yes, we have high speed internet!  Amazing world we live in!  Having spent almost 30 years in the cold, White North (Canada), I appreciate the beauty of year-round flowers, greenery and the wonderful critters like the Jeoffroy Tamarin monkeys that visit us or the big 'ol sloth that sits 7 stories up in a large jungle tree on our property.  We only have a dry season and a wet season and it is always hot and humid in the lowlands and Spring-like and cooler in the mountains.
This Eggplant Parmigiana is a popular, very famous vegetable dish which is often quite high in sodium.  I could eat this vegetable dish as a side with almost anything.  I love it! Tiffany, my talented friend I met through Foodbuzz, asked me if I'd like to share something on her excellent blog.  The only criteria was that it had to be vegetarian.  Tiffany doesn't realize this but this is my very FIRST guest post ever.  Haha!  As a result, hope you're not too disappointed.  Writing is not my strong suit, recipe writing and recipe development is and, in particular, recipe writing for special diets, now most recently for low-carb and gluten-free diets – far from vegetarian, although many low-carbers are vegetarians or even vegans.  It's difficult but not impossible to do.  B12 supplementation is probably paramount as permanent nerve damage can occur with a severe deficiency.  Although I am not vegetarian, let alone vegan, (I am not a big meat eater, preferring fish, shellfish, eggs and chicken. given the choice) I can definitely relate in one way and that is sticking to a special diet, especially when eating out is not always easy.  High-carb temptations abound and gluten lurks in many foods, even most soy sauces or even blue cheese dressing!  I think it must be equally difficult for vegetarians.
What I'm sharing is a recipe I absolutely love and if I were faced with vegetarian friends coming to visit me for a meal, this is probably one of the things I would serve.  When I was a young girl in my twenties working as a secretary for a large Engineering firm in Toronto, my beautiful, vegetarian friend introduced me to this dish.  From that day forward, I've loved it.  Sometimes though I feel it can be a bit high in sodium and so over the years, this version of my Eggplant Parmigiana emerged. Hope you like it too.  All my friends rave about it.
This recipe requires my Splendid Gluten-Free Bake Mix which I'm including.  It is a copyrighted recipe from the cookbook, Low-Carbing Among Friends Volume-1 (see Amongfriends.us).  In fact, this Lower Sodium Eggplant Parmigiana is scheduled to appear in Low-Carbing Among Friends, Volume 2 which is being published sometime in July.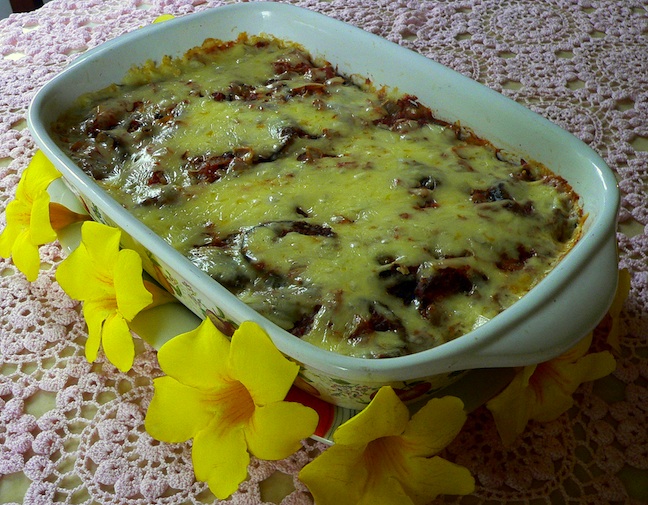 Lower Sodium Eggplant Parmigiana
One of my favorite vegetarian dishes ever!  Hope you enjoy it.
(Ingredients): 
7 tbsp olive oil (105 mL)
1 large onion, chopped
1 garlic clove, minced
14.5 oz can diced tomatoes (411 g)
1/2  cup water (125 mL)
Liquid sucralose to equal 2 tsp (10 mL)
SPLENDA® Granular
1/2  tsp dried oregano (2 mL)
1/2  tsp dried basil (2 mL)
1/2  tsp No Salt® (2 mL)
1/2  cup Gluten-Free Bake Mix, see recipe below (125 mL)
1/3  cup grated Parmesan cheese (75 mL)
1/4  tsp Italian seasoning (1 mL)
1/4  tsp No Salt® (1 mL)
1/8 tsp black pepper (0.5 mL)
1/8 tsp salt (0.5 mL)
2 eggs
1 tbsp water (15 mL)
1 lb Chinese eggplant slices (about 1/4-inch (0.6 cm) thick) (0.45 kg)
11/2  cups grated Mozzarella cheese (375 mL)
Method: 
Preheat oven to 350°F (180°C).  In large skillet, in 1 tbsp (15 mL) olive oil, cook onion and garlic until translucent and tender. Stir in tomatoes, water, liquid sucralose, OR SPLENDA® Granular, oregano, basil and No Salt®.  Simmer over low heat 10 minutes.  On dinner plate, spread Gluten-Free Bake Mix, Parmesan cheese, Italian seasoning, No Salt®, black pepper and salt; mix well.  In small bowl, beat eggs and water together with fork.  Dip eggplant slices in egg wash and then lightly in Parmesan cheese mixture on both sides of eggplant slices.  In large nonstick saucepan, in 1 tbsp (15 mL) hot oil, fry eggplant slices until golden brown on both sides.  Repeat.
Layer half eggplant slices in 9 x 13-inch (23 x 33 cm) glass baking dish, cover with half tomato mixture, sprinkle with half grated Mozzarella cheese; repeat.  Bake 25 minutes in oven.
Helpful Hints:  If you think you will run out of "breading" then stir in some more Parmesan cheese and/or bake mix.  You will need a good nonstick saucepan that is still in good shape to use the amounts of oil indicated otherwise the eggplant absorbs too much oil.
Yield:  12 servings. 1 serving= 241.0 calories, 16.7 g protein, 19.2 g fat, 6.7 g carbs
*          *          *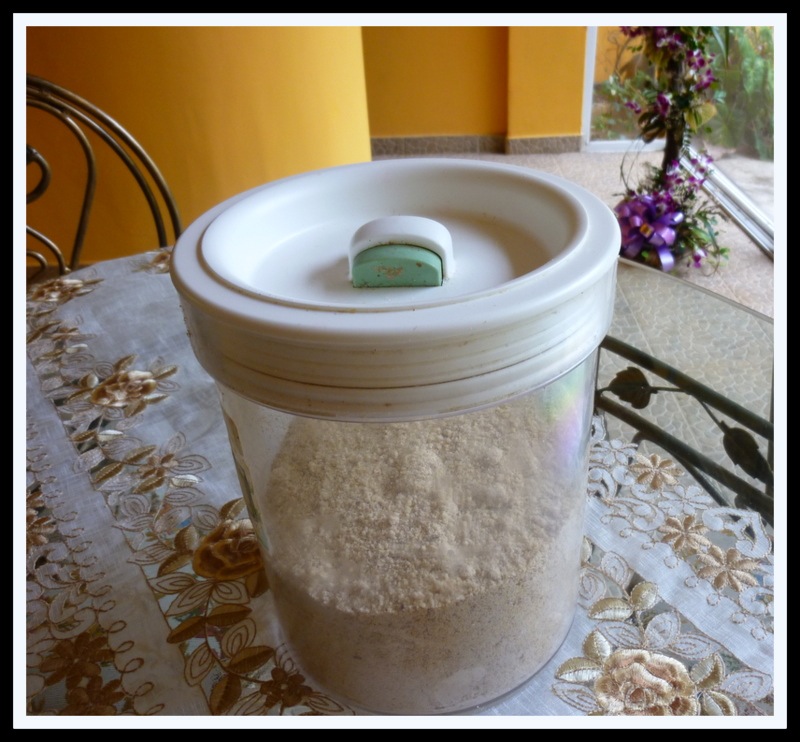 Splendid Gluten-Free Baking Mix
Almond flour versus almond meal produces slight differences.  Since my husband is merely intolerant of gluten, we use oat flour by Arrowhead Mills®. * 1/4Cup almond meal = 28 g. 1 cup Gluten-Free Bake Mix (almond meal) = 134 g. (Jen)
Ingredients: 
12/3  cups almond flour, OR (400 mL; 182 g)
(I use almond meal* – yield is greater with
almond flour by up to 1/2 cup (125 mL) more,
so then carbs would be 4.8 g – bonus!)
3/4  cup certified GF oat flour (175 ml; 100 g)
2 tbsp sifted coconut flour, (30 mL; 20 g)
(Bob's Red Mill®, not Legacy Valley®)
3/4  tsp xanthan gum (3 mL – measure!)
 Method:
In large bowl, combine almond flour, OR almond meal, oat flour (if you are intolerant to gluten-free oat flour then substitute another gluten-free flour like sorghum flour which others have had success with in the bake mix), coconut flour and xanthan gum.  In container with airtight lid, place bake mix and shake the container well to combine.  When measuring oat flour (not necessary with the other ingredients) into measuring cup, make sure to tap the cup on the counter top and fill to the top to get the correct yield for the bake mix.  Keep bake mix at room temperature for up to one month or freeze for much longer storage.
Instructions:  Substitute 1/4 cup (60 mL) additional bake mix when substituting for 1 cup (250 mL) or more than 1 cup (250 mL) flour in recipes and use 2 tbsp (30 mL) more if substituting for less than 1 cup (250 mL).  Always begin by adding an extra egg in muffins, loaves, cakes and coffee cakes, except for cookies and except if bake mix required is less than or equal to 1 cup (250 mL).  Withhold a quarter of the liquid/wet/fat ingredients; add in as needed (usually need it all). If batter after processing at least a minute is still too thick, add more of the liquid ingredients and if accidentally the batter ends up too sloppy, then add a little more bake mix. If all the liquid has been used and the batter is still too stiff, add another egg and another if necessary. Baking experience is helpful.
Great in muffins, loaves (with eggs!), cookies, squares or bars, coffee cakes, many cakes, pie crusts and a few other specialized applications, but will not be suitable for all applications, nor for most yeast applications.  Xanthan gum has gluten-like properties, binding ingredients together to prevent crumbly outcomes.
My Alternate Bake Mixes (not gluten-free): When substituting the Splendid Gluten-Free bake mix for some of my other bake mixes, 2 tbsp (30 mL) to 1/4 cup (60 mL) more bake mix may be required depending on if one is replacing less than 1 cup (250 mL) or 1 cup (250 mL) or more (last 2, latter amount).  Follow the same rules above.  It is convenient to double or triple this bake mix.
Yield:   21/2 cups (625 mL). 1/4 cup (60 mL) per serving=125.7 calories, 4.5 g protein, 8.9 g fat, 5.7 g carbs