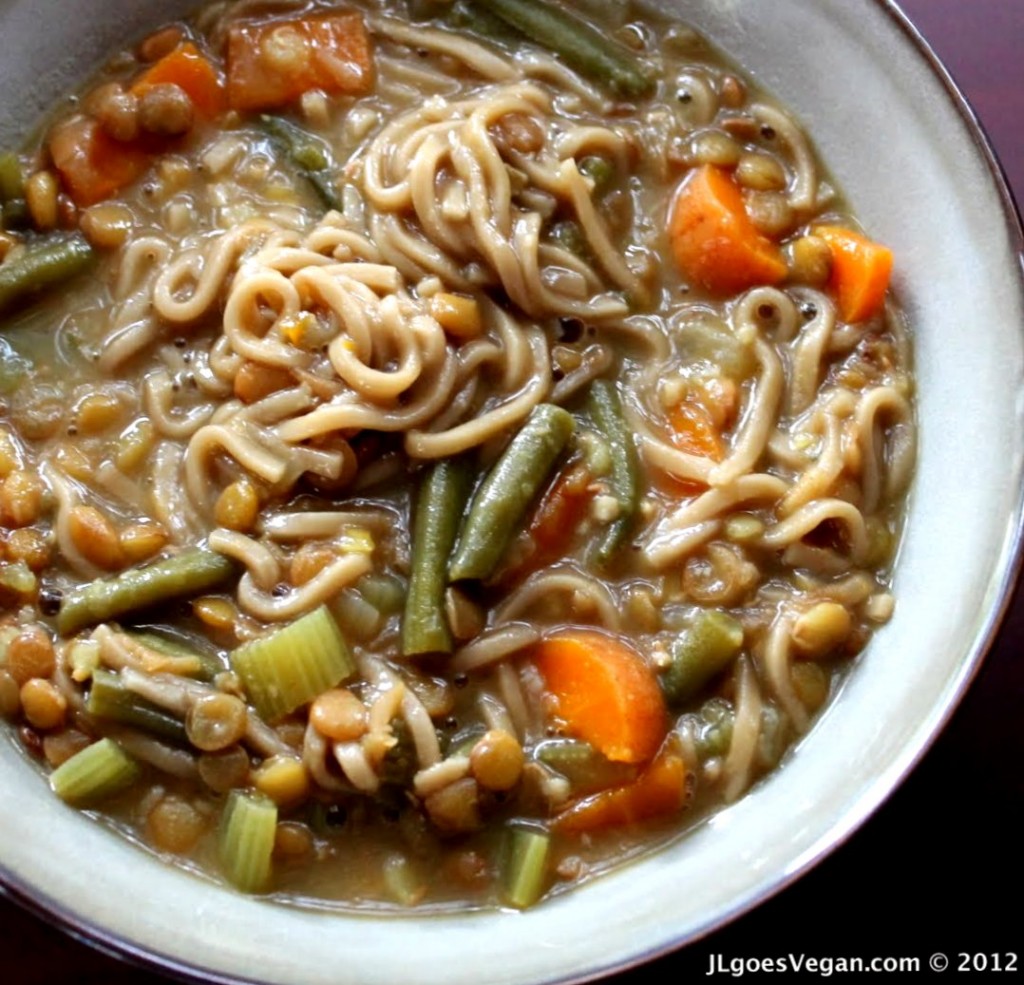 It's the last Saturday of the month, which means one thing on Como Water—Favorite Veg on the Web day. I started this series to highlight some of my favorite veg-centric food bloggers on the web. Today, I am happy to introduce you to JL of JLgoesVegan.com! I 'met' JL right around the time I first started blogging and instantly admired her story. From vegetarian to vegan and still running marathons. JL, you are truly an inspiration! On her blog, she not only highlights delicious vegan recipes, but also spreads super valuable vegan-centric news and information for those interested in a veg-lifestyle. In many ways, her site is a one-stop shop for vegan information, including really great restaurant reviews. Be sure to check out her site, but first, check out her chik'n lentil noodle soup below!
I'll be back on Tuesday with a recipe sparking off Como Water's monthly theme for May–'Diversify your Grains!' Happy Saturday! 😀
*          *          *
Many thanks to the lovely Tiffany for inviting me to join you on her delicious blog. I am such a fan of her recipes and overall message that this is, indeed, an honor.
I never thought I would find myself in the kitchen – willingly.  Many years ago I spent my busy, career-woman life eating out at restaurants, counting on my husband to make a few meals here and there, and I, on occasion, would pop a pot roast and potatoes in a crockpot and feel like Martha Stewart. Ten years ago I went vegetarian and it was my husband – not vegetarian – who figured out how to press tofu. Then I went vegan.  It was a total game changer. Suddenly I felt that I needed to make my own food because who else could possibly feed me right?  I started reading vegan and plant-based food blogs, followed #whatveganseat tweets on Twitter, and then it happened.  I caught the culinary bug. I signed up for cooking classes and workshops, attended vegan conferences and festivals, and bought tons and tons of plant-based cookbooks.
Deep down, however, I remain a little hot and cold about cooking. I do get inspired in the kitchen and will spend hours and hours creating my own recipes and following others.  And then I'm done. I hit a wall.  The work-week begins and I want my dinner – now!  Which is why I began bulk cooking.  I needed to fulfill both of my needs.  I blissfully don an apron, often over pajamas, for hours on end on a Saturday or Sunday and immerse myself in cooking.  Later in the week, exhausted, I am able enjoy the wholesome creations for lunch and dinner.  It really works for me.
On a typical weekend here's what I will make:
Vegetable broth/stock
Two grains
Two beans
Seitan
Bread
Impressed? Don't be. I rely on a lot of gadgets to get me through – a rice cooker, a pressure cooker and a bread machine, to name just a few.  Yep, I'm that cook. I like it done fast and with as minimal effort as possible.
Now that you know I'm not a fancy cook, how about a glimpse into how I develop a super-simple recipe, JL-style?
Each week I toss vegetable bits, pieces, and scraps into a gallon freezer bag as I prepare meals; last weekend my scrap bag was filled with asparagus ends, red and yellow onion, lots of garlic and garlic scraps, celery, carrots, romaine lettuce, tomatoes, lemon and lime scraps, a red pepper and a long, fabulous banana pepper. I followed my basic vegetable broth recipe (note: if you do not use a pressure cooker, you can do this in your crockpot for 6 – 8 hours) and opted, for a change, to use chik-style seasoning for flavor  Hmm. Vegan "chicken" broth? How about some Chik'n Noode Soup?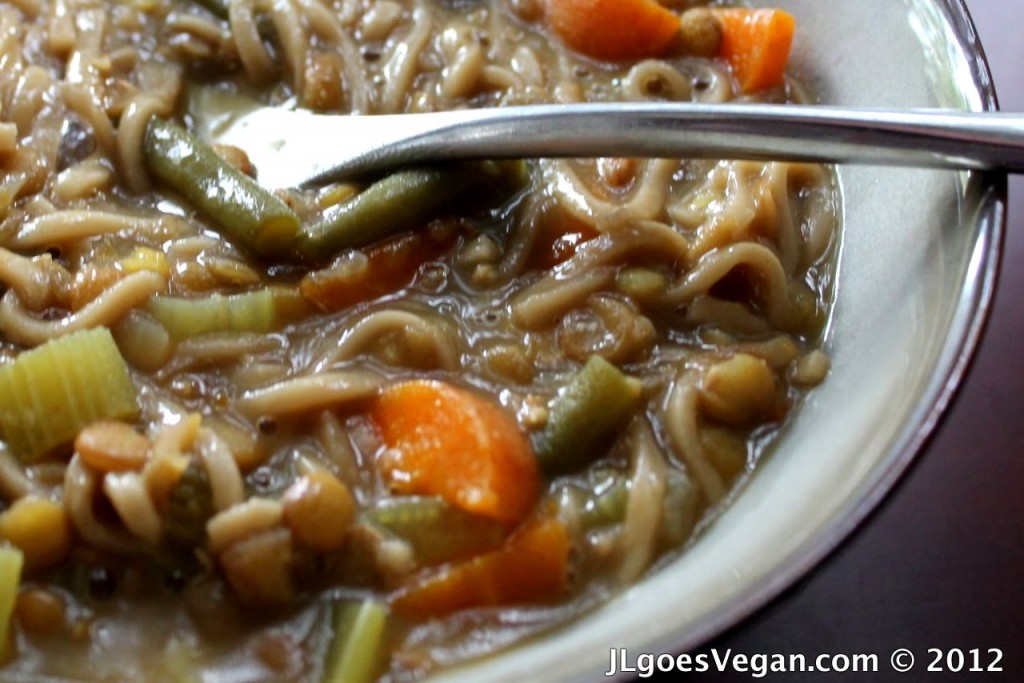 JL's Chik'n Lentil Noodle Soup
Serves 4
I tend to follow my instincts (I call it intuitive cooking) in the kitchen. In this recipe I am specific on some ingredients and leave the rest to your imagination and taste preference.
Ingredients
Olive oil
Garlic
Yellow Onion
Green beans, snapped into bite size pieces
Carrots
Celery
2 t vegan chicken style seasoning (I use Chik-Style seasoning)
1 bay leaf
1 cup brown lentils, rinsed and drained
4 oz soba noodles
4 cups vegetable broth (I used a vegan chicken style broth)
Instructions
If using a pressure cooker
Heat olive oil on medium-high heat in an uncovered pressure cooker.
Saute garlic, onion, green beans, carrots and celery for about three minutes.
Add vegan chicken style seasoning, bay leaf and safe.
Add lentils, noodles and vegetable both to the pressure cooker.
Cover the pressure cooker, locking lid in place.
Bring to pressure, then reduce heat low enough to maintain pressure (a gentle rocking motion of the jiggly top) for 8 minutes.
After 8 minutes, remove the pressure cooker from the heat and release pressure with the quick-release method (still covered, hold the pressure cooker under cold running water).
Once pressure is release, remove the lid, away from you.
Sample both the lentils and the noodles. If not quite done enough, simmer, on low, in the uncovered pressure cooker.
If using a soup pot
Follow the first three instructions above.
Add lentils and broth to the pot and bring to a boil.
Reduce heat to medium-low and cook for 15 minutes
Increase heat to medium-high, to a light boil, and add soba noodles.
Cook for 3 to 4 minutes, then taste noodles for doneness.
Reduce heat to medium and cook for an additional
Bring to a boil.
Reduce heat to medium-low and cook for 10 -12 minutes.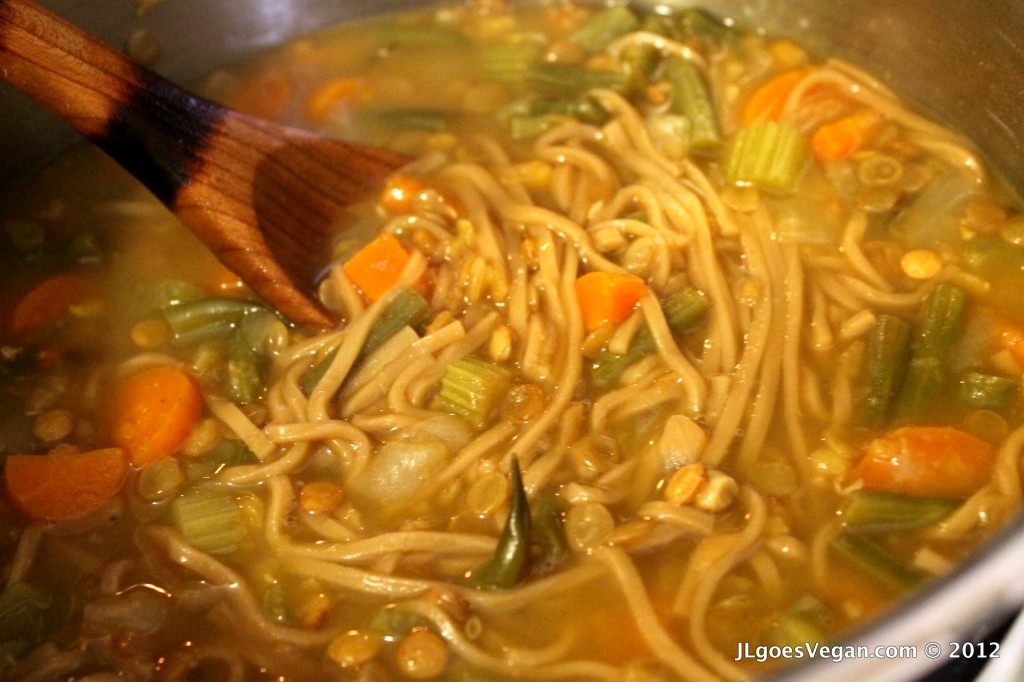 Serve and enjoy!
There was a special kick to this soup, attributed to the red and banana pepper in the broth. I mention this only because when you make this recipe the flavor of your vegetable broth will guide the final taste of the soup.
As a bean/green/grain loving vegan I have finally found a system that works for me:  spend a little time on the weekend getting intimate with my appliances (I'm talking to you, dear rice cooker and pressure cooker) and reap the delicious benefits all week long.