Hola everyone! So, I've noticed that every time I think my life couldn't be busier, it gets… you guessed it… busier. Perhaps it's something about my personality that thrives on the fast pace or maybe I'm just a product of my American culture. Whatever it is, the past few weeks have been quite "strenuous" in Tiffany-land.
I decided to give up the word "stressful" for Lent, so I'll just say "strenuous." 🙂 Not so strenuous that I have completely abandoned showering, meditating, and being kind to strangers ;). But strenuous enough to leave me eating crackers, sea salt brownies, and red wine for dinner tonight. I deserve a night of 'bad eating,' I told myself. And besides, if I eat badly, but am mindful about it, it's ok, right? Right!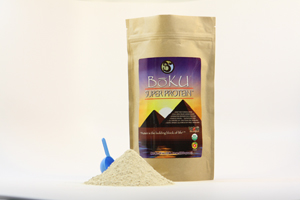 Well, in the words of sages that have come along way before my time, I'll say to you, what my mom used to say to me–"do as I say, not as I do." I'll modify it a bit though. "Do as I say, not as I am doing tonight." 😀 And I say, eat Boku!
I am always on the look out for 'good' protein bars to tie me over between meals, to replace meals, or to keep in my purse while I am traveling and do not want to eat yucky airport food. The problem is that many bars have a ton of sugar, fat, and calories in them.
So, you can probably imagine how excited I was when I encountered Boku Superfood products in my quest for nutrient-rich foods to highlight for super foods month on Como Water. And when I tasted them?!?!? Oh, mamma mia! I was in love at first bite. Actually, to be accurate, I was in love at first read–of the nutritional information that is. The first ingredient is almond butter, which means that these bars pack a lot of protein. With strawberries for sweetness and texture, agave, sprouted quinoa, and their uber-potent super foods blend, you can feel good about indulging. And that's exactly what it felt like eating this bar–an indulgence.
To be truly transparent, I will say that the Boku Chocolate Fudge Brownie Bar has raisins in it and I'm not the biggest raisins fan, but, it also has chocolate, which made me forget alllllllll about the raisins. Another caveat: each bar contains 290 calories. BUT, I would argue (and disclaimer… I am no dietician), that these are 'good' calories. Calories from fiber and protein sure to keep you full rather than leave you wanting for another snack right after eating it.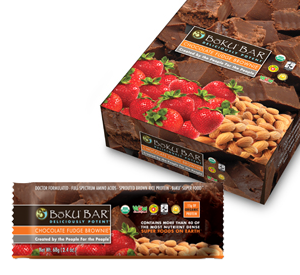 So, with that, hopefully I've convinced you to give them a try. And while you're at it, check out their super protein and superfood powders; I mixed mine in smoothies!