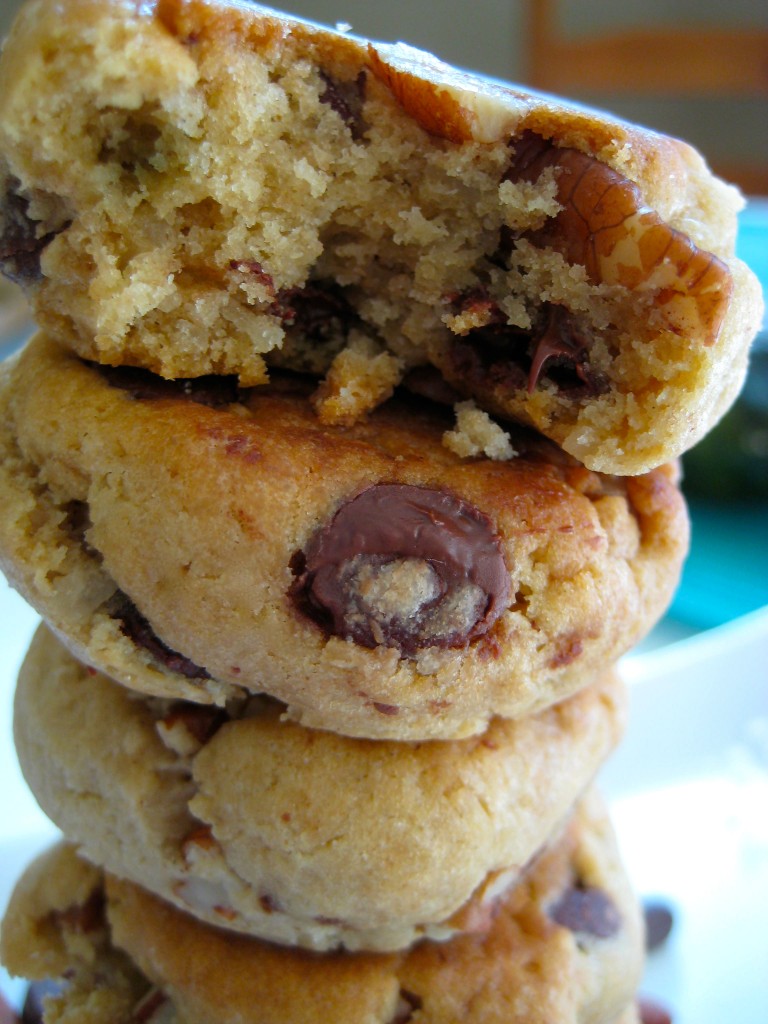 I'm keeping today's post short and sweet… because I am gearing up for all of the super awesome changes I have in store for you starting the beginning of the year. Yes, that's right, there are going to be some (really good!) changes, or more should I say additions in the next year on Como Water. And I'm so excited, I can't hide it!
So, sorry to be a tease, but tease is exactly what I am going to do, until January 1st that is.  In the meantime, have a cookie, or two! 😀
Happy Thursday everyone!
Coconut Pecan Chocolate Chip Cookies (Printable Recipe)
Ingredients:
1/2 cup earth balance (or butter)–softened
1/2 cup sugar
1/2 cup brown sugar (packed)
1 egg
1 teaspoon vanilla extract
1/2 teaspoon almond extract
1/2 teaspoon baking soda
1 teaspoon hot water
1 1/2 cups flour
1/4 teaspoon salt
1/2 cup chocolate chips
1/2 cup toasted, chopped pecans
1/2 cup sweetened shredded coconut
Method:
*Pre-heat oven to 350 degrees F. In large bowl, cream earth balance and sugars until smooth. Add extracts and egg. Mix. Dissolve baking soda in hot water; add to egg/sugar mixture. Mix until fully incorporated.
*In second bowl, combine flour, salt, chocolate chips, pecans, and almonds. Mix. Add dry to wet, mix until fully incorporated. Refrigerate for ten minutes. Drop onto cookie sheet and bake 9-12 minutes until golden brown.