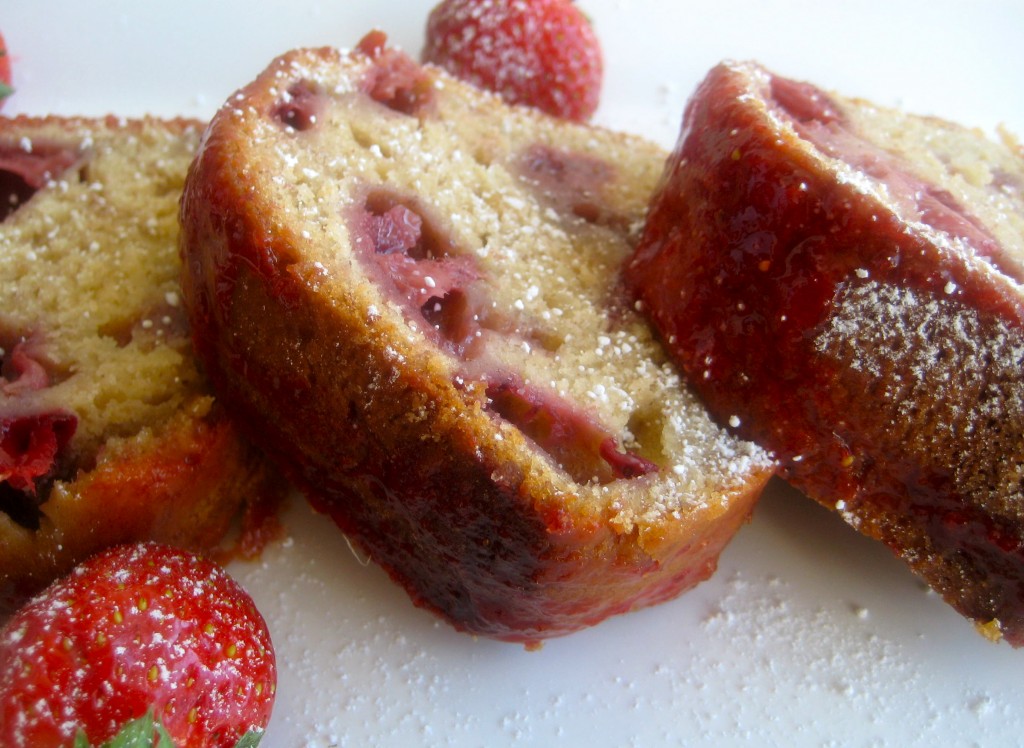 As I sat in my living room craving blueberry cake donuts with only strawberries on hand, I was forced to make a split second decision (cravings are imminent!). Would I seriously trek all the way across town to Dunkin Donuts? Or would I be the responsible food blogger and make something just as good, if not better, and probably slightly better for me? Although anyone from Massachusetts knows the relationship New Englanders have with our DD, laziness won out and I opted for the latter. (On a side note, I love that I've defined "laziness" as baking a cake from scratch!). And let me just tell you, this bundt beats out Dunkin Donuts any day of the week. Any. Day.
The trio of white sugar, brown sugar, and honey coupled with the smell of smashed, super ripe bananas and fresh strawberries forced me to lick the bowl completely
clean. The salted macadamia nuts cut some of the sweetness and the lowfat strawberry-banana Greek yogurt added richness, without adding a bunch of fat. My friend Franco described the cake as "smack yo mama good," so I'm going to go with that description. 😀
Strawberry Banana Bundt (Printable Recipe)
Ingredients:
1/2 cup Earth Balance–softened
1/2 cup sugar–divided
1/4 cup brown sugar
1/4 cup honey
2 eggs
1 tablespoon vanilla extract
2 ripe bananas–mashed
1 60z. container strawberry banana Greek yogurt (I used lowfat Chobani)
2 cups fresh strawberries–chopped
2 1/2 cups flour
1 1/2 teaspoons baking powder
1/2 teaspoon baking soda
1/2 teaspoon ground cinnamon
1/2 teaspoon salt
1/3 cup salted macadamia nuts–finely chopped
Method:
*Pre-heat oven to 350 degrees F. Butter bundt pan; set aside.
*Whisk flour, baking powder, baking soda, cinnamon, salt, and nuts. Set aside. Beat butter, 1/4 cup sugar, brown sugar, and honey until fluffy. Beat in vanilla. Beat in one egg at a time. Beat in mashed banana.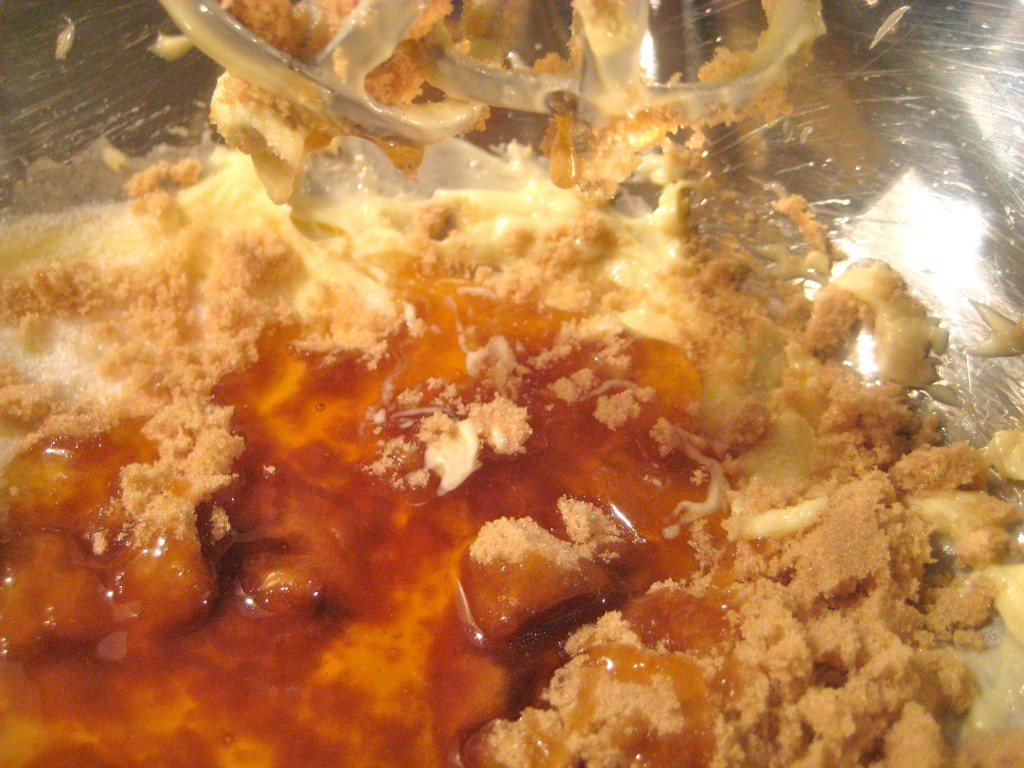 *Add 1/2 of dry ingredients to wet mixture. Mix until fully incorporated. Mix in yogurt. Mix in remaining dry ingredients until fully incorporated. Toss strawberries with remaining 1/4 cup of sugar. Fold sugar-coated strawberries into the cake batter.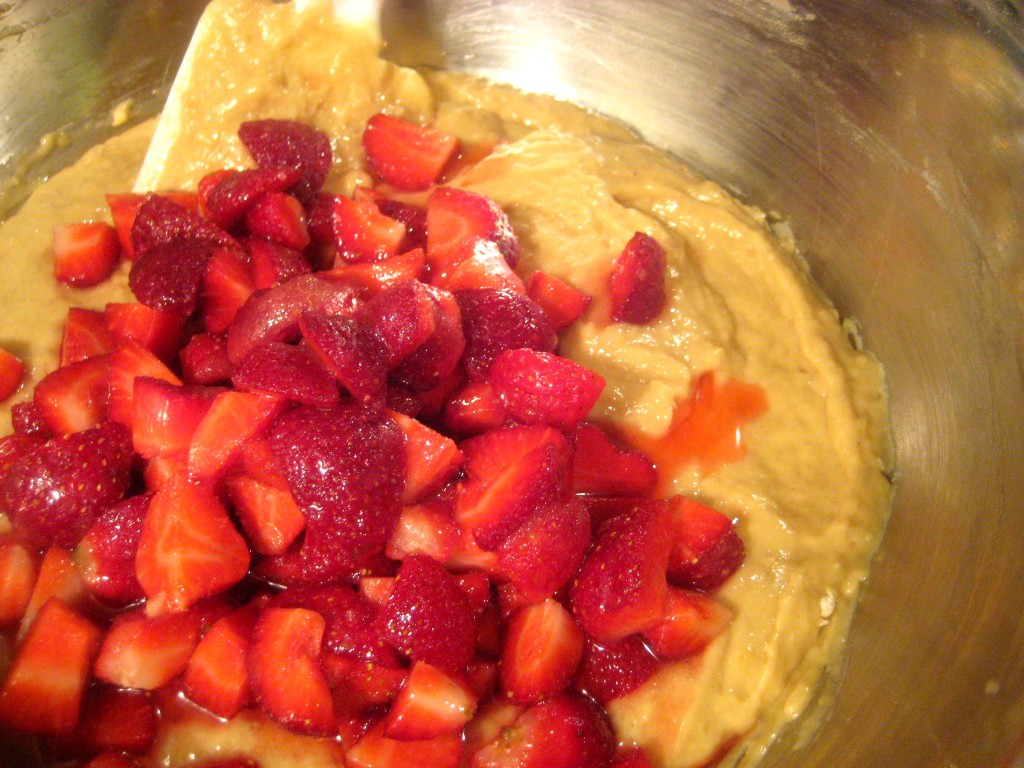 *Add the cake batter to the prepared bundt pan. Tap the pan on the counter to release air bubbles. Bake on the center rack of the oven for 45-55 minutes or until the center of the cake is set. Cool the cake in the pan for 10 minutes. Un-mold the cake and let cool completely. Serve as is, or with strawberry glaze and whipped cream.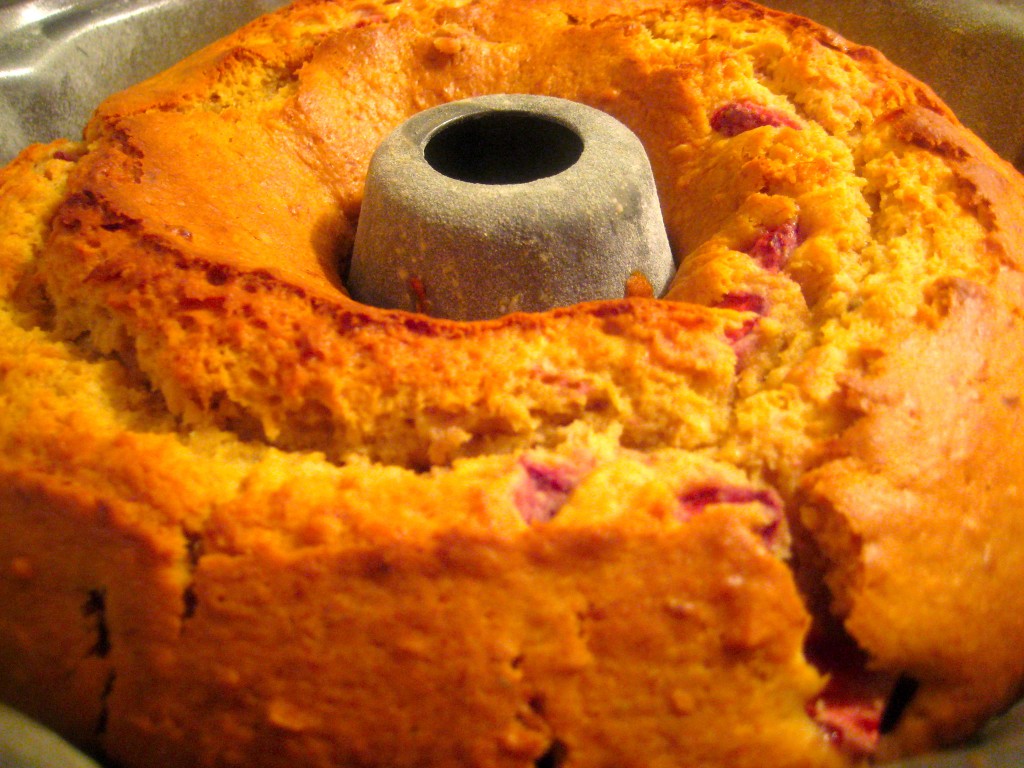 Strawberry Glaze:
3/4 cup powdered sugar
1 cup fresh strawberries–pureed
Method:
*Puree strawberries (and then stick your head in the blender and inhale! It's ok… it's legal!).
*Sift powdered sugar into bowl. Whisk in strawberry puree. Drizzle over cake.