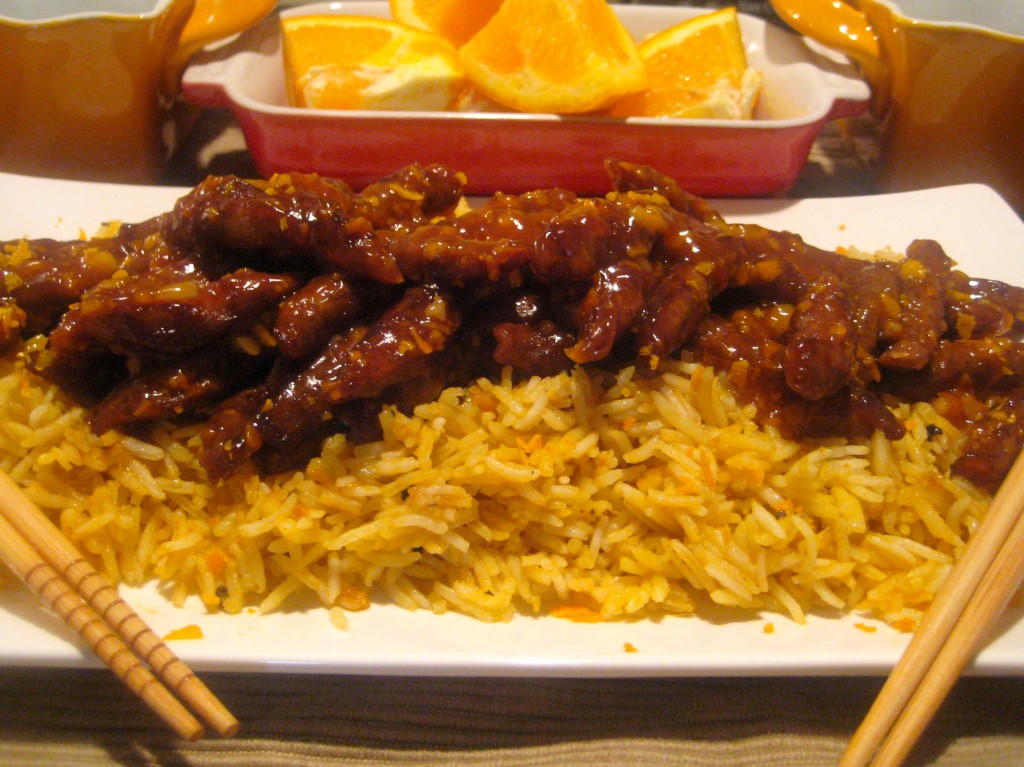 Thanks goodness. Thank goodness. Thank goodness. I said it on Wednesday afternoon after my first friend texted me and asked, "Are your people in Springfield ok?" I said it Wednesday night before I went to bed. I said it Thursday morning after the magnitude of the situation set in, after I watched the Youtube videos and read the articles in the Times and on Yahoo.com and in the Huffington Post. I said it yesterday afternoon after I learned that my greataunt had been driving in the storm and that my little cousin, at football practice with his teammates, frantically ran from the storm for cover…
I am from Springfield, MA, the town in Western Massachusetts that was hit by a tornado on Wednesday afternoon. And as Nana recounted, "You see this stuff on t.v., the devastation, the sadness, the wrath, but you never, ever think it will happen in your town. You just never think it will happen to you."
Luckily, although it did happen to my family, they are all–ALL–o.k. And it seems rather unbelievable to me. There was only a ten minute warning before the tornado hit. And it hit in the middle of rush hour traffic. Major parts of our city, one of the more impoverished towns in Western Mass as it is, have been "annihilated" to use my brother's word. My heart goes out to the families and business owners who have to rebuild. My heart goes out to every person who witnessed the scene that I imagine must have absolutely terrifying (my greatgrandmother said she's never–in all of her years–seen a storm like this). And my heart goes out to every person–everywhere–who has been privy to destruction–either man-made or natural.
This tornado also came on the heels of two other strange occurrences this week. First, my friend was on a bus trip from DC to NC and her bus driver had a seizure while driving. Amazingly, no one was hurt. That evening, a sick friend in NY was hospitalized after miraculously getting himself to the hospital in time for the doctors to confirm that he had an infection in his brain. If he would have waited just an hour longer, he may not be with us today.
As I write this, I'm tearing up. Life is so unpredictable. And on the one hand, that makes life pretty scary. But on the other hand, it makes me want to scream from the mountaintops, "I love you!" to all of my family and friends and to replay my blessings in my head and in my heart over and over and over again.
One of my friends claims, "Tiffany, there's not a message in everything!" But, I am respectfully, and publicly, going to disagree with her. I truly believe if you listen, listen with your eyes, and your heart, and your ears, and your feelings, listen to the patterns in your life, you can hear a higher message. Right now, I'm hearing a reminder to express gratitude, for and in, every facet of my life and to encourage others to do the same. Because as the old saying goes, "tomorrow is not promised." After the past seven days, I'm thinking the adage should be, "the next moment is not promised."
Now Onto la comida! This Orange Veggie "Beef" is the next dish in my Friday Lightlife series. Although I haven't actually had beef since 1994, I was craving orange beef as soon as I saw the package of Lightlife steak strips. I am not sure if my version is authentically Chinese, but it's tasty, so I think it's ok :D. I served it with rice cooked in vegetable broth and beer-braised sugar snap peas. And in the spirit of appreciating friends, I am dedicating this and my next post to two of my most awesome foodies friends–Nami and Manu. This one's dedicated to Nami. She is the queen of Japanese and other pan-Asian food… Stay tuned to my next post, which will be dedicated to Manu (the queen of Italian food!).
Orange Veggie "Beef" (Printable Recipe)
Ingredients:
1 package Lightlife Steak Strips
juice from 1 orange
zest from 1 orange
1 tablespoon rice wine vinegar
2 tablespoons Tamari (or soy sauce)
2 tablespoons cornstarch, divided
2 cloves garlic–minced
1 teaspoon brown sugar
1 dry chile
1-inch chunk fresh ginger
2 tablespoons olive oil
1 tablespoon sweet chili sauce
Method:
*Add veggie meat strips to a medium sized bowl. Toss with 1 tablespoon cornstarch. Heat olive oil in a frying pan. Add steak strips. Saute for 5 minutes until warmed all the way through. Set aside.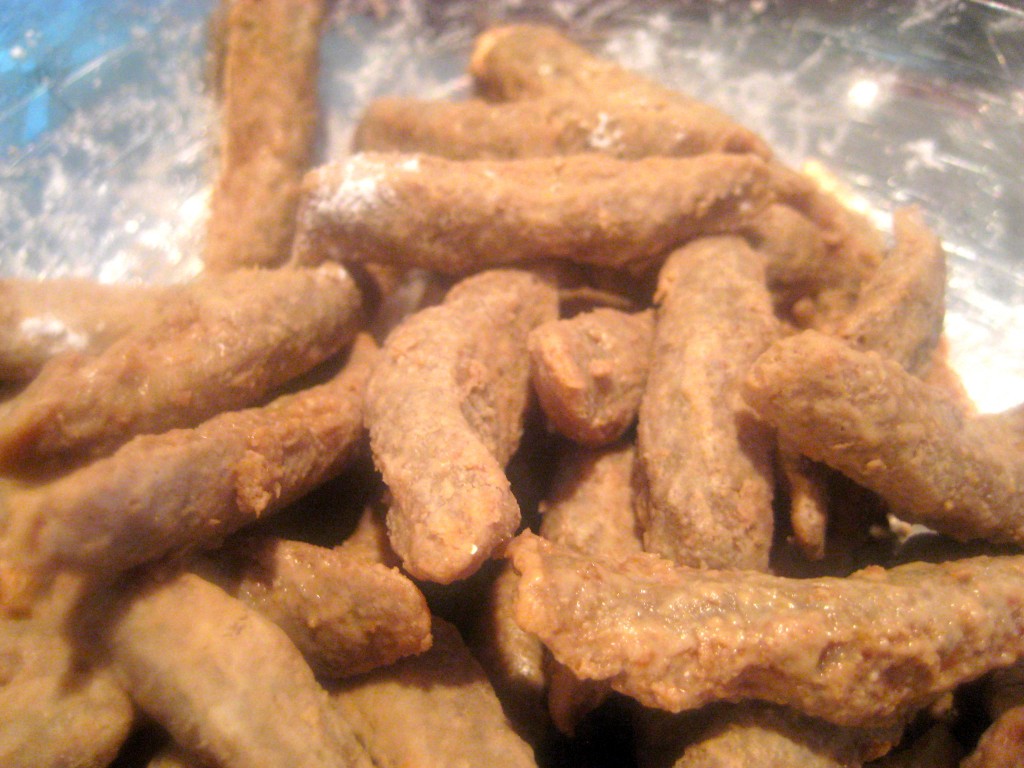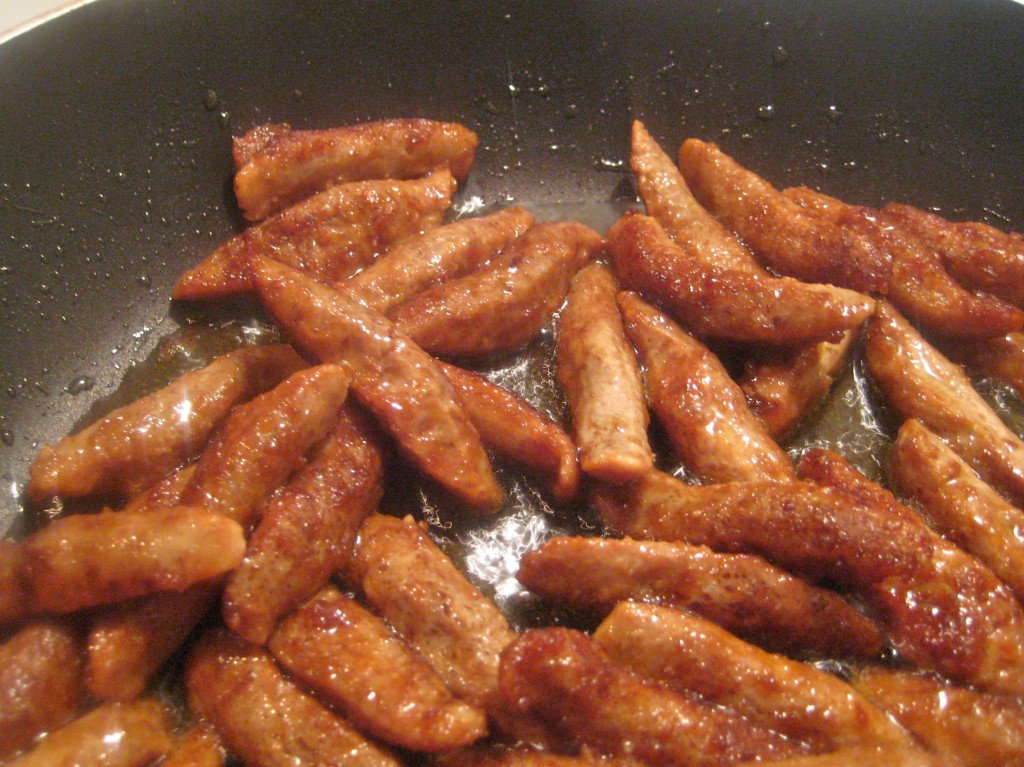 *In the same frying pan, turn the heat to medium low. Add the dried chile and the ginger. Infuse the oil with the flavors, by letting the chile and ginger steep in the oil while you prepare the sauce. Turn periodically.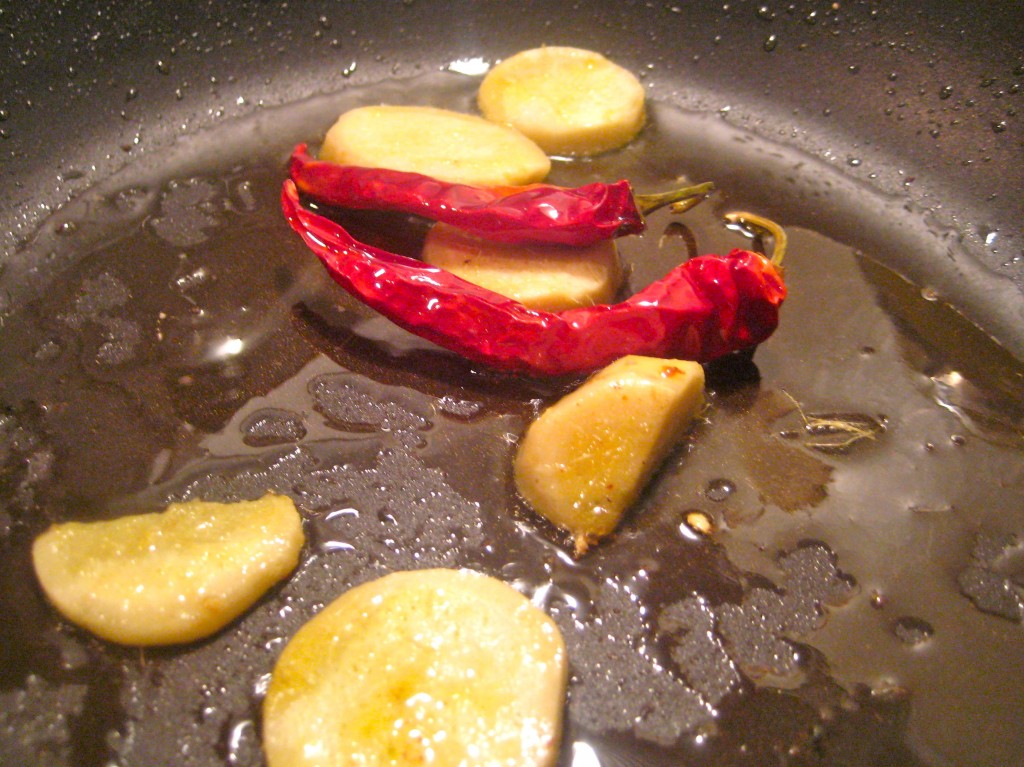 *In a small bowl, mix orange juice, Tamari, vinegar, and remaining cornstarch. Set aside. Add minced garlic to frying pan. Saute until soft. Remove chile and ginger from oil. Stir orange juice mixture into the oil and garlic. Stir until the sauce thickens and gets shiny. Stir in the zest and the sweet chili sauce (reserve some for garnish). Stir in the veggie beef. Cook for 1-2 minutes. Serve hot with steamed rice and veggies (I served with beer-braised sugar snap peas!).