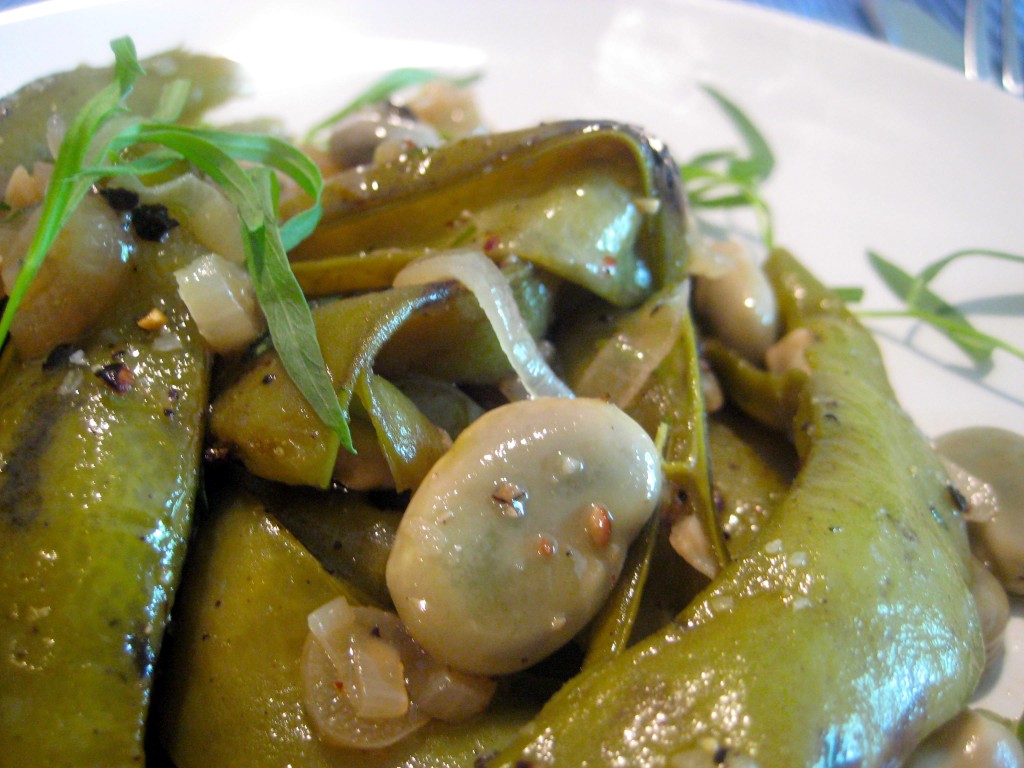 Today, I received an alert on my phone. It said, "NC has issued a code orange air quality action day for ground level ozone concentrations. The region may approach or exceed unhealthy standards." Ah? Ahem. What does this mean?!?!?!  I'm taking the alert to mean that I am not being overly dramatic when I say that it's incredibly, bordering on unbearably, hot here! Call me a wuss (or just a woman originally from Massachusetts), but heat like this makes eating heavy food and/or baking completely out of the question. So, I've been eating a lot of fruit and drinking a lot of water. I also made this light, braised fava beans dish. It basically cooks itself, which is exactly the type of dish you need in heat like this.
But before getting to the recipe, I want to thank vegonline.org for the Excellence in Vegetarian Information Award they presented to Como Water earlier this week. Thanks!
O.K. I hope you all are staying cool … and hydrated 😀
Braised Fava Beans (Printable Recipe)
Ingredients:
15-20 fava beans
1 medium shallot–chopped
1 clove garlic–minced
2 tablespoons olive oil
1/8-1/4 cup dry white wine
1 teaspoon sugar
salt/black pepper
Method:
*Prep your fava beans by snapping the ends and removing the stringy ridge that runs from end to end of the bean. Chop shallot, mince garlic.
*Heat olive oil over medium low heat in a medium sauce pan. Add shallot. Cook 5 minutes. Add garlic. Cook 3 minutes. Add fava beans, salt, pepper, and sugar. Cook 5 minutes, stirring occasionally. Add wine. Cover. Drop heat to low. Steam 25 minutes, or until fava beans are tender. Garnish with fresh herbs (I used tarragon).