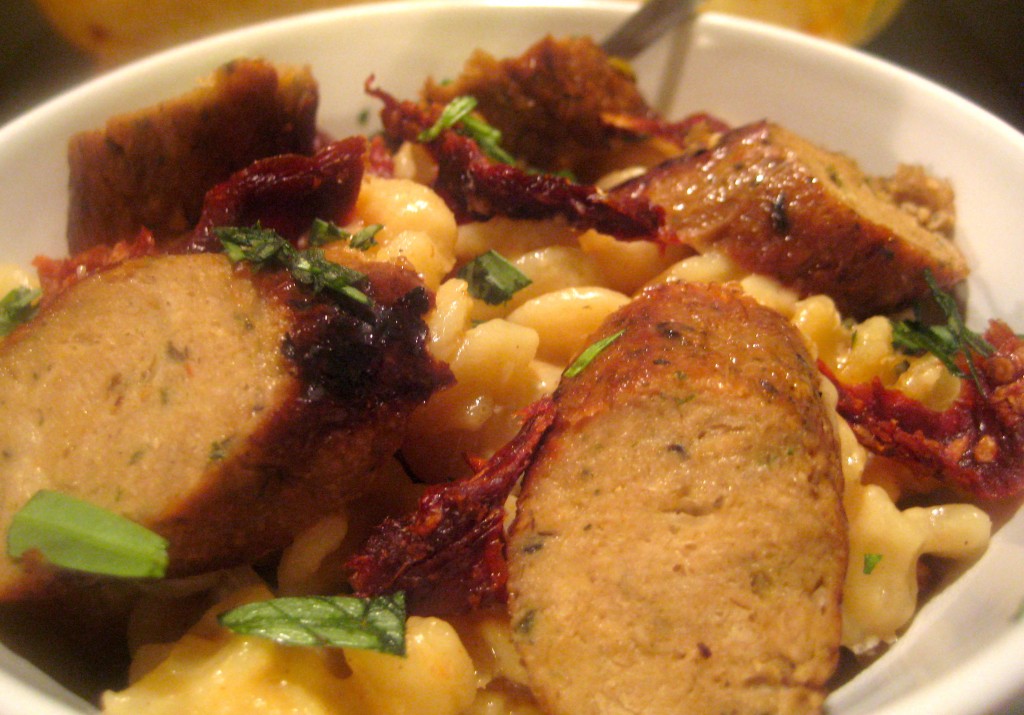 Yes, people, it's Lightlife Friday again! And I'm featuring two dishes this week. I was craving comfort food, despite it being in the 90s here for almost a week now. I think it's because every establishment I go into has the AC cranked up so high that it feels like winter. So, I made a lighter version of mac and cheese with the Lightlife Italian "sausage" and a sun-dried tomato cream sauce. ***A word of caution–be careful with your salt. There's salt in the cheese, in the sausage, and … potentially in your sub-dried tomatoes. I learned this the hard way. I'm used to getting sun-dried tomatoes sans salt. So, I seasoned along the way as I was cooking–like I always do. At the end, the dish was saltier than I prefer and I couldn't figure out why. Then I went to my package of sun-dried tomatoes…. The culprit! I had succeeded in getting tomatoes without sulfur dioxide, but not without salt. Sigh.
I made a quiche with the other two Italian sausage links. It also contained broccoli, cheese, onions, and corn (corn in quiche is pretty delicious… you have to try it!).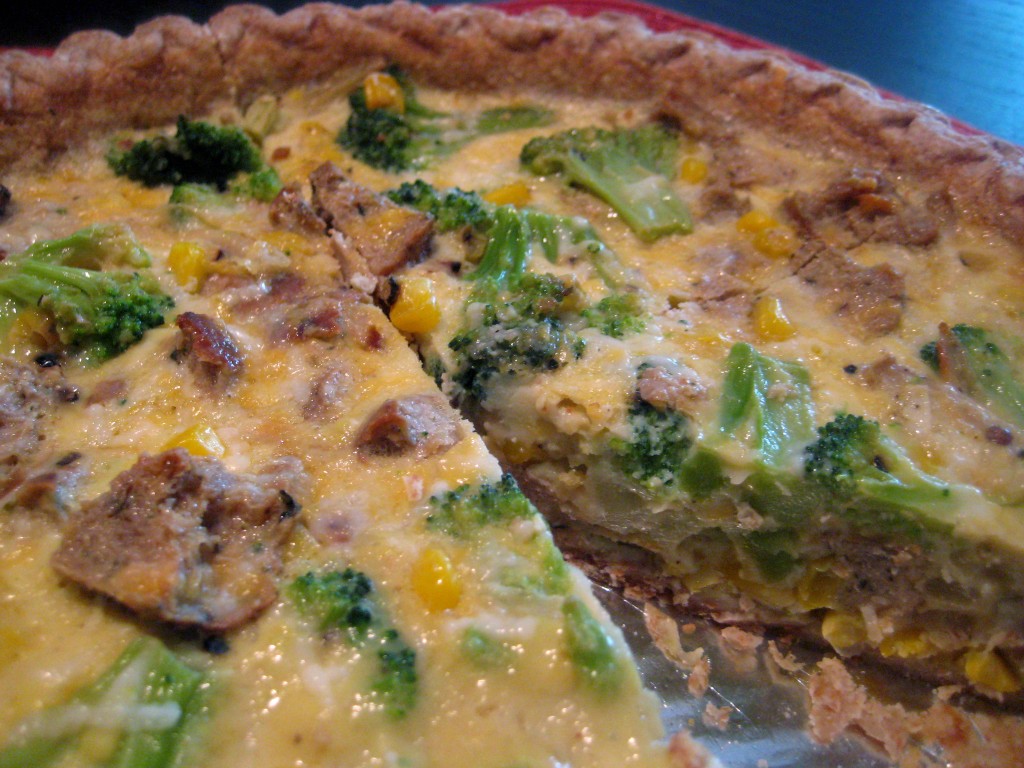 Before I get to the pasta recipe, I also wanted to share the name of a movie I recently watched and loved. It's called The Quantum Activist and is a documentary about Amit Goswami. If you're into the whole quantum physics–consciousness thing, I highly recommend. And if you "just" want to make the world a better place, I highly recommend. O.K., I hope you all have GREAT, LONG weekends! Now, onto the pasta!
Fusilli with Sun-dried Tomato Cream Sauce and Italian "Sausage" (Printable Recipe)
Ingredients:
Lightlife Smart Sausages Italian Style
3 tablespoons olive oil (divided)
2 1/2 cups milk (I used almond)
1 cup roughly chopped sun-dried tomatoes*** (see above comment re: sun-dried tomatoes)
1/4 small onion–finely chopped
2 cloves–minced
1 teaspoon Earth Balance (or butter)
1 cup cheese (I used a mozzarella & asiago blend)
1/3 cup goat cheese–crumbled
2 tablespoons flour
3 cups dry fusilli
lots of water
salt, white pepper, red pepper flakes, fresh herbs
Method:
*Pre-heat oven to 350 degrees F.
*The Sausage: Heat 1 tablespoon of olive oil in a frying pan over medium heat. Add sausage links. Brown on each side for 1 minute. Cover the frying pan with a lid. Turn heat down to medium low. Cook sausages for approximately 5 minutes, turning occasionally. Set aside.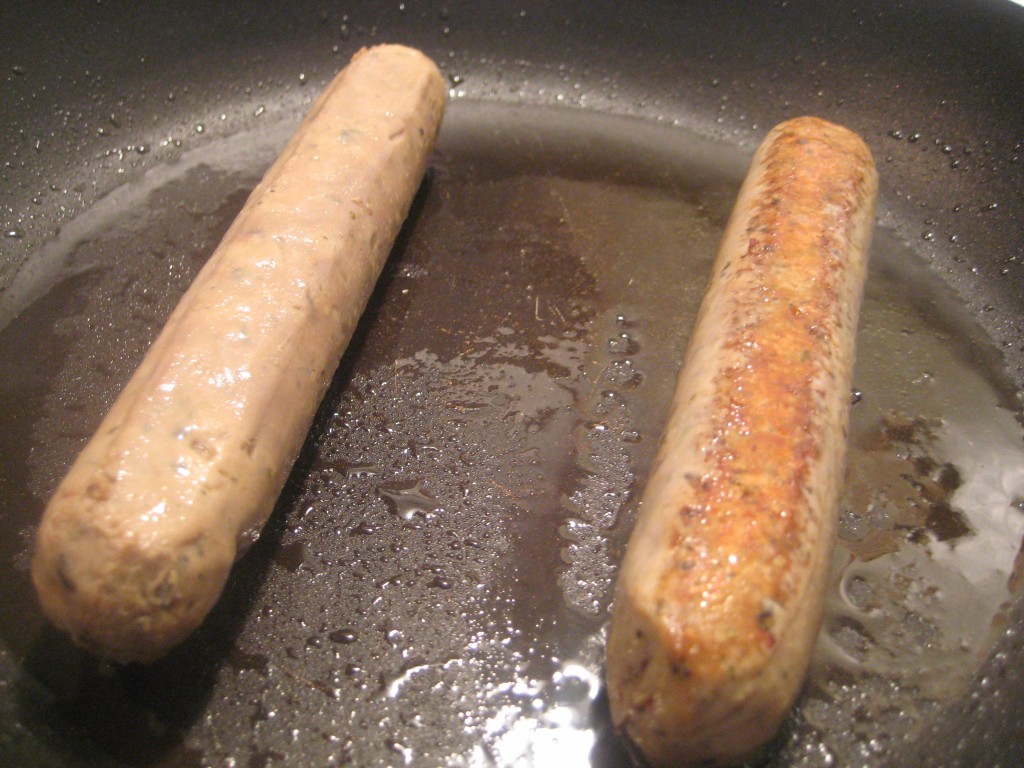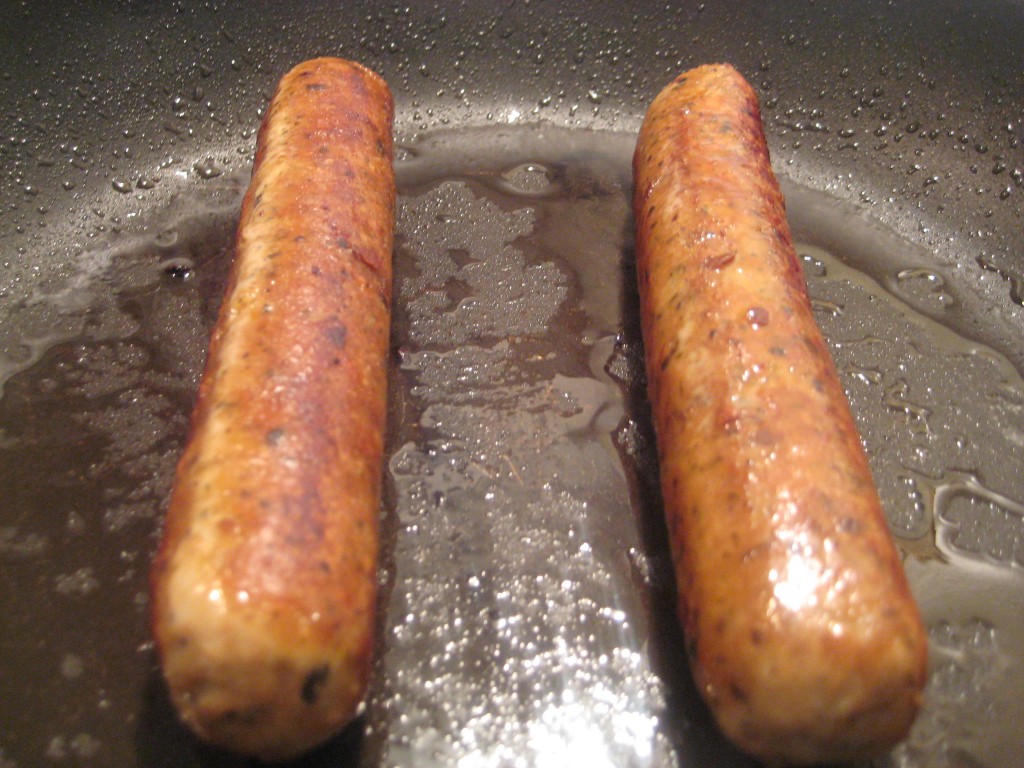 *The Pasta: In a large stock pot, bring a few quarts of water to boil. Add a large pinch of salt. Once boiling, add dry pasta. Cook the pasta until it reaches the stage just before al dente (this pasta is baked, do not overcook or you'll get mushy pasta). Drain, add to 9″ x 9″ baking dish, mix with Earth Balance, and set aside.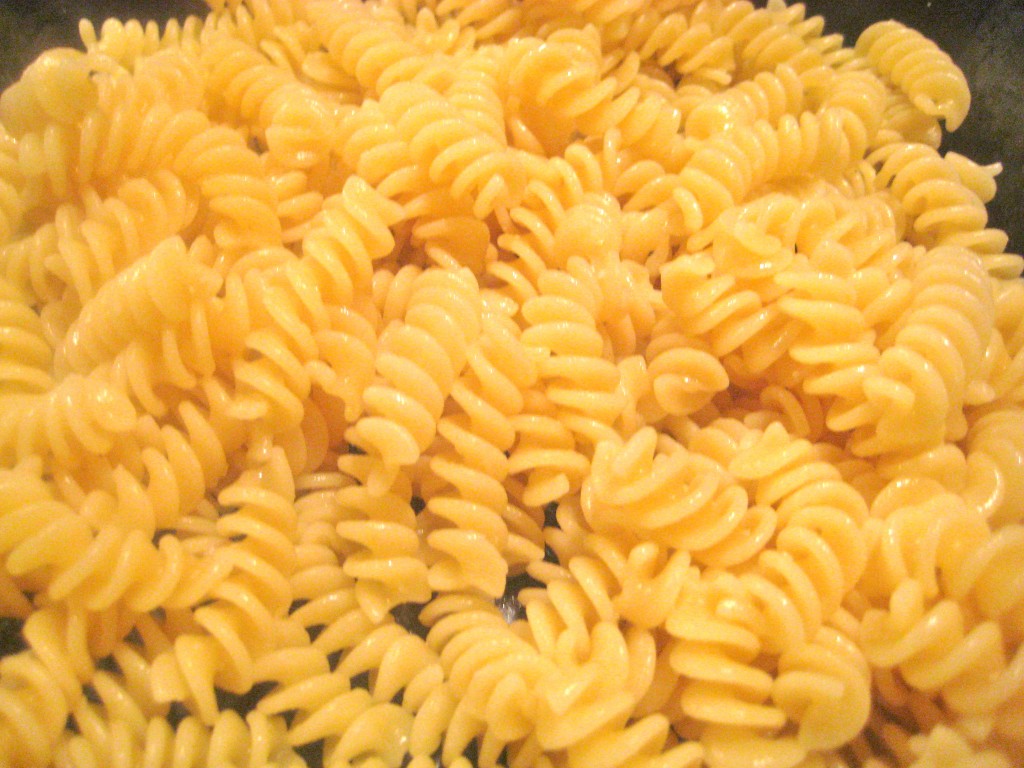 *The Sauce: Add milk and sun-dried tomatoes to small saucepan. Heat over low heat. Heat 2 tablespoons olive oil in a medium sauce pan over medium low heat. Add onion. Saute until soft. Add garlic and red pepper flakes. Saute 5 minutes. Once onion and garlic are soft, stir in flour to create a blond roux. Whisk warm milk/sun-dried tomatoes into the roux mixture. Stir in cheese (except the goat cheese). Stir until the sauce thickens slightly (~ 2-3 minutes).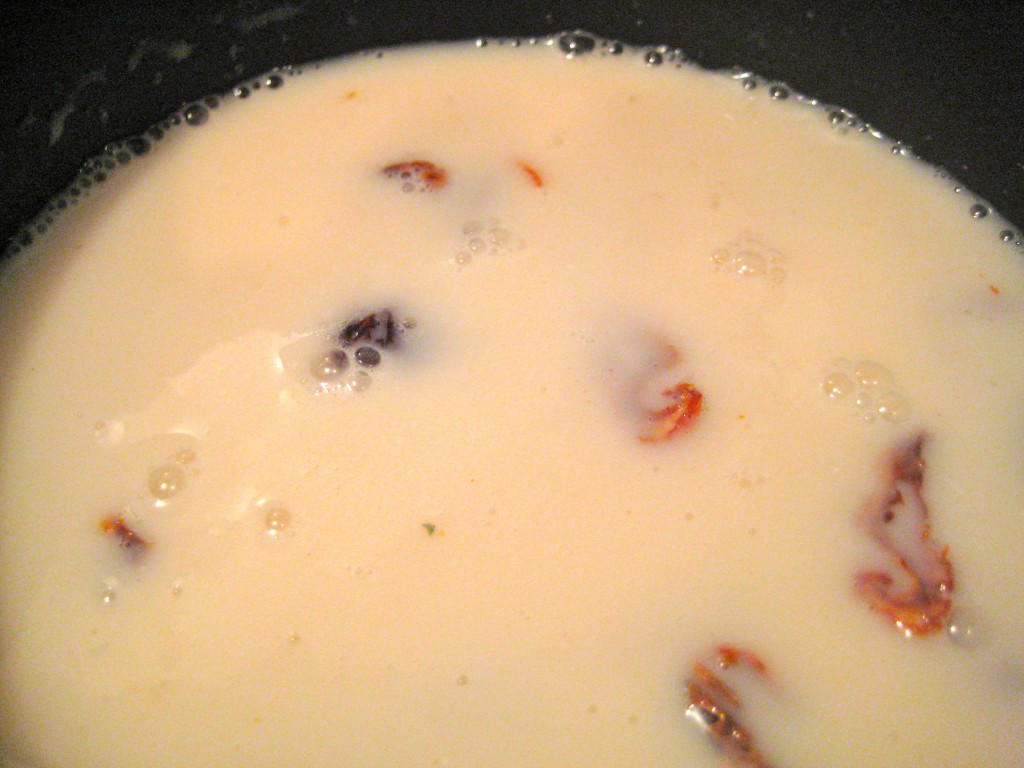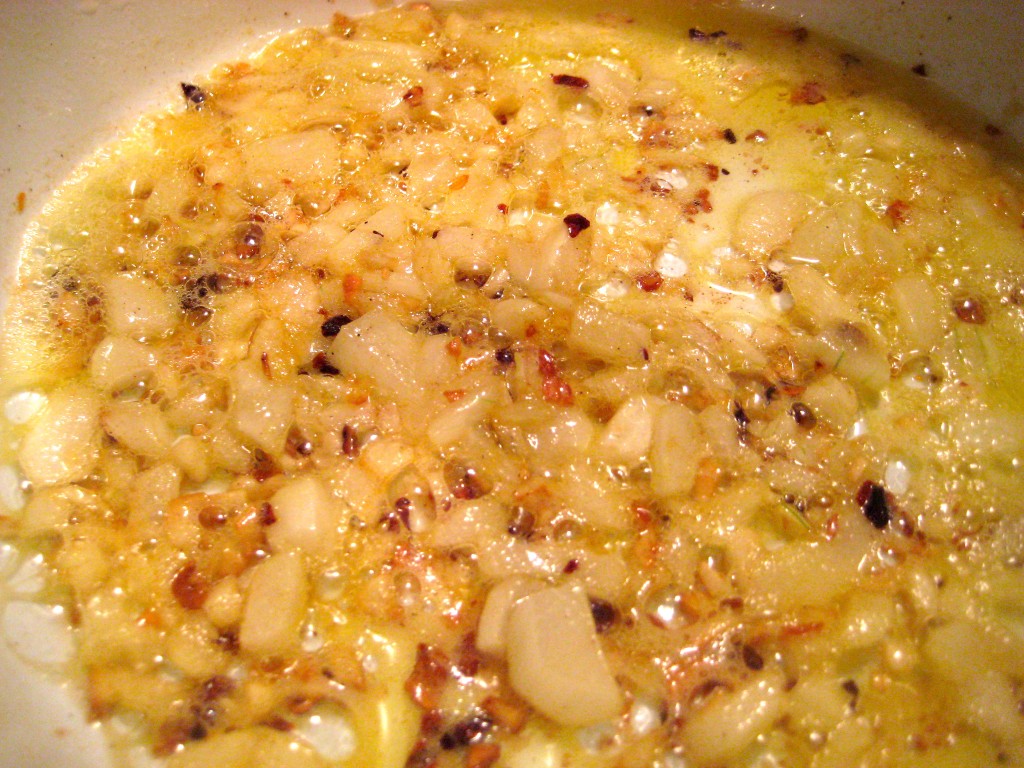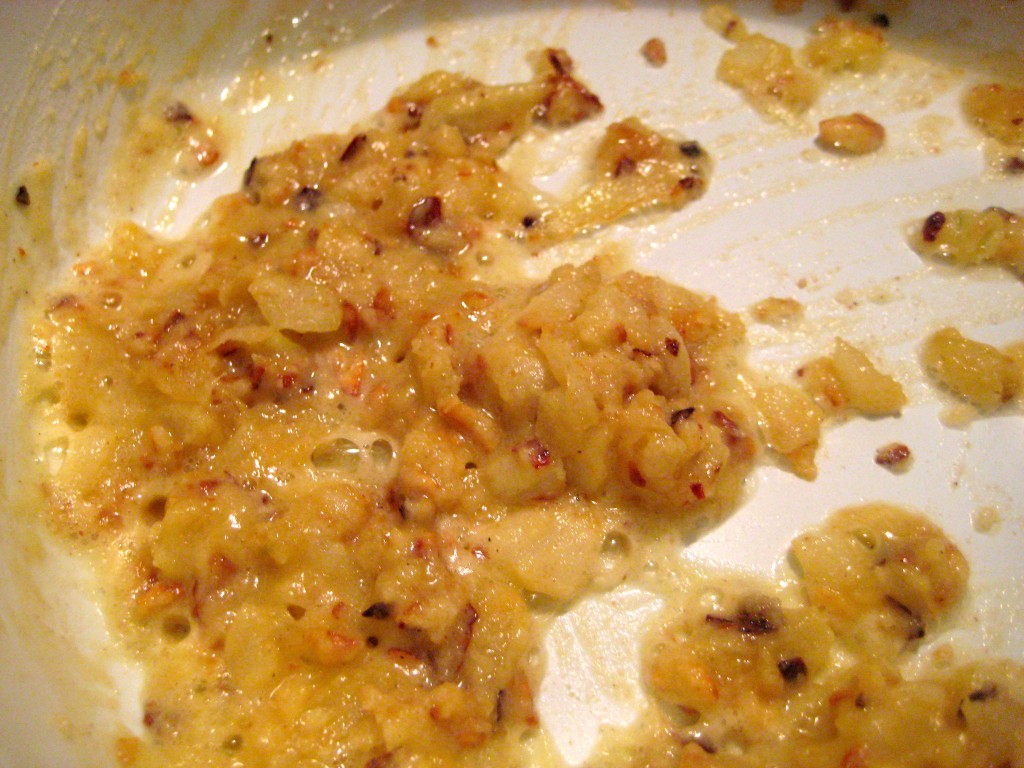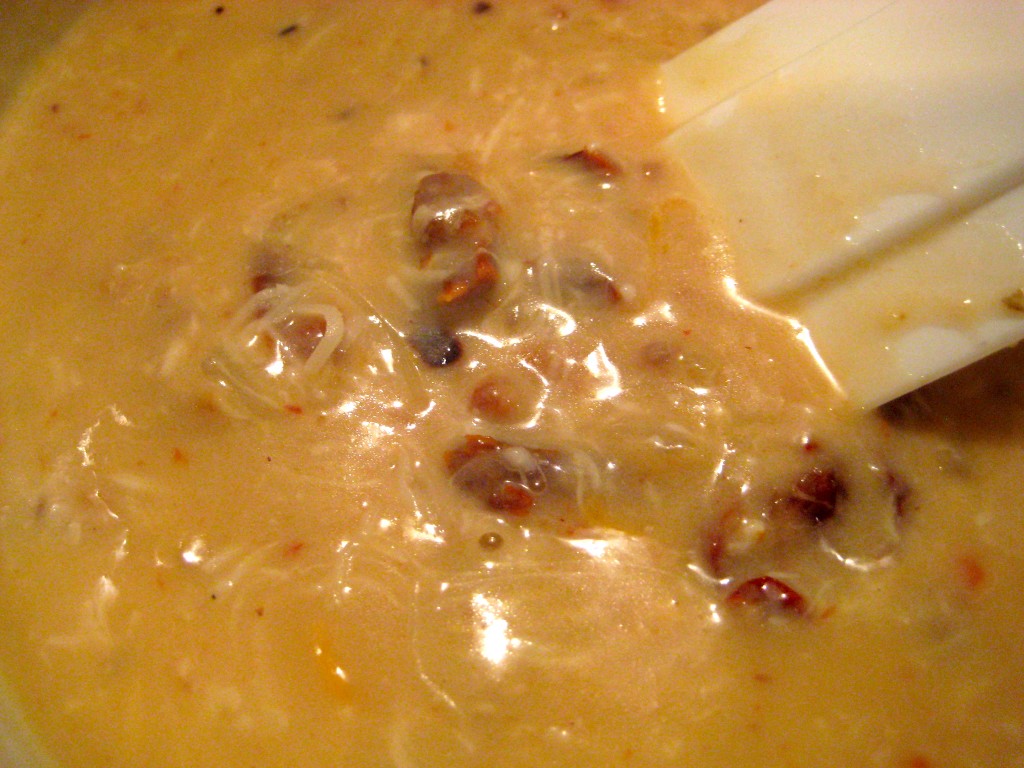 *The Assembly: Add sauce to pasta. Mix thoroughly. Add goat cheese to the top of the pasta. Cover with foil. Bake 30 minutes, or until cheese is bubbly. Remove foil. Bake 20 minutes or until goat cheese just starts to toast. Serve with sliced sausage and fresh herbs. (I also had steamed broccoli with it, which was awesome!).