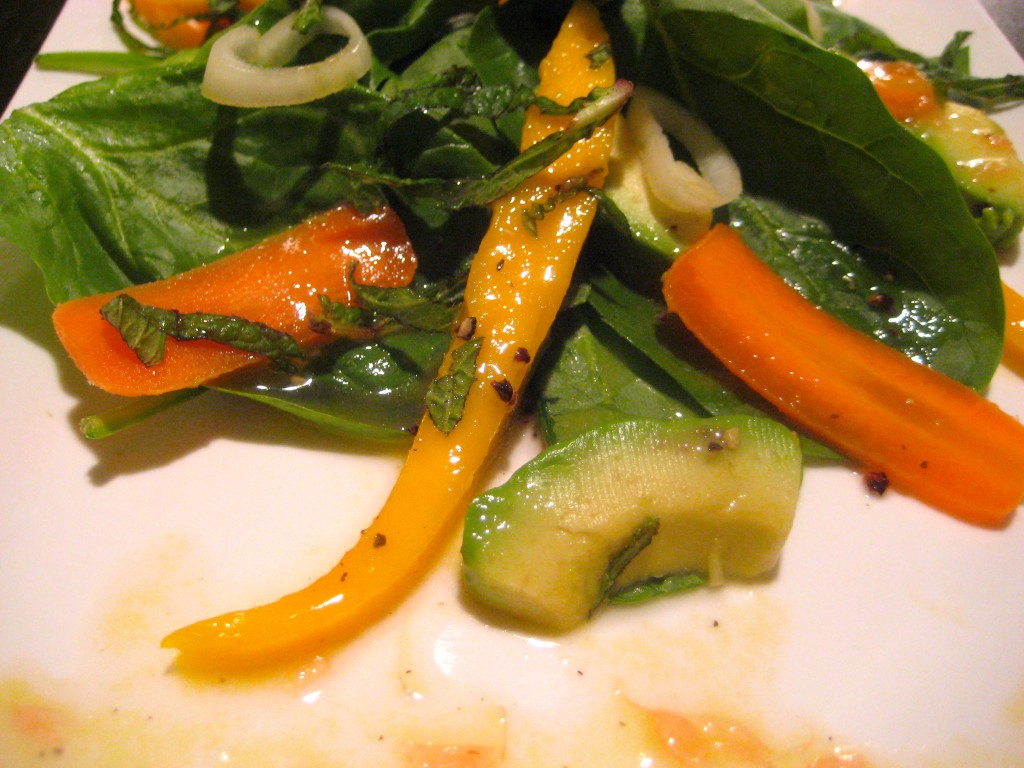 In general, I try not to inundate Como Water with a lot of salads, despite eating one just about everyday. When many people think of veggie-friendly food, they immediately think of salad and I hope to broaden folks horizons on what delicious vegetarian and vegan food can be. BUT, every now and again, I make a salad … or a vinaigrette that I just can't resist putting on the blog. This is one of them. The sweet softness of the mango is offset by the acidic grapefruit and the crunchy carrots, spinach, and shallots. And the mint adds freshness that just screams spring and summer. And this salad is simple. Plate your veggies, whisk your vinaigrette and eat!
On a different note… I want to thank Elin and Pola for the recent awards they passed on to me and Kate for the shout out that she recently gave me on her blog. She described me as cheery! TOTALLY made my day :D. Happy Monday everyone!
Mango-Spinach Salad with Mint-Grapefruit Vinaigrette (Printable Recipe)
Ingredients:
Spinach
Mango–diced
Carrots–sliced
Mint–chopped
Shallot–sliced
Avocado–diced
1 1/2 tablespoons olive oil
1/2 teaspoon agave
juice from 1/2 grapefruit
salt, pepper
1 teaspoon mint–chopped
Method:
*Wash and prep veggies. Arrange on plate. Whisk oil, agave, grapefruit juice, salt, pepper, and 1 teaspoon mint. Drizzle salad with vinaigrette. Simple!