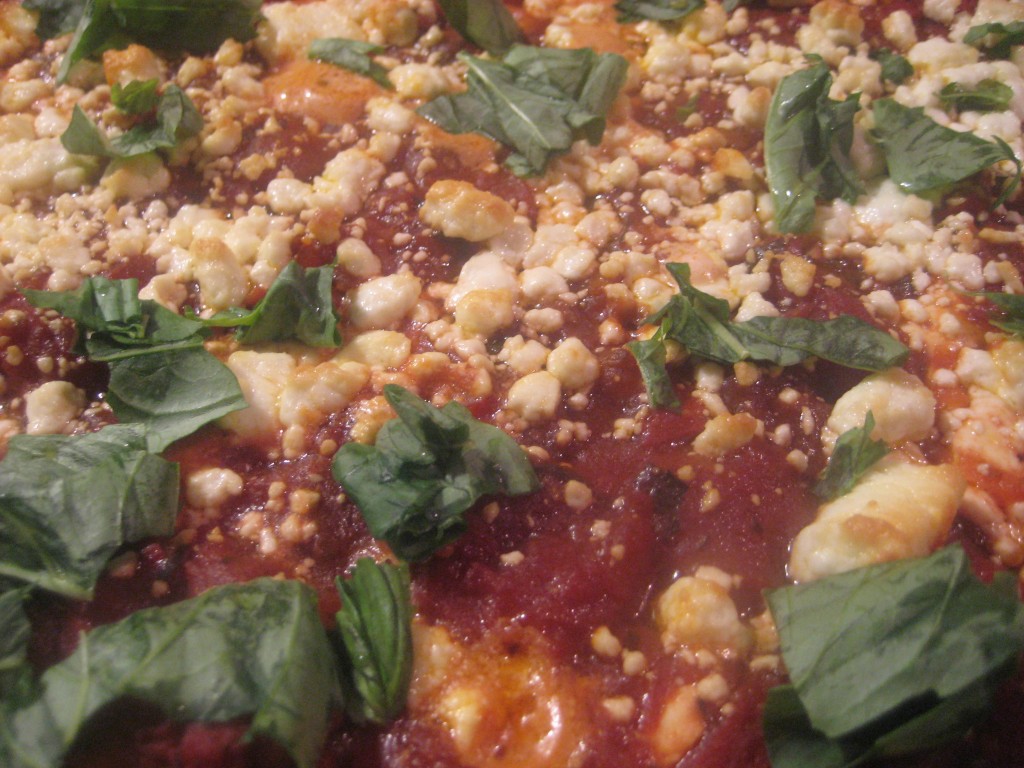 Best. Day. Ever. OK, maybe not EVER, but today was definitely the best day that I've had all week! Today I gave my first food demonstration at the grand opening of the Briggs Community Garden in Durham. It went really well, but if you know anything about me, you know that my triumphs often have a dramatic story attached to them. Luckily, this time, the story is only semi-dramatic.
The drama started when I was approached to be the guest chef for the event (yes, I was anointed with the title chef !). My mission… to make a dish or two highlighting seasonal, local food. If I could potentially raise awareness about "non-traditional," healthy food too, that would be great. Easy right?
Of course not! Although I specialize in vegetarian and vegan cuisine, I do not specialize in raw foods and what type of 'cooking' was I going to be able to do in a garden??!?!? Also, in my mind, raising awareness about "non-traditional" foods seemed to be a delicate line to tow. If the dish was too creative or eccentric or contained too many syllables, folks would frown and wouldn't try it. So, I had to be gentle with my approach….
First, I prepped some of the food ahead of time. Heat source issue solved. I would just 'assemble' at the garden. Second, I decided on two dishes that highlighted the power of spices when making vegetarian and vegan cuisine. Both dishes featured local, farm fresh vegetables and packed major flavor. At the end of the day, that's all that really matters–sabor. If your food has it, people will like it, whether it's vegetarian, vegan, or otherwise. Without flavor, you're a goner. And despite waking up at 3:00 AM with heart palpitations because I was so nervous, I felt confident that I could pull off flavor, even in a garden.
In the end, my vegan curry couscous with local vegetables and vegan curry "chicken" salad wrap with grapes and pea shoots went over really well 🙂 and I'll be posting recipes for both dishes on Como Water soon. I'll also be blogging about the event on the CFSA website later this week and will include the link on a Como Water post if anyone is interested in reading it. But now, onto the queso de cabra.
Queso de Cabra is the third recipe in my series from the La Primavera party (yes, I am still posting recipes from the party! and I still have more to go!!!). In college, my friend Christina and I worked at a tapas restaurant and this was one of our favorite dishes from that restaurant. It's one of those non-recipe recipes (I have a lot of recipes like this!) where the ingredients are simple and the method is straightforward, but the flavors just make you sigh with satisfaction and comfort.
Queso de Cabra

(
Printable Version)
Ingredients:
8 ounces goat cheese
1 1/2 cups marinara sauce (see below for recipe or use store bought)
Fresh basil
Fresh bread
Olive oil
Method:
*Preheat oven to 375 degrees F. Slice the goat cheese into a 1/2-inch slice and lay in a baking dish. Spoon marinara sauce into the baking dish until to the top of the cheese. Bake for 20-25 minutes uncovered until the cheese is hot and bubbly. Serve with fresh, warm bread (I served with ciabatta, a baguette is also nice) drizzled lightly with olive oil and fresh basil. Easy!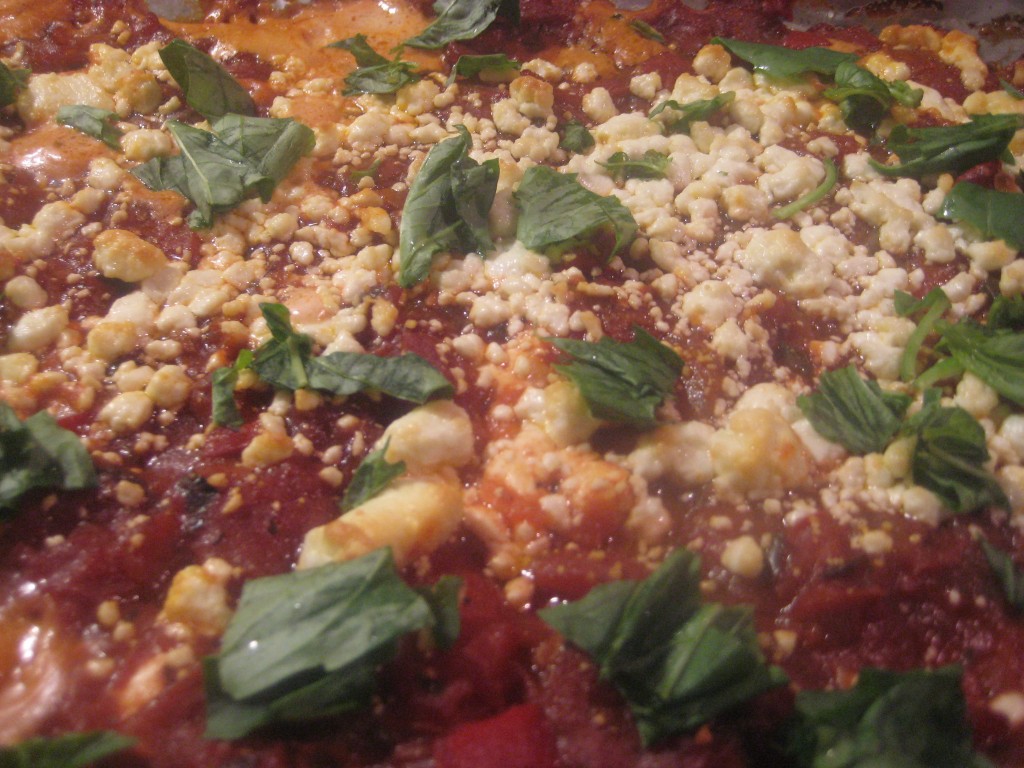 * * *
Marinara Sauce
Ingredients:
1 medium yellow onion–chopped
1 bell pepper–chopped
1/2 jalapeno–chopped
2 cloves garlic–minced
2 carrots–grated
3 tablespoons tomato paste
1 28 oz can plum tomatoes
1/4 cup red wine
1 dry bay leaf
1 teaspoon dried oregano
3 tablespoons fresh parsley–chopped
2 tablespoons fresh basil–chopped
Olive oil
salt/pepper
pinch sugar
Method:
*Add a few tablespoons of olive oil to large pot over medium heat. Add onions, bell pepper, jalapeno, and carrots. Saute approximately 1o minutes or until vegetables start to soften. Add garlic, oregano, bay leafs, large pinch of salt, black pepper. Cook until garlic is soft. Add tomato paste. Cook 2 minutes. Add plum tomatoes (squish in your hand as you add them…it's very therapeutic!) to the pot with the juices, along with your red wine. Drop the heat to medium low and let simmer at least 45 minutes, stirring occasionally. At the end of simmering, add fresh herbs and a drizzle of olive oil. Adjust seasoning and serve.
Lastly, I wanted to thank Begona at Aroma y Cocina and Sandra at Sweet Sensations for the recent blogger awards they passed on to me. Both of these blogs are truly amazing and have mouthwatering recipes that you'll want to try pronto, pronto!