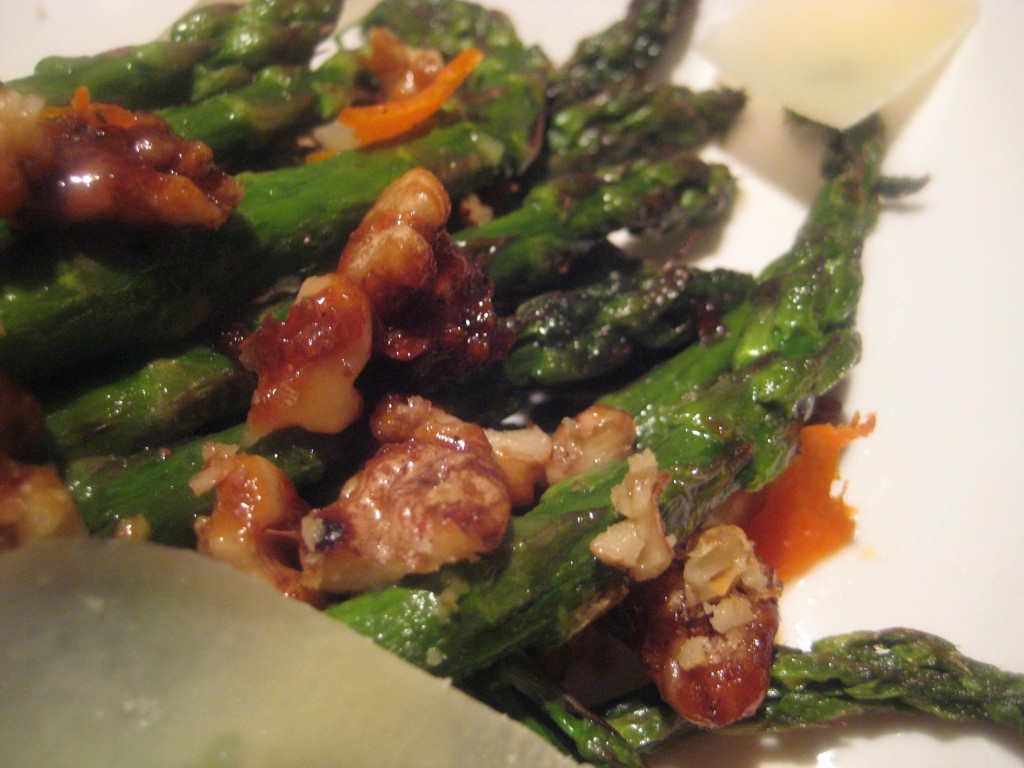 Oh, where do I begin? First, exciting updates. I am now a guest contributor for two local North Carolina blogs–CarpeDurham.com and the Carolina Farm Stewardship Association (CFSA)! I posted my first review on Carpe Durham this week and my second review is scheduled for this weekend (I will, of course, mention it here on Como Water!). I haven't written anything for CFSA yet, but when I do, I'll be sure to let y'all know!
Second, award season is upon us still! I was recently awarded a sisterhood blogger award from Zen at Rawk Me! Also, Steph let me know that her link in my last post was not functioning–so here I go again! Check out her amazing food at www.okiedokieartichokie.me! Thanks ladies!
And third, this dish. A dish that was inspired by a sale. I was craving broccoli and had this whole elaborate plan of roasting broccoli with grilled blood oranges (I haven't given up on the grilled blood oranges idea… more on that next week!), but when I saw a Whole Foods sign saying "asparagus $1.99," my craving quickly changed. 😀 Tangelos were also on sale, I had leftover spiced walnuts, and a large block of parm in the fridge. Soon, I had a side dish so simple, I kind of feel guilty calling it a recipe (kind of). Like most of the food I cook, this side dish is extremely versatile–feel free to roast the asparagus instead of grill it, and/or play around with other veggies, nuts, or citrus combos.
Grilled Asparagus with Walnuts and Tangelo (Printable Recipe)
Ingredients:
1 pound asparagus–washed and trimed
olive oil
spicy Tamari glazed walnuts–roughly crushed
salt
pepper
1 tangelo–reserve 1 teaspoon of zest
fresh parmesan (optional)
Method:
*Trim ends of asparagus. Wash, pat dry, drizzle with olive oil, sprinkle with salt and pepper. Heat grill pan to medium heat. Drizzle with a touch of olive oil. Lay asparagus in pan in one single layer. Grill, just until the asparagus has desired color (Note: If you have asparagus that is on the thicker side, it may not be cooked all the way through. This is ok. Still remove it from the pan once the desired color is obtained.).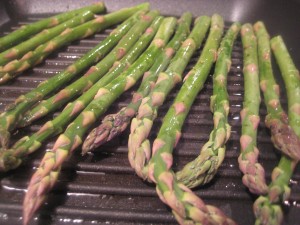 *If asparagus is cooked through, plate it. If the asparagus is not cooked through, cover with a damp paper towel and microwave for one and a half minutes, then plate it.
*Once asparagus is plated, drizzle with the juice from 1/2 of tangelo and sprinkle with crushed walnuts and tangelo zest. As a final (optional) step, top asparagus with fresh parmesan (I used a vegetable peeler to get large sheets/curls. It was very pretty.).