Rather than bake more pasta–perhaps in the form of stuffed shells or manicotti–I did what anyone with a crazy sweet tooth would do with her leftover ricotta. I baked cookies! 😀 I decided to replace some of the earth balance I usually use in my cookies with ricotta, hoping that I would gain a fluffy light texture. I was right! And yes, you've guessed it, these cookies are again, the result of what I had in my pantry (which is now officially bare and in need of major restocking!!!). I loved these cookies, although according to the CJ test, they are more akin to brownies than cookies (I personally think he was just caught up with the fact that they are brown). They definitely have the texture of cookies–soft, moist, and super fluffy, thanks to the ricotta!
Chocolate Oatmeal Ricotta Cookies (Printable Recipe)
Ingredients:
3/4 cup ricotta
1/2 cup earth balance or butter (softened)
1 egg
1/2 cup sugar
1/2 cup brown sugar (packed)
1 1/2 teaspoons vanilla
1 1/2 cups flour
1/2 cup cocoa powder
1 teaspoon baking soda
1/2 teaspoon baking powder
1/2 teaspoon salt
1/2 cup old fashioned oats
1/3 cup sliced almonds
1/3 cup semi-sweet mini chocolate chips
1/3 cup chopped pecans
1/3 cup chopped white chocolate
Method:
*Pre-heat oven to 350F. Whisk together flour, baking soda, salt, cocoa powder, baking powder, and oats. Mix in almonds, pecans, white chocolate, semi-sweet chocolate. Set aside.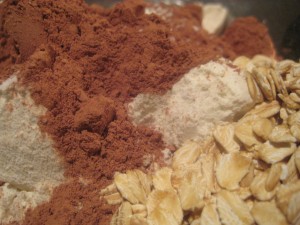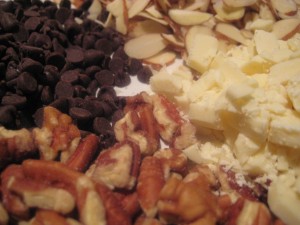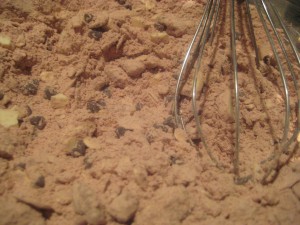 *Beat earth balance, ricotta, egg, sugar, brown sugar, and vanilla. Add dry ingredients to wet ingredients in three batches. Put bowl of cookie dough in the freezer for 10 minutes. Drop onto cookie sheet and bake for 10-14 minutes.