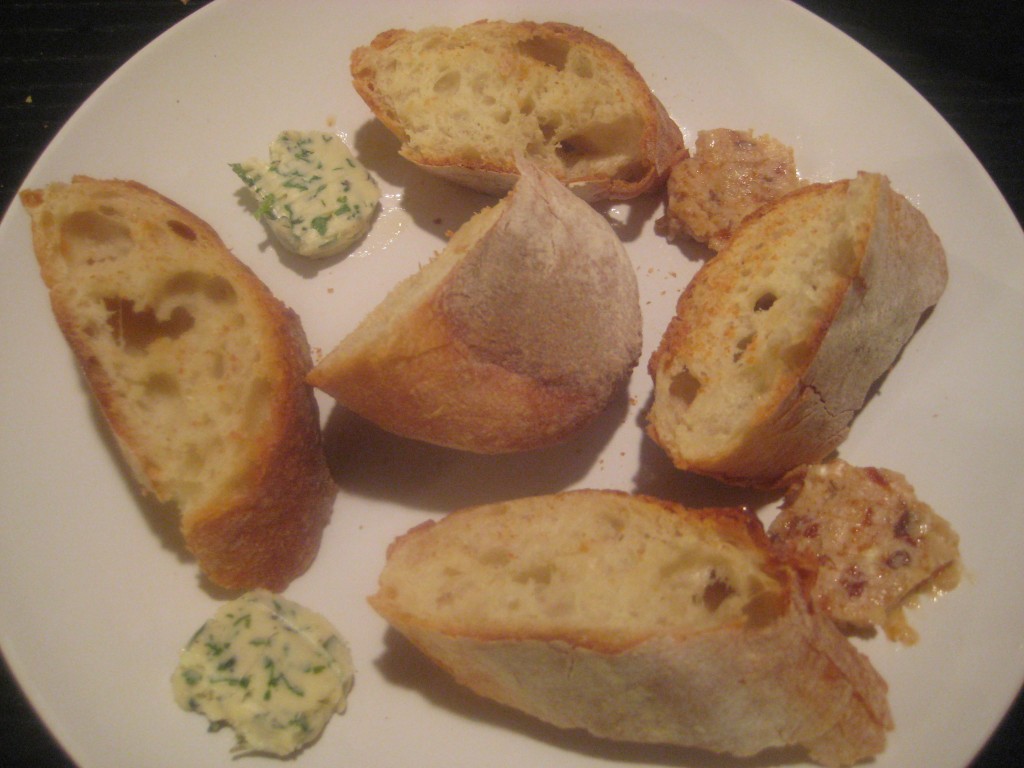 Sometimes, it really is the little things that make the biggest impressions. And when you don't eat meat, these 'little' things often separate "it's oooooo kaaaaayyyyyyy…" from "OMG, can I have seconds!??!!?!?" These four accompaniments make a big flavor impact, but each of them use a few ingredients and only take a few minutes to prepare. Big flavor + minimal time + easy to find ingredients = totally worth focusing on the little things!
Four Accompaniments
Herb Butter
This herb butter is great with bread or on other starches like rice and mashed potatoes. Feel free to tweak the amounts, as well as the herbs that you include.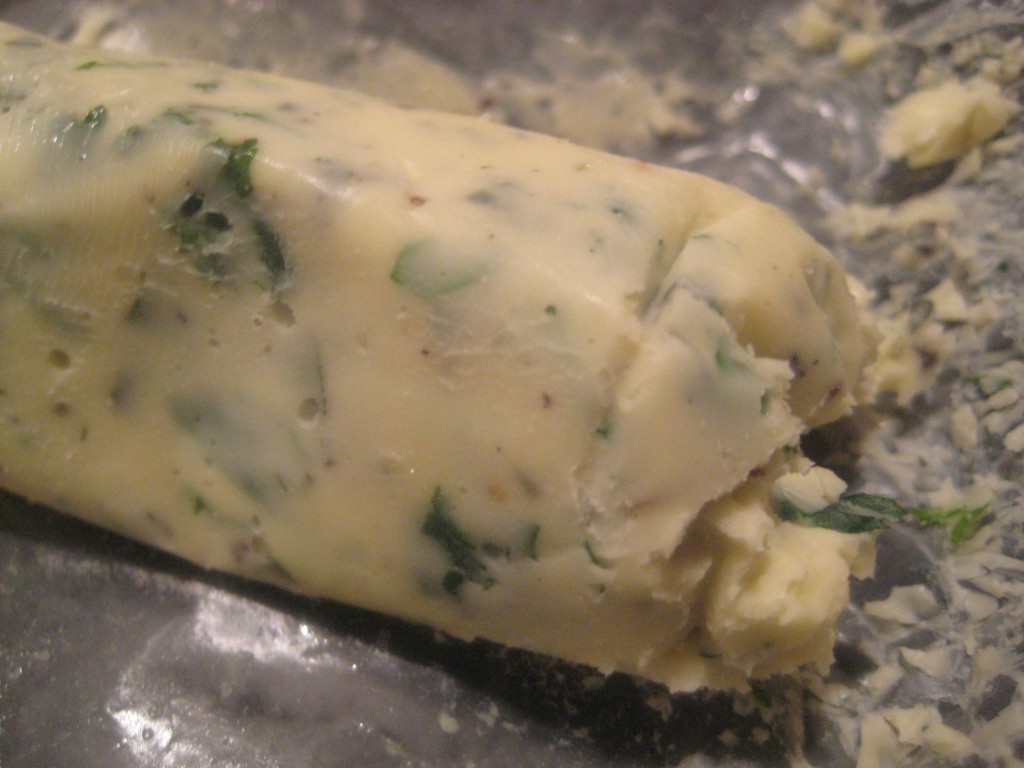 Ingredients:
1/3 cup earth balance (softened)
1 tablespoon fresh parsley
1 tablespoon fresh cilantro
1 teaspoon fresh thyme
1 teaspoon fresh oregano
salt/pepper
Method:
*Chop fresh herbs. Add herbs to softened earth balance with a dash of salt and pepper; mix.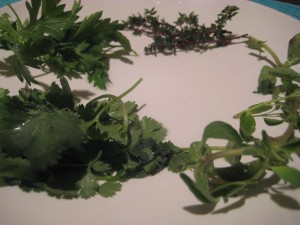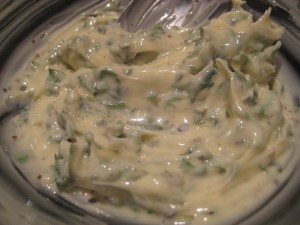 *Add 'butter' to a sheet of wax paper. Roll into log and secure ends. Refrigerate.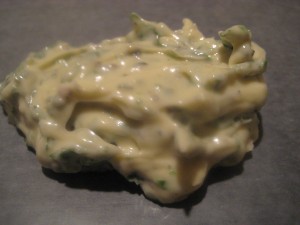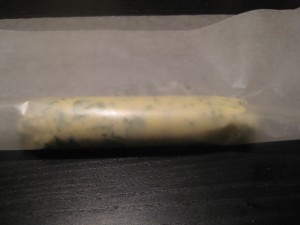 Roasted Pear-Guava Butter
This butter was inspired by the guava butter at Eve, one of my favorite restaurants in Ann Arbor. Since I was also making the pear crostata that day, I threw in one quarter of a roasted pear. YUM! This was the favorite of the two flavored butters.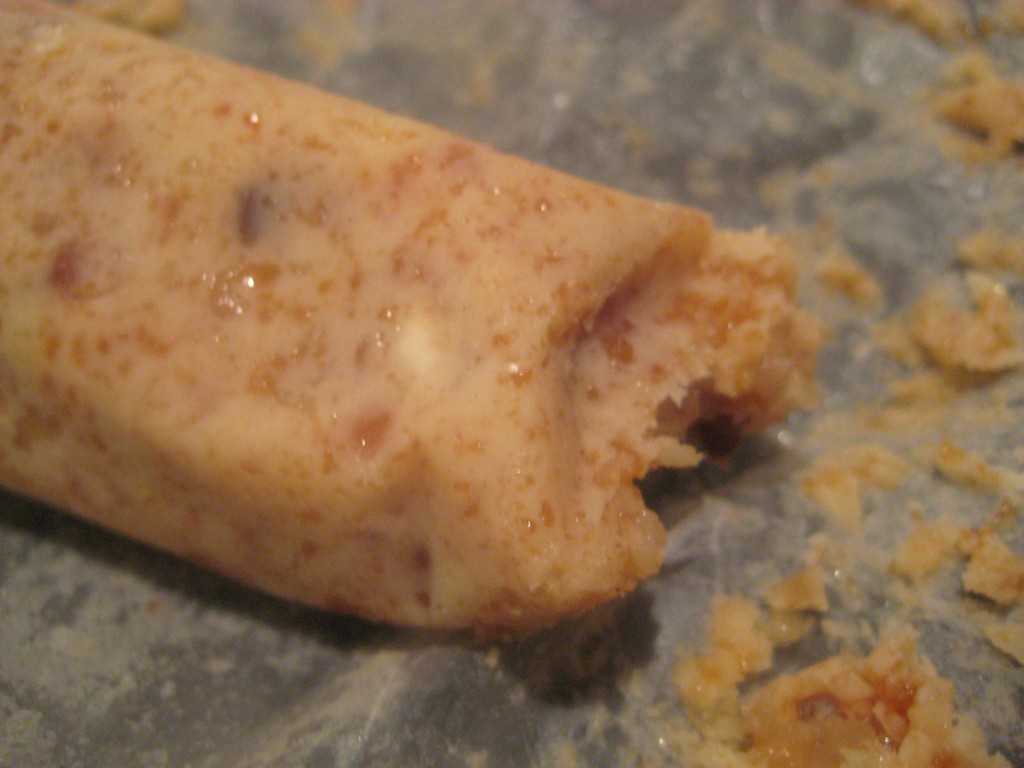 Ingredients:
1/3 cup earth balance
1/4 roasted pear (I made this the same day I made the pear crostata)
2in x 2in piece of guava paste (~1-2 oz.)
2 tablespoons of water
Method:
*Heat guava paste and water over low heat in a small sauce pan.
*Add melted guava paste, roasted pears, and earth balance to food processor. Blend. Transfer to bowl and refrigerate for 10 minutes.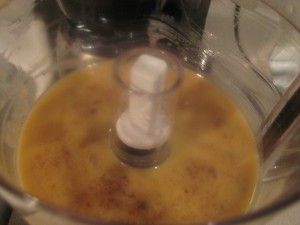 *Add 'butter' to a sheet of wax paper. Roll into log and secure ends. Refrigerate.
Candied Ginger and Mint
After making the ginger syrup for my cranberry-ginger punch, I ate a piece of the remaining ginger. It was so delicious that I decided to sprinkle some sugar on the ginger pieces and use them as the "palate cleanser" between the main meal and dessert. In honor of Eve, I also candied some mint leaves (the restaurant uses egg wash to get the sugar to stick, but I wanted to keep it vegan, so I used the ginger syrup!).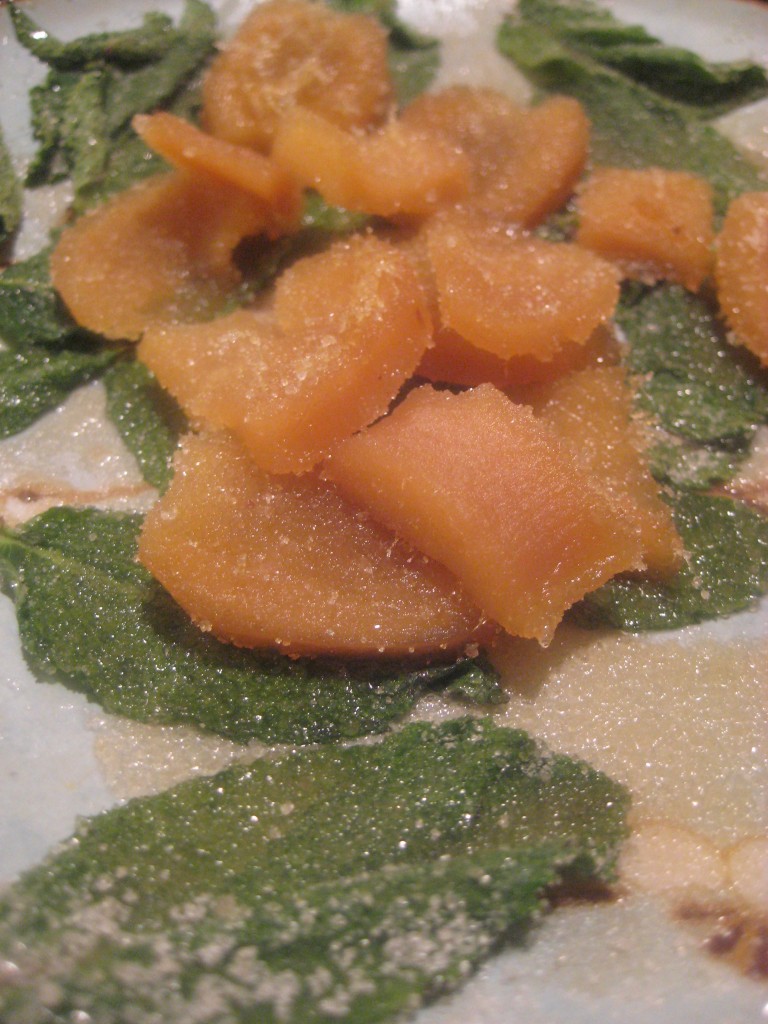 Ingredients:
4 cups water
1 cup sugar
3 tablespoons agave
juice from 1 tangerine (or 1/2 orange)
3 inches (or so) of fresh ginger
mint leaves
Method:
*Add water, citrus juice, and fresh ginger to medium saucepan. Heat over medium low for twenty minutes.
*Add sugar and agave. Stir. Turn heat to medium. Heat slowly and reduce the mixture down to approximately one cup of syrup. (The slow reduction extracts all of the gingery goodness out of the ginger and into the simple syrup. Don't rush this! AND… added bonus … your house will smell amazing!).
*Remove ginger and sprinkle with sugar. Brush mint leaves with syrup and sprinkle with sugar. Save syrup, and use to sweeten tea, coffee, punch (I made a cranberry punch with the syrup… recipe coming soon!), oatmeal, yogurt…