This is one of those rare fried recipes on my blog. But you know my motto, "a little decadence is warranted now and again," and this tofu screams decadence (yes… tofu can be decadent!). The mustard-walnut combo is elegant and seamless. The dipping sauce packs tons of taste. And the walnuts add almost a creamy crunch. I paired this tofu with greens, mushroom smothered grits, and a salad, making it a veg-centric take on Sunday dinner! Mmmm….
Walnut Crusted Tofu
Ingredients:
1 16 oz. block of extra firm tofu–sliced and pressed (see this post for pressing 101)
1 tablespoon whole grain mustard
1 teaspoon Sriracha
1 teaspoon Tamari (or soy sauce)
2 tablespoons orange juice
1/2 cup walnuts
2 tablespoons unsweetened flaked coconut
1/4 teaspoon lemon zest
1/2 cup flour
salt
pepper
olive oil (for sautéing)
Method:
*Whisk mustard, Sriracha, orange juice, and Tamari. Add to shallow dish/pie plate. Set aside. Add flour, zest, coconut, walnuts, salt and pepper to food processor. Pulse until walnuts-flour mixture resembles a meal. Add to large plate or dish. Set aside.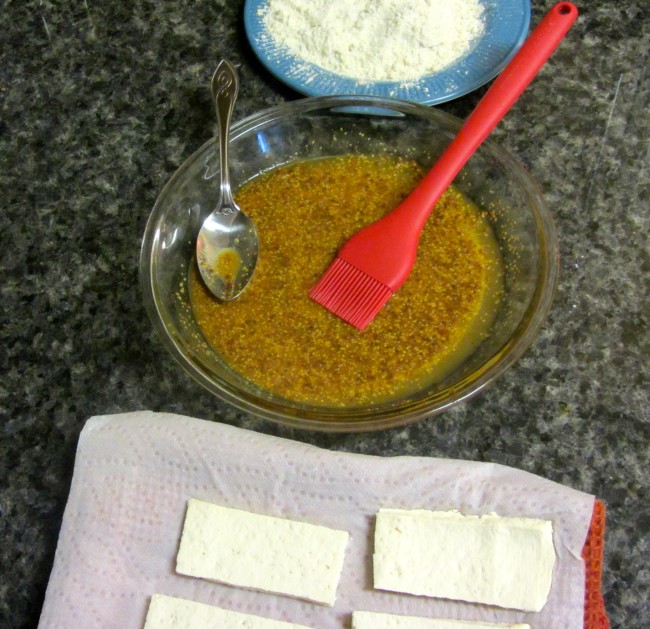 *Heat olive oil in sauté pan over medium high heat. Brush mustard mixture onto both sides of each tofu slice. Dredge in flour-walnuts mixture. Shake off excess flour mixture. Add to sauté pan. Saute ~3 minutes or until golden brown. Flip. Saute another 2-3 minutes. Repeat with all tofu slices.
*Serve with remaining mustard mixture as dipping sauce. Enjoy!