Ok, three friends were coming over before an art event. I still had to do my hair, paint my nails, figure out what to wear, and tidy up. What could I make that was tasty, veg-centric, and most importantly, quick?! See, the thing is, being a food blogger, folks are always expecting something impressive. Well, that's the beauty of frozen puff pastry. You can throw just about anything on it and folks are impressed! In this dish, I sautéed up some veggies and folded the corners of the puff pastry to be extra "fancy." In the end, it worked. Folks liked them and I even had enough for breakfast the next morning. Score and score! 😀
Veggie Puffs
Ingredients:
1/2 onion–diced
1 large sweet potato–cubed in 1/2 in. pieces
2 cups asparagus tips–cut into 1/2 in. pieces
8 oz. white mushrooms–cut into 1/2 in. pieces
1/2 jalapeño–minced
2 cloves garlic–minced
2 puff pastry sheets–store bought; thawed in fridge
olive oil
1 tsp – 1tbs Braggs liquid amino (or soy sauce/Tamari)
salt, pepper
Method:
*Prep all veggies. Preheat oven to 400 F. Add sweet potato. Drizzle with olive oil. Sprinkle with salt and pepper. Roast for ~20-25 minutes (or until tender), turning once.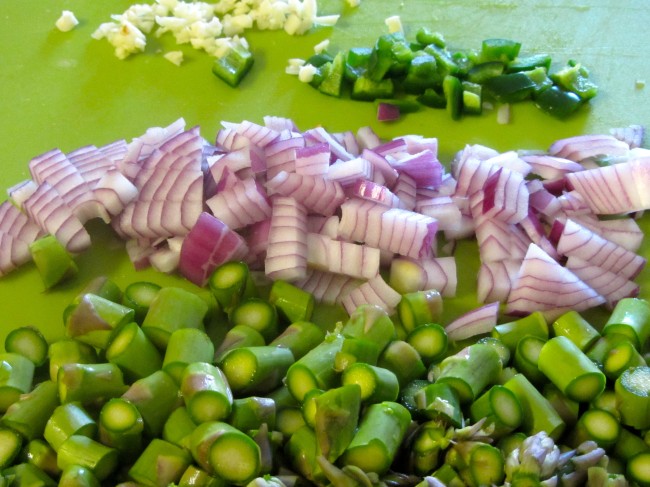 *Add mushrooms to a large sauté pan with a drizzle of olive oil. Saute until tender. Remove from pan and set aside.
*In the same sauté pan, drizzle 1-2 tablespoons olive oil. Add asparagus and heat over medium high heat. Saute asparagus for ~5 minutes. Add onion, jalapeño, and garlic. Saute ~5-7 minutes, or until onion, jalapeño, and garlic are soft, but asparagus still has some bite. Add mushrooms and sweet potato; stir completely. Add Braggs and black pepper to taste. Remove from heat. Set aside.
*To assemble: cut each puff pastry sheet into 9 squares. Add a large spoonful of the veggie mixture to the center of each square. Pull up two diagonal corners and add to parchment-lined baking sheet. Brush with either egg wash or non-dairy milk (to keep it vegan). Bake ~20 minutes. Enjoy!