I'm going to keep today's post short and sweet! Usually on New Years, I make black eyed peas and rice, but this year, I wanted to switch it up a bit. Enter sweet potatoes and some harissa, and voila! A super comforting, easy to make soup to help you ring in the new year! Check out the recipe below, and while you're at it… check out the new Como Water Membership Services! Happy Saturday folks! 😀
Black Eyed Peas-Sweet Potato Soup
Beans Ingredients:
1/2 onion–roughly chopped
1 carrot–roughly chopped
3 garlic cloves–peeled
1 bay leaf
1/2 teaspoon red pepper flakes
1 cup dry black eyed peas–soaked overnight, drained, and rinsed
olive oil
water
salt
pepper
Beans Method:
*Add ~2 tablespoons of oil to a large stock pot, along with the red pepper flakes and bay leaf. Heat over medium heat, stirring to combine. Heat for 1-2 minutes. Add the soaked, rinsed beans to the pot, along with large pinch of salt and black pepper. Cover beans with water. Bring to a boil. Drop down to medium.
*Simmer for ~ 30 minutes, just until the beans begin to soften (but are not fully cooked). Drain, remove veggies and bay leaf. Set aside.
Soup Ingredients:
Cooked black eyed peas (see above, or use canned)
2 carrots–diced
2 small (or one large) sweet potato–diced
2 stalks celery–diced
1/2 onion–diced
2 cloves garlic–minced
1 cup frozen corn
1/3 cup brown rice
6 cups vegetable broth
2 heaping tablespoons harissa (or preferred hot sauce to taste)
1/2 teaspoon cumin
salt
pepper
olive oil
fresh orange juice
fresh herbs
Method:
*Add ~3 tablespoons olive oil to a large stock pot. Add carrots and sweet potato. Cook over medium heat for about 10 minutes, stirring occasionally. Add celery, cook for about 5 minutes. Add onion. Cook for about 5 minutes. Add garlic. Cook for about 5 minutes.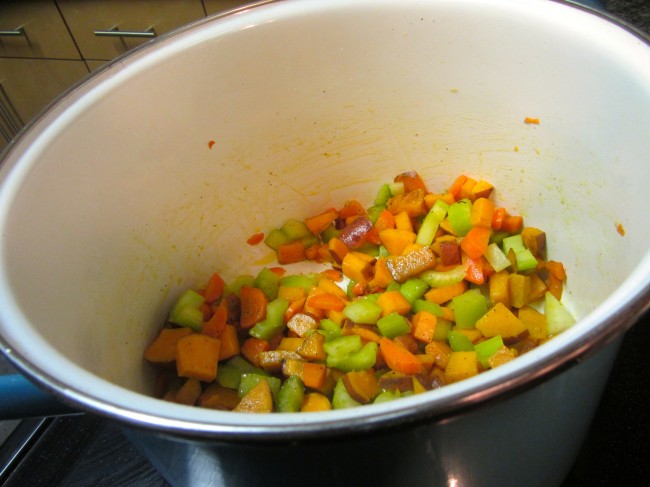 *Add drained, cooked black eyed peas, rice, frozen corn, harissa, and vegetable broth. Cover and bring to a boil. Once boiling, uncover, drop heat to medium/medium low, and simmer for about 1 hour, stirring occasionally.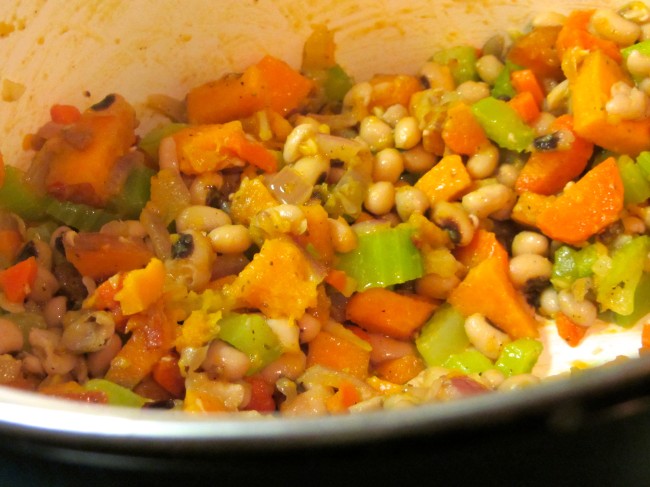 *Once beans and veggies are tender, adjust seasoning and serve with a squeeze of fresh orange juice and fresh herbs. Enjoy!