I just finished an amazing book that has me even more pensive than normal (as if that's possible!). The name of it is "How Will You Measure Your Life" and it has totally rocked my world. If you are looking for a book to read, I would HIGHLY recommend it. If however, you do not have the time to read it, I will share what I believe to be the book's greatest lessons :).
1. Sometimes it's best to follow a clear, deliberate plan. But other times, many other times, it's best to let serendipity do her thing. How do you know when to use each strategy (deliberate vs. chance?), that, my friends, I believe you should read the book to find out!
2. Once you derive a strategy for accomplishing what you want in life–in relationships, in work, in your spiritual life, whatever–your behaviors must align with your desires and with your strategy. Much easier said than done.
3. Spend some time, a lot of time if need be, identifying your life purpose. Really think about what you want to contribute to the world. And sit with it. Also identify ways for you to know if you've chosen the right purpose.
4. It's better to do something 100% of the time, rather than 98% of the time. I LOVED this lesson so much. If you have a conviction, be committed to that conviction–no exceptions. Exceptions to what you define as dimensions of integrity can create ambiguity, conflict, and chaos. They can also lead you astray from your purpose.
I could really go on and on about why I loved this book so much and my little four lesson synopsis above totally doesn't do the book justice… but, alas, this is a food blog, not a book club blog, so with that I give you my soup!
Ah, soup… the perfect pick me up when the temperature drops twenty degrees in as many hours. The hint of Chai in this soup adds a gentle complexity, the white beans add creaminess without the cream, and the maple cayenne croutons… well, c'mon, need I say more?
Have a great week folks! Pick up that book! And I'll be back soon with another super yummy recipe!!! 😀
Chai Scented Pumpkin and White Bean Soup w/Maple Cayenne Croutons
Maple Cayenne Croutons Ingredients:
1/2 demi baguette–cubed
1-2 tablespoons maple syrup
2 tablespoons olive oil
1/8-1/4 teaspoon cayenne
Maple Cayenne Croutons Method:
*Preheat oven to 400 degrees F. Mix maple syrup, oil, and cayenne in a medium sized bowl. Add cubed bread. Massage maple mixture into bread. Add to parchment line or lightly greased baking dish/cookie sheet. Toast 10 minutes. Turn once. Toast 5 minutes. Turn again. Turn oven off. Leave in oven with oven door open until ready to serve!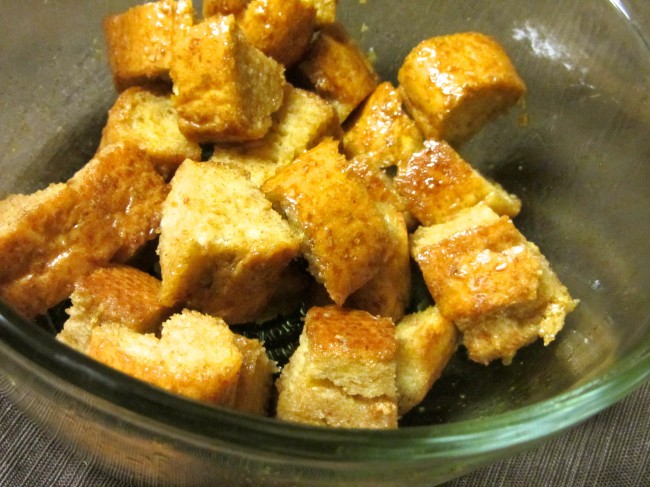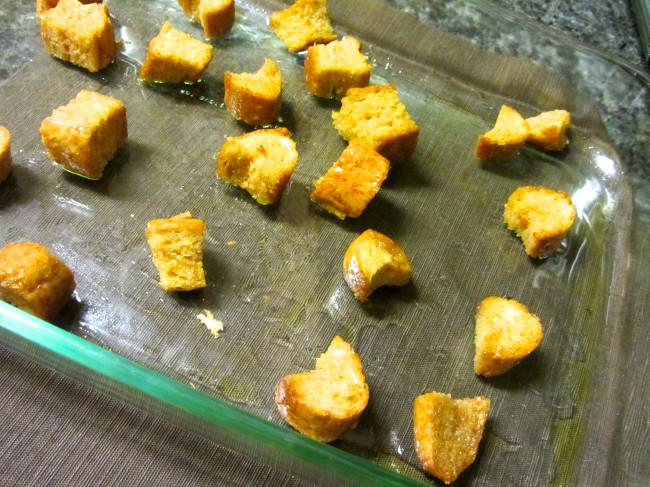 Soup Ingredients:
1 can pureed pumpkin (or make your own)
1 cup white beans–cooked
1/4 red onion–diced
2 cloves garlic–minced
1 cup vegetable broth
1  cup white white wine
1-1/2 cups coconut milk
2 chai tea bags
1 teaspoon cinnamon
1/2 teaspoon ginger powder
2 teaspoons maple syrup
1/4 teaspoon cayenne
olive oil
salt
pepper
Maple-Cayenne Croutons (see above)
smoked olive oil (optional)
veg-sausage (optional)
fresh parsley, coconut milk (for garnish)
Soup Method:
*Add wine and broth to a medium sauce pan over medium heat. Add tea bags. Steep 15 minutes. After 15 minutes, turn heat off. Set aside. Saute garlic in about 1 tablespoon of olive oil in medium sauce pan over medium low heat for about 10 minutes, or just until barely soft. Add garlic and sauté until soft. Add beans. Stir.
*Remove tea bag from wine mixture and discard. Add wine/broth mixture to the beans mixture. Simmer over medium/medium low heat for 10 minutes. Add pumpkin puree, beans/wine mixture, maple syrup, cinnamon, and ginger to blender. Blend until fully smooth. Add coconut milk. Blend. Adjust seasoning.
*Serve with maple-cayenne croutons, fresh herbs, drizzle of smoke oil, drizzle of coconut milk, and veg-sausage. Mmmmmmmmmmm! 😀