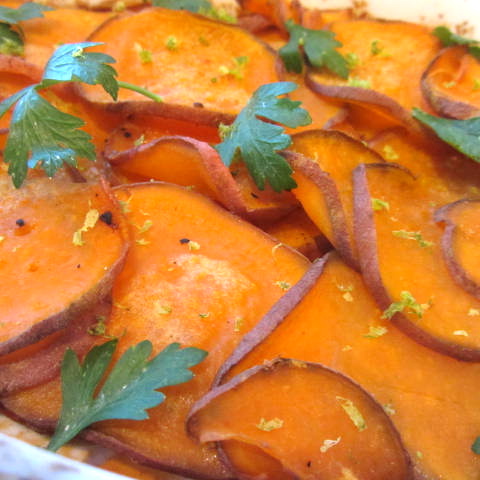 It's hot. No, no, no, it's cold. This dish is a nod to cold mornings and hot afternoons. It's a dedication to the irony of fall–beautiful colors that represent the death of this cycle in preparation for demure little buds that will peak in just a few months, crisp and sweltering in the same day, the end of summer foods and the beginning of autumn yum yums. The tart lime and sweet agave cling to summer, while the thin slices of potato remind us that colder times are on the horizon. In honor of the toughest season to dress for ;), I offer you these lime-agave glazed sweet potatoes! Happy Hump Day! 😀
Lime-Agave Glazed Sweet Potatoes
Ingredients:
2 sweet potatoes–washed, sliced thinly
1 tablespoon Earth Balance
1 teaspoon olive oil
2-4 tablespoons agave
1/4 teaspoon salt
1/2 teaspoon ginger powder
juice from 1 lime (save zest as well)
black pepper
herbs for garnish (I used parsley)
Method:
*Preheat oven to 400 degrees F. Prepare potatoes and layer into a baking dish. Whisk olive oil, agave, salt, ginger powder, lime juice and black pepper. Pour over potatoes.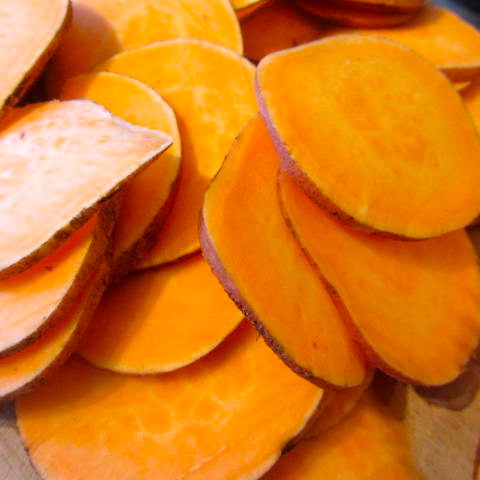 *Dot Earth Balance on top of potatoes. Cover with foil. Bake ~30 minutes. Remove foil and bake for ~10-15 minutes. Serve warm with lime zest to taste and fresh herbs.