Morning folks! I have had a foodie filled past week and I couldn't be happier! First, I had my last vegan holiday cooking class. This week's class was all about dessert (pics coming soon)! Then on Sunday, I attended a cookbook party and fundraiser for a new site called American Food Roots. I'll be telling you more about the site soon, but in the meantime, check it out (and join community!). Yesterday, I signed up to be a volunteer for this year's Sips and Suppers, a DC food event to raise awareness about and to help to tackle homelessness (send positive energy that I get chosen as a volunteer!). This morning I made one of the easiest and tastiest vegan desserts EVER (more on that later…). I have some big foodie news coming tomorrow (I know, I know, I'm SUCH a tease…). And right now, I'm happy to share with you my cocoa-mint shortbread!
If you've been following Como Water for awhile, you know that I love me some shortbread. So, this holiday season, it should come as no surprise that I'll be leaving Santa some of this Cocoa-Mint Shortbread. (Maybe now, he'll leave me that Kitchen Aid Mixer or DSLR camera I've wanted). 😀 I'll be back tomorrow with the news. In the meantime, bake cookies! And check out this Christmas Extravaganza organized by my foodie friend Cake Whiz! Information on all of the lovely desserts can be found at the end of this post.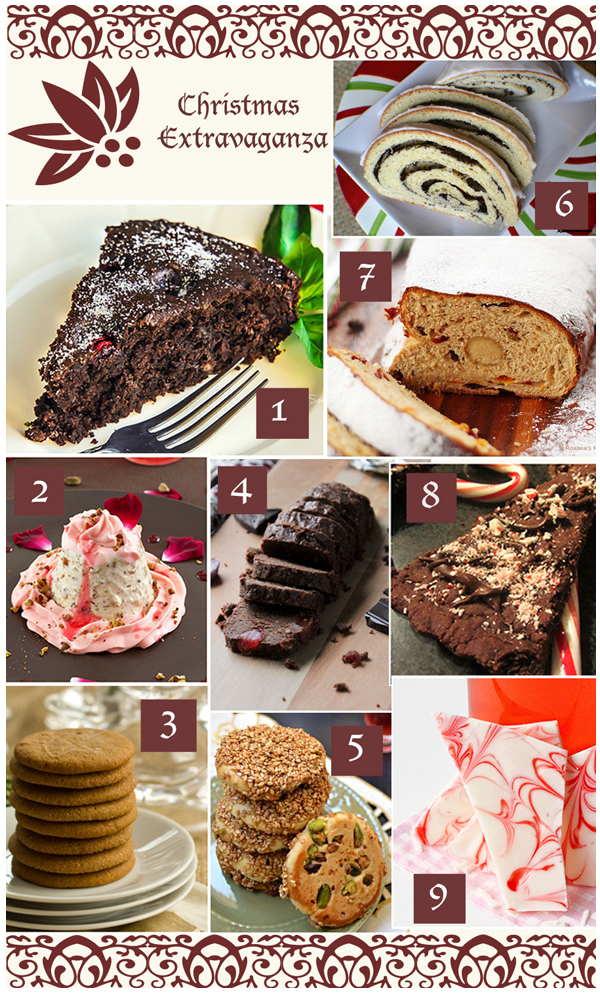 Cocoa-Mint Shortbread
Ingredients:
1/2 cup Earth Balance–softened
1 cup sugar
1/2 teaspoon vanilla extract
leaves from 1 peppermint tea bag
3/4 cup flour
1/2 cup cocoa powder
1/2 teaspoon salt
pinch baking soda
sugar–for topping
melted chocolate–for topping
crushed candy canes–for topping
Method:
*Whisk Earth Balance, sugar, vanilla extract, and peppermint leaves in large bowl. Sift in flour, salt, cocoa powder, and baking soda. Fold dry into 'wet.' Refrigerate dough for at least 15 minutes.
*Preheat oven to 325 degrees F. Press refrigerated dough into tart pan. Sprinkle lightly with sugar. Bake approximately 15-18 minutes. Remove from oven and cut into pieces. Let cool completely. Drizzle with melted chocolate and sprinkle with crushed candy canes. Enjoy! 😀
1. Chocolate cranberry skillet cake from Sandra at Sandra's Easy Cooking
2. Pistachio and cardamom semifreddo with rose cream from Manu at Manu's Menu
3. Annabelle's ginger crisps from Liz at That Skinny Chick Can Bake
4. Chocolate cookies with candied fruit slices from Kate at Diethood
5. Honey pistachio sesame cookies (Barazek) from Sawsan at Chef in Disguise
6. Poppy seed roll (Makowiec) from Raven at Ravienomnoms
7. Stollen from Roxana at Roxana's Home Baking
8. Cocoa mint shortbread from Tiffany at Comowater (that's meeeee! :))
9. Rose syrup chocolate bark from Abeer at Cakewhiz