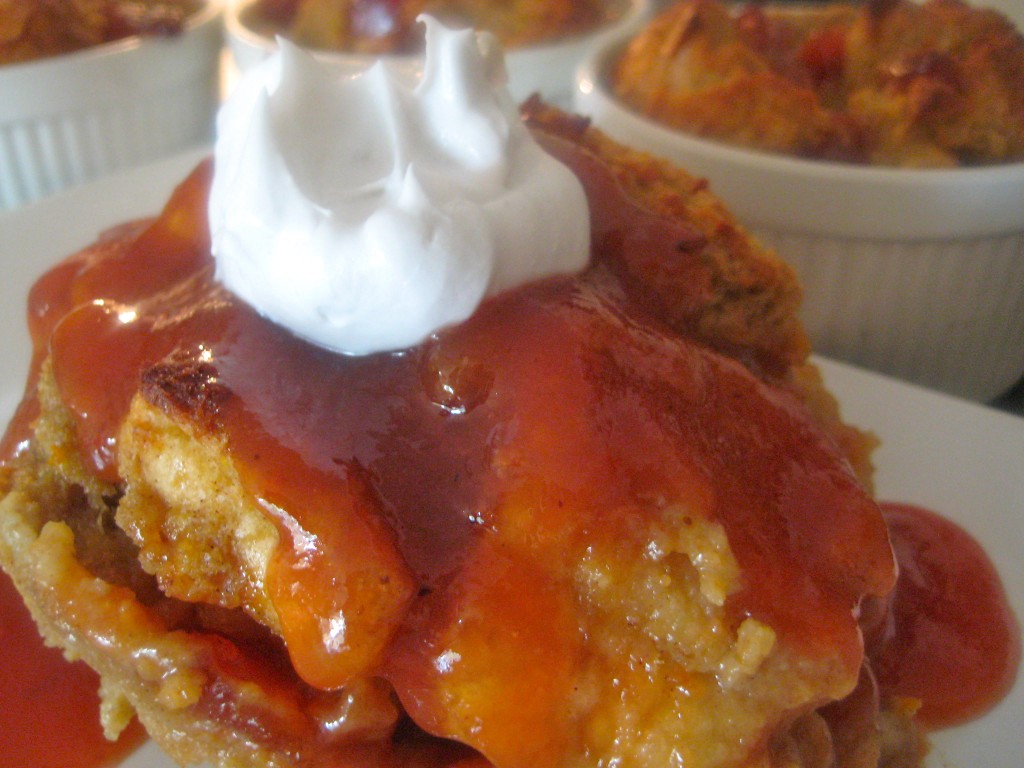 This post is all about this bread pudding. No musings on life. No rantings on justice. No storytelling about kitchen disasters. Just a little tale about this bread pudding amazingness, which was inspired by a restaurant I recently went to in Spanish Harlem with three friends. At the end of our (really delicious) meal, we didn't know whether to get the flan or the bread pudding. So we got both. The bread pudding totally stole the show, and I was determined to recreate it at home. Although my version is a bit different than what I had in New York, it is good. Really, good.
Bread pudding is, by the way, one of those dishes I had convinced myself I didn't like. But in thinking about the concept of bread pudding (bread, sugar, milk, spices, eggs… what's not to like???), it seemed that I should try it again. Now, I realize that what I do not like is soggy, mushy bread pudding. So, in my recreation, I went with a firmer texture, rather than a very eggy custard. What ensued was a bread pudding that was a cross between baked French toast and cinnamon buns. I served the bread pudding with whipped coconut cream and guava sauce. The sauce had my whole house smelling like guava. And as I was stirring it, I thought to myself, "what is better than a house that smells like guava sauce?" And then I answered my own question: "A house that smells like baking guava bread pudding AND guava sauce" :D.
I was invited by Victoria at Mission: Food to enter this recipe in her Bread Pudding of the Month roundup. Check it out!
Guava Bread Pudding (Printable Recipe)
Ingredients:
Bread Pudding:
1 day old baguette cubed (~ 6 cups)
4 eggs
1 cup almond milk
3/4 cup coconut milk
1/3 cup guava nectar
1/3 cup Earth Balance (or butter), plus a little extra to butter the ramekins
zest from one orange
1 teaspoon vanilla extract
1/2 cup sugar, plus sugar for sprinkling
1/3 cup brown sugar
1 teaspoon cinnamon
1/2 teaspoon cardamom
1/2 teaspoon salt
1 cup guava paste–cut up into chunks
Guava Sauce:
1 cup guava paste–cut into chunks
juice from 1 orange (I used a blood orange)
1/3 cup water
1/3 cup guava nectar
pinch salt
Method:
*Melt the Earth Balance and toss with the cubed bread. Set aside. Whisk eggs, almond milk, coconut milk, orange zest, guava nectar, sugars, cinnamon, vanilla, salt, and cardamom. Toss in buttered, cubed bread. Stir to combine. Let the bread soak in the custard mixture for at least 30 minutes stirring occasionally.
*Pre-heat oven to 350 degrees F. Butter 4 large ramekins. Slice guava paste into 1/2 inch chunks. Heat 1 kettle of water until boiling. Turn down to medium low to keep warm.
*Make the sauce: Heat all sauce ingredients in medium saucepan over medium low heat. Stir frequently until guava paste melts. Once guava paste is melted, cook additional 5 minutes. Keep warm on low heat.
*Add 1 tablespoon of sauce to each ramekin. Split bread-custard mixture between the 4 prepared ramekins. Wedge guava paste into the custard mixture. Sprinkle the top of each ramekin lightly with sugar. Add each ramekin to a large baking dish. Fill the baking dish halfway with hot water to create a bain marie (water bath). Bake in the center of the oven for 35-45 minutes or until the top is golden brown and the middle of bread pudding is set. Let the bread pudding cool slightly (~10-15 minutes) before serving. Serve with guava sauce and whipped cream (or whipped coconut milk :D).