When I volunteer at SEEDS, there is never a shortage of witty and hilarious soundbites. This last time, a certain youth we'll call 'Quincy' declared, "this is like the fanciest lunch we've ever had." I let the youth (and adult coordinators) scrape the last of the catupiry and frango out of the baking dish. And then I let 'em have it.
"That wasn't real meat."
My comment sparked the usual rounds of "wait, wait, wait, that wasn't meat!?!??!?!?!??!!!!" Which always cracks me up. Because they know that I don't eat meat and are surprised every time. It always brings a smile to my face because coming from a meat eater to a vegetarian, it's one of the highest compliments you can pay to the chef!
Catupiry is only the most amazing cheese on the planet. Ok, I wouldn't go exactly that far, but it is REALLY tasty. So mild, delicious, creamy, and unique, that I drove to DC to get it because I couldn't find it in the Triangle. Ok, well, I didn't exactly drive to DC just to get the cheese. I was in DC and found a Brazilian grocery store and picked up the cheese. 🙂 And this dish… well, it's embarrassingly easy, but deceptively divine. You can make it with chicken (veggie or real) or shrimp, and I actually bet it would be great with just veggies. I've heard folks say that you can substitute cream cheese for caturpiry, but it's different, so if possible, I would use the real thing. In honor of my favorite country in the world … and in the spirit of Quincy's rather hilarious monologue about being tricked into eating fake meat… I bring you, Caturpiry com Veggie Frango (Veggie Chicken with Catupiry).
Catupiry com (Veggie) Frango (Printable Recipe)
Ingredients:
2 packages Morningstar vegan chik'n strips
1 medium onion–diced
2 cloves garlic–minced
1 container catupiri/catupiry (~ 8oz.)
16 oz. can hearts of palm–sliced
4 Roma tomatoes
1 tablespoon cornstarch
1/2 cup unflavored, unsweetened milk (I used almond)
1/4 cup vegetable broth
1 bunch fresh parsley or cilantro–chopped
cheese to sprinkle on top (Manchego or Parmesan)
salt/pepper
olive oil
Method:
*Pre-heat oven to 400 degrees F. Spread catupiri/catupiry along bottom and sides of a 9 in. x 13 in. baking dish.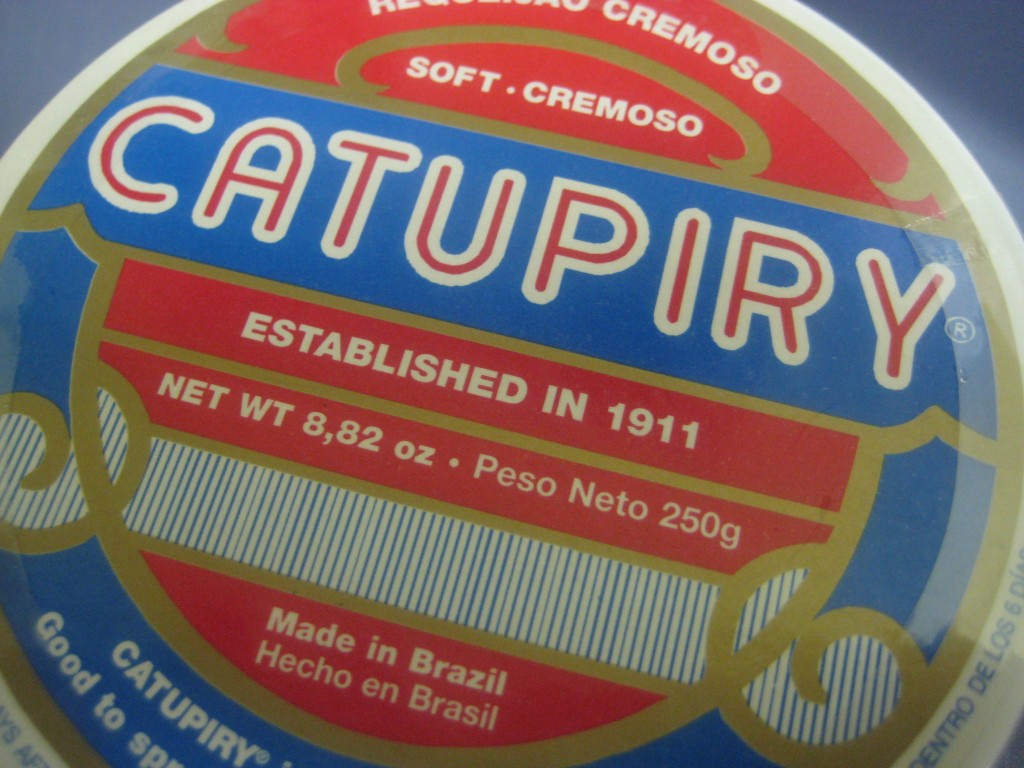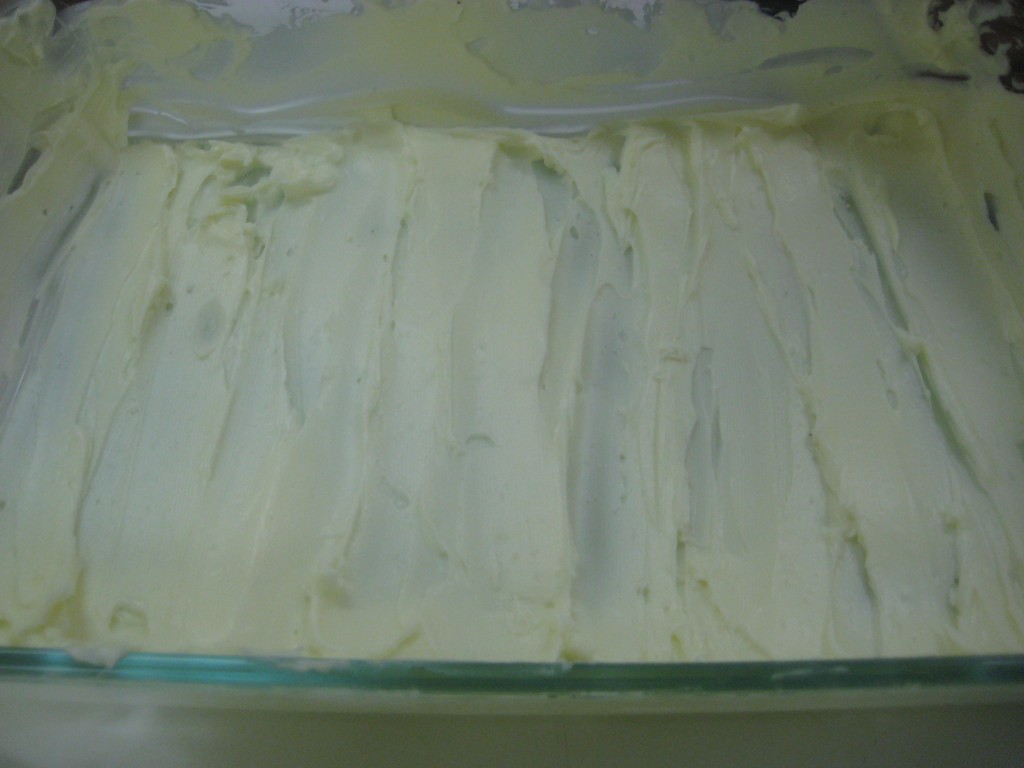 *Saute chik'n 2-3 tablespoons olive oil in frying pan. Set aside. Chop tomatoes into large chunks and puree/blend until smooth, set aside. Chop onions, saute in 2 tablespoons olive oil, cook until soft, add garlic, cook approx. 5 minutes. Add pureed tomatoes. Simmer on medium low for 10 minutes. Add chik'n in shreds to pan. Cook 5 minutes. Combine vegetable broth and milk, dissolve cornstarch, add liquid to pan. Add hearts of palm. Combine. Adjust for salt and pepper.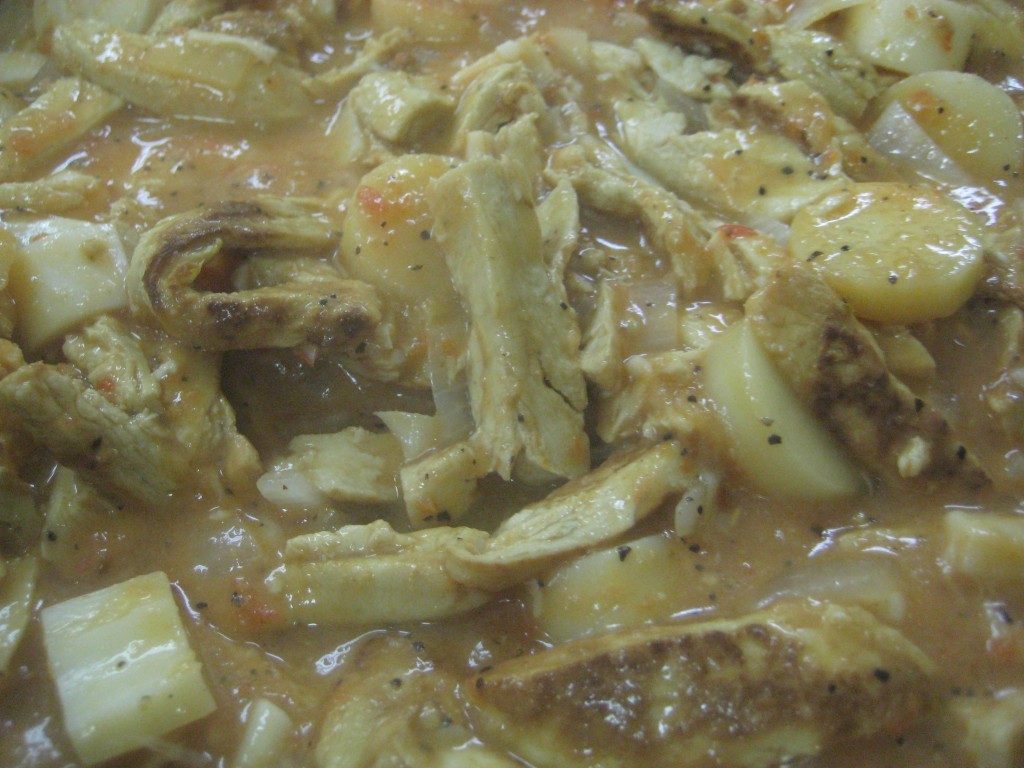 *Add to prepared baking dish. Sprinkle with a small bit of cheese (a couple of ounces). Bake 15-20 minutes until cheese on top is bubbly. Serve with steamed rice and salad.