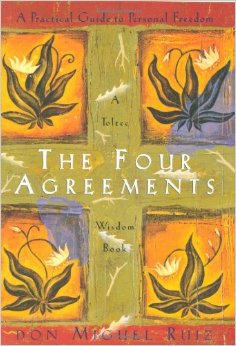 Over the past week, I've been dealing with a situation that has made me distraught. In talking with a friend about it, I realized that I had fallen into two unhealthy habits–a) making assumptions and b) taking things personally.
As I talked with him, I remembered a book that I had read last summer–Don Miguel Ruiz's The Four Agreements. In the next few days, two different friends–one in Virginia and one in Maine–quoted the book.
This was three times this book has come up in less than a week. And if you know me at all by now, you should know what this means. It was a sign to reengage with this book! So, I took a day this past weekend to re-read it. Slowly. To savor the pages. To connect with the lessons. To apply the wisdom to this very situation I'm trying to traverse in the healthiest, happiest, most adaptive way possible.
And yes, this also meant that I wanted to share these four agreements with all of you. Below, you'll find the quick version. If you've read the book, take this as a refresher. If you haven't read the book, take this as a sign that perhaps this would be a great moment to read it. In any event, enjoy and have a great Monday! 😀
The Four Agreements
Be Impeccable with Your Word: Speak with integrity. Say only what you mean. Avoid using the word to speak against yourself or to gossip about others. Use the power of your word in the direction of truth and love.
Don't Take Anything Personally: Nothing others do is because of you. What others say and do is a projection of their own reality, their own dream. When you are immune to the opinions and actions of others, you won't be the victim of needless suffering.
Don't Make Assumptions: Find the courage to ask questions and to express what you really want. Communicate with others as clearly as you can to avoid misunderstandings, sadness, and drama. With just this one agreement, you can completely transform your life.
Always Do Your Best: Your best is going to change from moment to moment; it will be different when you are healthy as opposed to sick. Under any circumstance, simply do your best, and you will avoid self-judgement, self-abuse, and regret.