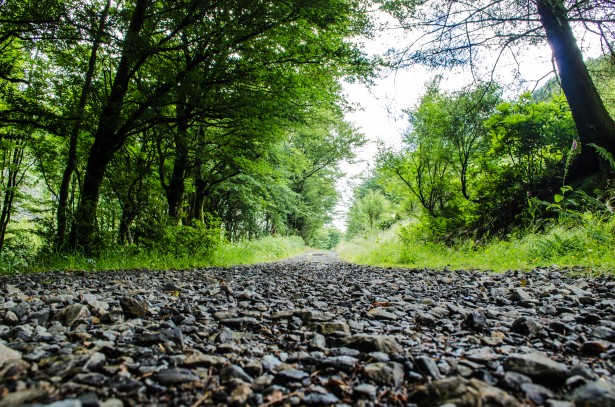 Each Monday, Tiffany posts a message that provides positive energy and tips for eating more mindfully. The purpose of the weekly message is to reinforce the ideas from the talks and classes that are a part of the Como Water Membership, and to further support those living the veg-centric lifestyle. To receive our Mindfulness Mondays posts, Become A Member today.
Blue Cliff 
On Saturday night I returned from one of the most moving, comforting, reinvigorating, healing and compassionate experiences of my life. For four days, I attended a meditation retreat at the Blue Cliff Monastery in upstate New York. While there, I centered, explored, deepened my practice and met others on the path to gently doing the same.
I had attended meditation retreats before, but they were completely silent retreats. This one was a combination of silent and non-silent, and while this made me nervous (I am totally fine with not talking for four days!), I decided to embrace the structure of the retreat–chanting, story sharing, teachings/lessons, and shared work activities, meals, exercise, and meditation–nonetheless. In all honesty, it took me about a day to embrace the warm camaraderie of the other attendees, and sisters and brothers of the monastery, but once I did, I couldn't turn back! … and the fun and healing truly began.
I've said it before and I'll probably say it again, there's no worse feeling in the world than feeling alone–feeling that you are the only one who feels a certain way, or has a certain background, or fights particular personal battles, or sees the world in specific ways. There's a difference between solitude and feeling alone, and the latter can lead to really sad and harmful times.
This retreat was anti-alone. It was like a deep, warm hug from a vast community. A community of people who didn't know each other, but who walk similar paths; admittedly paths of that most people will never take, or fully understand. And if I had to sum up my experience in just one phrase, it would be "I am not alone."
I'm hoping to use the next few Mindfulness Mondays posts to delve into some of the themes from the retreat that were particularly salient for me. In the meantime, here's a teaser (deliberately cryptic, to hopefully reel you in to future posts)!
Soft, but strong
Out of the mud
Noble silence
Understanding self, before expecting others to understand you
Compassion
Treating yourself first
Humility and privilege
One thing at a time
One step, one breath
Baby steps
Deep relaxation
Judging others
Managing ambition
Paying homage to our ancestors and their suffering
Have a great week and I'll be back soon with our next video!